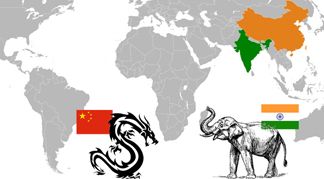 According to the report published by Cebr, India looks set to leapfrog Britain and France next year to become the world's fifth-largest economy. China is likely to overtake the United States as the world's No.1 economy in 2032.
London based Centre for Economics and Business Research (Cebr) has published the 2018 World Economic League Table (WELT2018).  WELT2018 comprises a report covering 192 countries with forecasts and ranking to 2032. This research done by Cebr is coveted for its insightful analysis and long-range forecasts that give confidence to business decision making.
WELT 2018 provided clear insight into the world economy and the growth prospects for each of 192 countries. It also widened it scope by comprising forecasts for inflation and currency exchanges. A separately available database provides annual data for each of 192 countries over 30 years from 2002 to 2032. At a time of significant change for the world's economies; developments in construction and engineering sectors are emphasized which are important to growth, productivity and employment. Global mega projects such as the Chinese Belt and Road Initiative and the Indian infrastructural project are forecasted to change the shape of the world economy.
Reviewing the report Reuters stated that India's economy will overtook Britain and France according to WELT 2018 forecasts. Cebr Deputy Chairman Douglas McWilliams said; "Despite temporary setbacks … India's economy has still caught up with that of France and the UK and in 2018 will have overtaken them both to become the world's fifth largest economy in dollar terms." McWilliams said India's growth had been slowed by restrictions on high-value banknotes and a new sales tax.
Thus India will become world's fifth largest economy. India's ascent is part of a trend that will see Asian economies increasingly dominate the top 10 largest economies over the next 15 years as well. In 2032 India will become world's third largest economy. According to the report in 2030 the largest economies will be the China, Japan and India triumvirate. Korea and Indonesia will be in the top 10 largest economies in 2032.
Chine will be the largest economy in 2032
Cebr's WELT2018 report forecasted that China is likely to overtake the United States as the world's No.1 economy in 2032. The report states because the impact of President Trump on trade has been less severe than expected; the USA will retain its global crown a year longer than anticipated in the last report.
According to WELT 2018 while Britain looks set to lag behind France over the next couple of years; Cebr predicts that Brexit's effects on Britain's economy will be less than feared, allowing it to overtake France again in 2020.
In Reuters' report review Russia is indicated as vulnerable to low oil prices and too reliant on the energy sector; and looked likely to fall to 17th place among the world's largest economies by 2032, from 11th now.