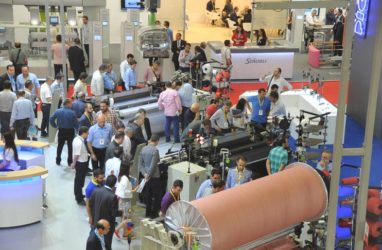 ITM 2018, one of the biggest exhibitions in its region and sector, carries a great importance as a platform which the innovations of textile industry make their debut. Necip Güney states that the exhibition has enlarged its scope and target with its ever changing and evolving concept.
Countdown has started for ITM 2018, the biggest textile technologies exhibition of Turkey, Middle East, North Africa, Middle Asia and Balkans'. The exhibition, organized by Teknik Fairs with the partnership of TÜYAP and the cooperation of TEMSAD, will take its place at Tüyap Fair Convention and Congress Center in İstanbul between 14 – 17April, 2018. All the solutions those partaking in the supply chain of textile industry, from spinning to weaving, knitting to finishing and dying to digital printing will be exhibited at the organization. Preferred by most of the companies for world premieres, ITM 2018 has already took its place in the agenda of business world as a 4 day event.
Necip Güney, The Chairman of the Board of Teknik Fairs, pointed out to the increasing strength and potential of the exhibition in his information given to Textilegence Magazine regarding the activities towards to ITM 2018. Underlining the fact that ITM is a global textile machinery exhibition, Güney continued as follows:
'ITM has become a global brand. With ITM 2018, we have caught the biggest leap and growth. We have attained full occupancy in several halls months before. We are aiming to bring together around 1200 exhibitors as well as over 50 thousand visitors. The textile machine investments which started to get a striking movement in Turkey in 2017, will continue to move forwards increasingly. In this context, we also have a great contribution to Turkey's growth in the field of textile.'
Necip Güney : World-wide promotional activities
Continuing to his words, Necip Güney told that, world-wide promotions and launch activities has been carried out for ITM 2018: 'It will be a ground-breaking exhibition. The developments, those will give a new direction to ITM and differentiate it, will go live within this exhibition. As of today, textile technologies do not change in 4 – 5 years like in olden days. Instead, nearly every year a new innovation takes its place in the market.'
Saying that, ITM, which is organizing in every two years, is the rising star of textile industry both with its calendar and geographical location, Güney continued as follows:
'Bringing together the world leaders, ITM 2018 will also be the home of several world premieres. We are working hard on that. The Middle East, North Africa and Middle Asia countries; those are quickly developing in the textile, can comfortably visit to İstanbul without having any visa problems. Similarly; the textile manufacturers from Iran, Algeria, Egypt, Pakistan and Bangladesh also do not experience Schengen visa problems; when they visit Turkey as opposite of their visits to European countries. Besides accommodation costs are much lower when we compare to Europe. This is also a serious advantage for us. And of course an affinity born from sharing the same beliefs makes us more preferable too.'
Stating that they are expecting an intensive visitor expectancy from textile heavy regions; such as Bursa, Denizli, Çorlu, Gaziantep and Kahramanmaraş; Necip Güney continued his words as follows; 'This year Italy will be the biggest country on exhibitor basis. China will again be the leading country for the Asian market. Also I want to underline that we attract a great attention from India, Pakistan, Bangladesh, Iran and Uzbekistan on visitor basis.'
Digital Textile Printing Grows in its Separate Hall
Informing, the companies are extending their booth areas in order to demonstrate more machines in ITM 2018 which covers the 12 halls of Tüyap Fair Convention and Congress Center, Güney also announced that spinning/yarn technologies which placed at 3. Hall have already reached their full occupancy yet last year; 'Both the Weaving (Hall 2) and Yarn and Finishing Segments (Halls 10-12-14) have been caught a serious growth; while the Knitting Segment (Halls 7-8) maintained its current strength. The main growth and leap has been realized in the field of printing.'
Reminding that the digital printing segment which took its place in a separate hall for the first time in 2016, Güney continued as follows;
'Finishing, dying, printing and digital printing were situated in the same hall before. We have moved digital printing to a separate hall first in 2016 and glad we did so. Textile digital printing segment is continuing to grow. This growth brings a serious competition to the market as well. All the textile printing solutions such as direct printing, sublimation printing, transfer printing, piece printing and rotation printing will took their places in the 5th and 6th halls. Both Turkish representatives and sellers will be there as well as the global brands themselves. The leader brands of the market, the new names of the industry and the brands those will attend ITM; for the first time will all be at ITM 2018 and take their places in the 5th and 6th halls. Frankly, the printing hall will be the home of several surprises and innovations!'
'We are aiming to run the ITM registrations fully on digital platform'
Saying that; they are trying to organize the exhibition in a most efficient way both for the exhibitors and the visitors; Necip Güney told that they are using all the advantages of new digital possibilities and technologies and in return gaining the positive results. Reminding that they have launched an early registration system with ITM 2016 Exhibition, Güney continued as follows:
'Exhibitors with early registration will obtain several advantages like locations and the sizes of the booths as well as appropriate pricing. Those who register online to the system are handling the registration process in shortest and fastest way. As the exhibition date approaches it is getting harder to find a place. That being the case, our aim is to run the whole registration process fully on digital platform.'
Stating that ITM already has its short-mid and long term plans for 2018 and following years; Güney also added that ITM will continue to increase its brand strength in the global arena as a premium exhibition.