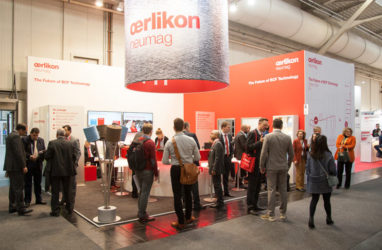 The Sytec One from Oerlikon Neumag guarantees cost-efficient BCF yarn production in demanding processes.
Cost-efficient production of carpet yarns beyond commodity products can constitute a challenge. Highly standardized production systems must strike compromises with regard to throughput, quality or cost-efficiency. Oerlikon develops solutions for this purpose. At the Domotex 2018, the world's largest trade fair for floor coverings, Oerlikon Neumag presented the Sytec One solution for demanding BCF processes.
The Sytec One is a BCF plant with only one end per position. Due to this single-end characteristic, it is particularly well suited for demanding production processes, such as recycled polyester or fine filaments. The reason: In the event of a yarn break, only one end breaks. All the other positions are not affected and continue to run. As a result, this plant has a higher efficiency compared with a multi-end technology plant. For example, with ten breaks a day, the efficiency of the Sytec One is still over 98%, while a three-end technology achieves only 92% efficiency.
Higher productivity due to the straight yarn path
The machine concept of the Sytec One with its absolutely straight yarn path in spinning and texturing also enables significantly higher process speeds compared to multi-end technologies. This results in a speed increase of up to 15%. In combination with the material-friendly threading, the straight yarn path of the Sytec One ensures that the individual filaments are exposed to minimum friction. As a result, yarn breaking is reduced, and the process is stabilized. With the Sytec One, you will not only increase your throughput, but also the yarn quality – cost-efficiently.
In addition to standard processes, more demanding processes with higher break rates play an increasingly important role. "The product mix is critical to the choice of technology," said Martin Rademacher, vice president of sales Oerlikon Neumag. "We are in the comfortable position of being able to offer our customers both a single-end and a three-end technology."
The breakthrough, one-end Sytec One technology enables BCF production using standard polymer and also recycling polymer at the highest quality and capacity level and at the same time reducing manufacturing cost. With only one yarn end per position, this machine is perfectly prepared for automatization. With only one yarn end per position, this machine is perfectly prepared for automatization.
Sytec One benefits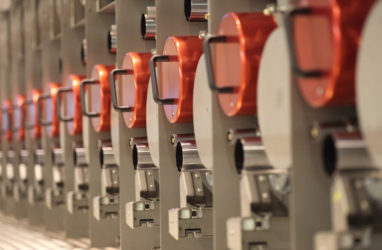 Economical plant: Up to 15% higher throughput per end compared with the S+;  Coarser titers of up to 6000 dtex can be pr oduced from each end without folding
Highest yarn quality: Straight yarn path with material-friendly threading; Optimized cooling process for a more stable crimp
Easy handling: Simple fault analysis in the event of yar n breaking; Closed texturing unit prevents damage to texturing nozzles and lamella chamber during threading
Automation: Bobbin holders are automatically fed with paper tubes; Machine separated in automation and operating levels; Automation systems can be easily installed on the ground level
Spin packs: Wider spinnerets for 500 filaments; Design optimized for faster color changing.