2020 EDP Awards honour innovations in the printing business. The European Digital Printing Association (EDP), the umbrella organization of 20 leading European publications in the printing industry, honours solutions that bring innovation to the printing industry with its annual awards. The awards, which were presented simultaneously with the FESPA Global Print Expo fairs, were announced digitally when fairs and events could not be held due to the pandemic in 2020. This year, the winners were awarded a total of 29 trophies in 5 main categories. The awards found their owners in the Software / Hardware, Printing (Large format and commercial), Industrial Solutions, Finishing and Consumables categories. Among the winners of the 14th EDP awards, the industry's major brands and innovations drew attention; Mimaki, EFI and Durst were the first to come to mind.
Mimaki UJV100-160 ranked among the best
In the EDP Awards, the 'Best Roll-to-Roll printer up to 170cm' award was given to the UJV100-160 LED-UV inkjet printer that Mimaki introduced to the market in 2020. This entry-level printer was presented to the European market by Mimaki Europe, and by Mimaki Eurasia to the Turkish market and was able to see great interest. Confirmation of this prestigious award also coincides with this high-quality, high-productivity printing solution being officially released as commercially available for the European market this month. Many of the features that make the UJV100-160 printer cost-effective, reliable, and easy-to-use were noted as key factors that contributed to the EDP judges choosing this printer for the award.
Ronald van den Broek, General Sales Manager at Mimaki Europe commented on the EDP award and said that the UJV100-160 is a versatile, robust and efficient solution for sign makers looking to delve into UV-printing and diversify their offerings. van den Broek; "We're extremely proud that the quality and productivity of this printer has been recognized by the EDP and are excited to bring it to market this month, providing our customers with another innovative solution designed to help them increase their competitive edge".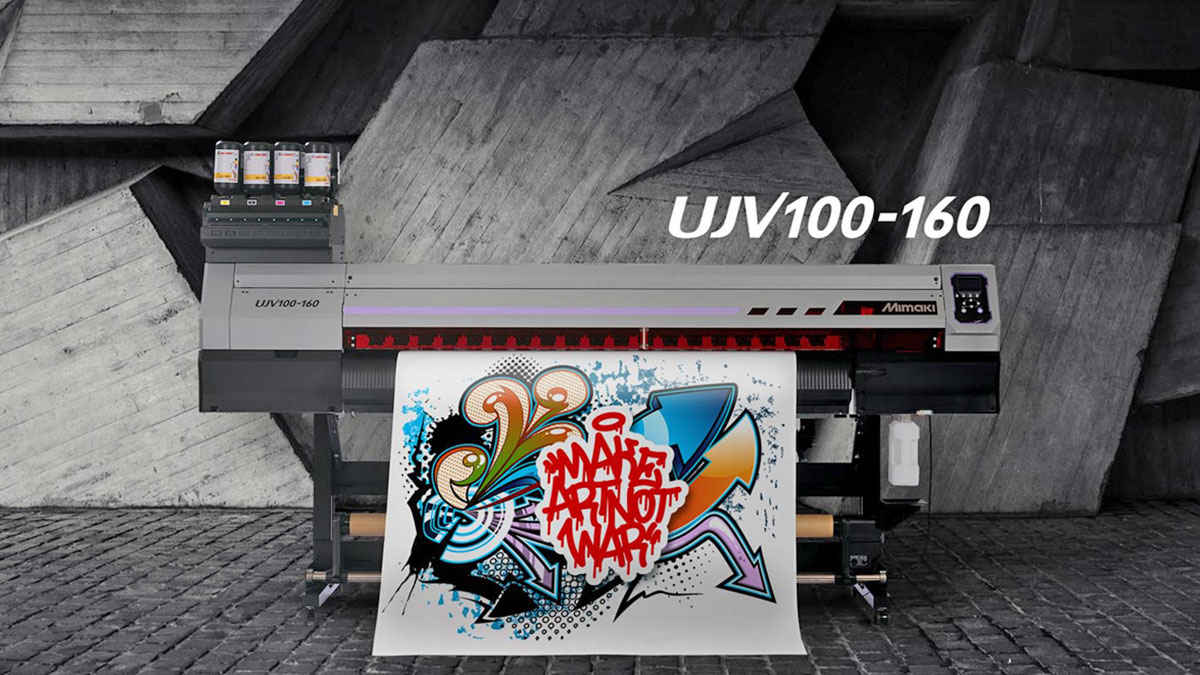 EFI innovations awarded in three categories
Electronics For Imaging, Inc. received three European Digital Press (EDP) Awards from the European graphics arts trade press in 2020 for advanced new technology solutions that support graphic arts professionals to drive more productivity and revenue. Fiery FreeForm Create, winner in the EDP Awards category for best special application software, is a standalone application that comes included with EFI Fiery print servers. It enables companies to easily and quickly add personalised elements such as variable text, images, or barcodes, to files in just a few clicks, making it ideal for VDP novices and seasoned veterans alike.
The 3.2-metre EFI VUTEk 32h LED hybrid inkjet printer received the EDP Award for hybrid/flatbed printers up to 250m2/h. The eight-colour printer is a versatile solution that can print on materials up to 5.08-centimetres thick in true 600- or 1,000-dpi resolutions. EFI also managed to receive the award with its EFI VUTEk D Series roll-to-roll inkjet printer in the category of 'roll-to-roll printers above 320 centimetres'.
Paul Cripps, EFI regional vice president of sales, said; "We are both honoured and proud in receiving three EDP Awards this year. These awards are important to us as they reflect our commitment to developing smart, breakthrough technologies as well as reinforce our hard work – all to better support our customers across market segments".
Durst wins EDP awards for best workflow and Rho 2500
Manufacturer of advanced printing technologies, Durst won two of the EDP 2020 awards. Rho 2500 was awarded in the category of the best flatbed/hybrid printers larger than 250m2/hour, while Durst Workflow was recognized in the category of the best workflow technology.
The awards are more recognition of Durst's innovation as it continues its journey to become a complete solutions provider in line with its 'Pixel to Output' strategy. Manfred Glantschnig, Head of Product Management for Durst Professional Services said; "These awards are another strong reference point and third-party endorsement to what we have achieved through our mission to innovate". Andrea Riccardi, Durst Group's Head of Product Management, Graphics Segment, said: "We are proud to have been recognized by the EDP with these awards. We been steadily building our offerings in line with end-to-end thinking for 360-degree business solutions aimed at the Smart Factory concept to streamline production and processes".
Bobst, Agfa, Roland DG, Mutoh, Canon, XeroxSumma, Kodak and Kornit are also included among other brands that have received EDP 2020 awards.