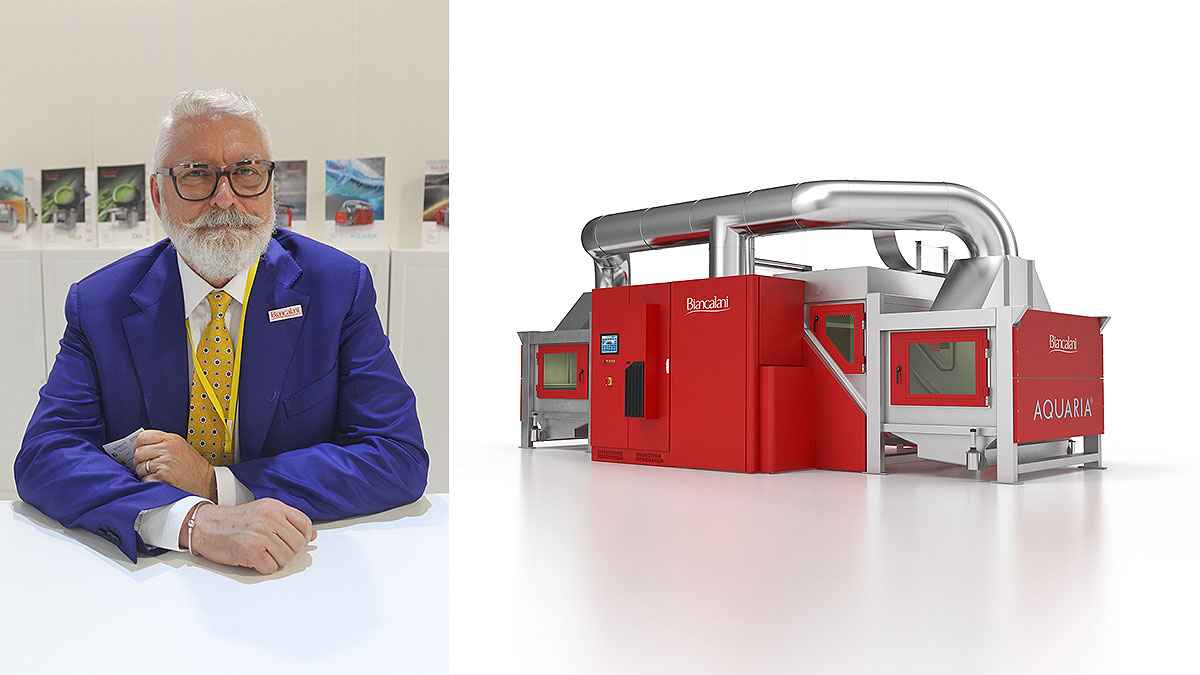 Welcome to the age of water with AQUARIA. Taste for invention is back and has been the fil rouge during fashion weeks all over the world. The key concept is to turn an already excellent product into a special one, going the extra mile. With all this in mind, the textile world is getting ready for Texworld Paris, Milano Unica and Denim Première Vision – with denim market share always increasing, as predicted by WSGN trend forecasting agency.
More and more often, designers seem to look for textiles that underwent manufacturing processes which are not strictly necessary but truly original, in order to be able to create something unusual according to the look, the touch and the textile performances. That's the key concept for textile production for years to come. And it's thanks to water that textile finishers can actually be of inspiration for designers: in fact, some particular colors and textile structure definitions can be reached only by undergoing specific washing processes. Special processes. And here mechano-textile industry comes into play and that's where the makings of textile and fashion actually spring. And also, AQUARIA® comes into play. Patented by Biancalani.
It's been long since mechano-textile industry tried to offer machineries that could perform special treatments for fabrics. It was strictly necessary to go from the non-continuous process – costing time and money – to continuous, with the guarantee of results repeatability and of a quantitatively higher production, so that no market ended up being excluded. And, above all, to go from in rope processing to open width. But not only this. In the textile finishing, similar machineries already existed – both open width and continuous. But what didn't exist was a machinery that does all this DURING the washing process with transport of the fabric obtained completely by air. Finally, it does. And is called AQUARIA®.
New possibilities with AQUARIA
The textile industry is full of creativity, but they're also aware of obstacles in the production process. And it often happens that designers' requests crash against the real production possibilities. Until now. In fact, according to specific requests, ideas and dreams they came across, Biancalani Textile Machinery created AQUARIA®, such a new textile machinery that, with any production obstacles completely overcome, it gives you the freedom to think about brand new manufacturing processes.
For the very first time, AQUARIA® leaves behind the non-continuous in rope process and focuses on open width continuous process. Straight aware of what it means in terms of advantages – no marks or crease marks, no need to re-open the fabric – you can finally be as free as water and think about new products to display to clients. Or realize a product you've been thinking about for so long, and that now thanks to AQUARIA® you can actually create.
Furthermore, the fashion industry asks for fabrics realized following very specific processes, that are obtained only thanks to a deep mechanical washing action and a high dwelling time inside the bath during the cycle in the machinery.
AQUARIA® is all of this and so much more. A machinery based on the AIRO® technology and more than 30-year know how that distinguishes Biancalani in the international mechano-textile market.
More than a standard washing technology
But what's that "much more" of AQUARIA®? That's pretty easy to say. Operators got the makings of AQUARIA® at once during ITMA 2019, when it was presented together with AIRO24EVO5, AIRBOX and BRIO®24 machineries. AQUARIA® allows a large number of washing processes, i.e.  enzyme treatments, fibrillation and defibrillation (tencel), bio-polishing, desizing, bleaching, weight reduction, degumming and others, in order to achieve very special results, among which:
Delavé and color reduction
Tencel and lyocell fibrillation and defibrillation
Enzyme washing
Sense effect on cupro and blends
Opalescence
Frosting effect
Also, the modularity of AQUARIA® meets any production need. But above all, AQUARIA® is a machinery that puts into effect any new request. It's a totally new world of potentialities ready to be discovered by the worlds of textile and fashion.
Technical superiority guarantees washing
Biancalani's patented continuous open width washing machine AQUARIA® is based on the AIRO® concept for air transport of the fabric; the real mechanical effect is achieved while washing the fabric. The patented system covers everything for automatic, efficient and homogeneous washing. Thus, waste of money and time is prevented in the operation. AQUARIA® is working with air and water together to serve the goals of textile manufacturers. AQUARIA can be connected to Biancalani's continuous driers AIRO®24 and BRIO®24, guaranteeing quick, smooth defect-free treatment in the washing process.