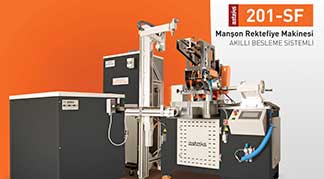 Offering all the necessary solutions for spinning mills from a single source, Asteks has recorded a significant improvement in the export markets supported by their 50 years of experience left behind in the industry. Turkey's first and only manufacturer of cots & apron and spinning solutions, Asteks is taking steps in confidence in export markets with the experience and success gained in the Turkish market. The company develops and manufactures apron, cots, cots grinding machines, cots mounting presses, cots measuring devices and Automatic Guided Vehicles (AGV) and exports to more than 25 countries.
Recently, Asteks has focused on the Asian markets that are the centre of global textile production, and significantly increased their brand awareness in these markets through the fairs and exhibitions they have participated. Asteks has recorded significant sales in Uzbekistan, and is applying similar work path in the markets in Bangladesh, Pakistan and Indonesia together with their local partners. In January, the company participated in the DTG 2019 in Bangladesh, and will be exhibiting at IGATEX Pakistan 2019 in February and Indo Intertex 2019 in Indonesia in March. Asteks, offering cots & apron and spinning solutions to highly quality oriented textile enterprises, will show the textile manufacturers in the region that they are the right partner for cost-effective, value-added solutions.
Asteks strengthens brand awareness; Bangladesh market meets high quality solutions of Asteks
Asteks participated in the 16th Dhaka International Textile and Apparel Machinery Exhibition, which was held in Dhaka, the capital of Bangladesh from 9 to 12 January 2019. Displaying samples from their rich cots and apron range, Asteks also gave detailed information about their cots grinding machines and the automatic guided vehicle AGV. Asteks Export Markets Foreign Sales Manager Taner Engin said that Bangladesh is one of the most important market in the global textile industry with its 9 million spindle capacity and gave information about their participation in the exhibition.
Engin stated that they participated in DTG 2019 through their representative and exhibited only cots and aprons due to the limited size of the exhibition hall. However, they have provided information about cots grinding machines and equipment while they have also made a video presentation. Engin said; "As Asteks, we have reached a considerable brand recognition in the Bangladesh market, where we have been active for 1.5 years. We can provide fast service with our local partner. We met with the leading textile manufacturers of the industry to further strengthen this awareness during the exhibition. We aim to increase the business volume in the market with innovative special products such as perforated compact aprons as well as new high-performance aprons and cots and high-tech cots grinding machines".
Explaining that the Bangladeshi textile has been processing mainly 100% cotton so far; Engin said that the steps towards the production of high-value fancy yarns have been taken. Engin; "Paying attention on this, we have exhibited our apron and cot solutions on the booth for all needs of the market including new production trends. The prominent TE-650 and E-700 for compact lines and the E-750 cots for the preparation processes have attracted great attention. In addition to those, our GESA, perforated apron; developed for specific compact spinning systems; has attracted attention as a special product. We gave detailed information about our cots grinding machines and our Automatic Guided Vehicle (AGV). We are very pleased having received such great interest in our high-tech machines that we have passionately developed".
Pakistan and Indonesia are the next stops
Engin stated that political elections were held in Bangladesh in 2018 and that a strong government was established. Thanks to having left the uncertainty behind a strong growth in the market in 2019 is expected, he underlined.
ASTEKS's next stop in the Asian market is; The 12th IGATEX Pakistan 2019 that will be held in Karachi, Pakistan from 26 to 28 February; and the Indo Intertex 2019 that will be held in Jakarta, Indonesia from 28 to 30 March.
ASTEKS is preparing to exhibit their general product range at IGATEX Pakistan 2019. Featured products include; CTA carbon-reinforced aprons, developed for rather tougher spinning conditions and gaining great admiration in the Asian market; the favourite of cotton-spinning mills the front cots TE-650, E-700 and the E-750 long cots; which have become the rising value with the high efficiency performance in the preparation process.
Despite the slow-fair year expectation in Indonesia; ASTEKS will participate in the Indo Intertex Fair to support their existing customers and strengthen their brand awareness. The samples of apron and cots solutions required for cotton and synthetic spinning will be exhibited at the booth. ASTEKS will demonstrate that they can fully respond to the needs of Indonesian yarn manufacturers with a range of innovative products; such as the RC-751 cot, which yields successful results in synthetic and blended yarns, CTA apron and E-750 cot. In addition, detailed information about cot grinding machines and AGV will be provided, as well.
New generation smart system cots grinding machine, 201-SF has been started-up by Pakistan's major textile group with prayers
Nishat Group, one of the biggest textile manufacturers of Pakistan, has chosen Asteks solution in its replacement investment. The new generation smart system cot grinding machine; 201-SF installed at the end of 2018 was commissioned with prayers at the spinning mill. ASTEKS Marketing and Sales Director Sabri İlknur; "So far we have sold and assembled many machines; but for the first time we witnessed a start-up with prayers at the facility and it made us very happy".
İlknur; "We had already been working for our apron and cots solutions with Nishat Group. We met at ITM 2018 and introduced them our smart system (SF) cots grinding machine. In the scope of the investment in machine renewal; our fully automated cots grinding machine 201-SF was installed at the company's spinning mill in Faisalabad at the end of the year. The machine commissioned through prayers maintained the satisfaction by its performance beyond the expectations".
Sabri İlknur said that this successful cooperation with Nishat Group is an important reference for them; and announced that in the short term, 201-SF machine was additionally involved in 3 new projects in Pakistan. İlknur said that negotiations with several companies continue in the Pakistani market; and those would hopefully lead to good sales volume in 2019.