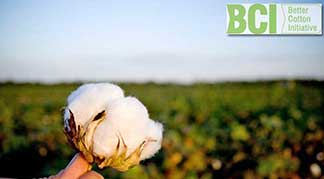 Better Cotton uptake increased 45% on the previous year, and at the end of 2018, retailer and brand member sourcing of Better Cotton accounted for 4% of global cotton consumption. By integrating Better Cotton into their sustainable sourcing strategies and increasing sourcing commitments year-on-year, BCI's Retailer and Brand Members are driving demand for more sustainable cotton production worldwide.
Now, to continue to accelerate the mainstreaming of Better Cotton and hit BCI's 2020 targets – to reach and train 5 million cotton farmers and have Better Cotton account for 30% of global cotton production – BCI needs the next wave of sustainability leaders to come on board and close the gap between supply and demand. (In the 2017-18 cotton season, Better Cotton is forecast to account for 19% of global cotton production.)
Founding BCI Member, H&M group, has played an integral role in the growth of Better Cotton; in 2018 the retailer sourced the largest volume of BetterCotton (for the third year running). "Cotton is one of H&M group's most important materials – BCI plays a key role in our goal towards using only sustainably sourced cotton by 2020," says Mattias Bodin, Sustainability Business Expert, Materials and Innovation at H&M group.
Ramp up sourcing in a short period of time with Better Cotton
adidas is another founding member with ambitious sustainable sourcing targets. In 2018, adidas sourced 100% of its cotton as more sustainable cotton. Ebru Gencoğlu, Senior Manager, Merchandising and Sustainability at adidas commented, "BCI and adidas have worked closely from the beginning to reach this ambitious goal. BCI has engaged actors throughout the supply chain to enable the right amount of supply in the right locations. This has helped our suppliers to source cotton as BCI, which allowed us to ramp up sourcing in a short period of time."
BCI's demand-driven funding model means that retailer and brand sourcing of Better Cotton directly translates into increased investment in training for cotton farmers on more sustainable practices. For example, in the 2017-18 cotton season, BCI Retailer and Brand Members, public donors and IDH (the Sustainable Trade Initiative) contributed more than €6.4 million, enabling more than 1 million farmers across China, India, Mozambique, Pakistan, Tajikistan, Turkey and Senegal to receive support and training.
ALDI South Group are among a group of new BCI Members; who will help to increase uptake of Better Cotton in 2019 and beyond. Katharina Wortman, Director CRI at ALDI South Group said; "ALDI supports sustainable cotton standards in their aim to ensure improved farming conditions and reduced environmental impacts. ALDI joined BCI at the end of 2017; and we foresee that BCI will play a significant role in our approach to responsibly sourced cotton. The mass-balance chain of custody system used by BCI enables our supply chain partners to more easily source Better Cotton."
Better Cotton has become an integral part of the international cotton trade
A member that has illustrated how to scale uptake of Better Cotton rapidly is Gap Inc. The retailer joined BCI in 2016; and is now among the top five BCI Retailer and Brand Members based on total Better Cotton sourcing volumes. "Better Cotton sourcing is an important part of Gap Inc.'s sustainability strategy. We have been able to leverage our scale across our portfolio of brands; to accelerate sourcing of BCI in a relatively short time," said Agata Smeets; Director, Sustainability Sourcing Strategy at Gap Inc.
As well as increased investment in farmer training and capacity building; uptake of Better Cotton sends a clear signal to the market and has an impact throughout the supply chain. Cotton traders are seeing the increased demand for more sustainably produced cotton; but believe there is much more to be done. Marco Baenninger, Head Trader Hand Picked Cotton at Paul Reinhart AG said; "BCI has become an integral part of the international cotton trade. It's very pleasing to see that uptake from retailers has increased strongly over the last few years. However, there is still a lot to do. Some organisations are still skeptical, but in the long-term they risk losing market share if they overlook more sustainable options. That says a lot about the success of BCI and other sustainable cotton initiatives and standards; in promoting sustainably produced cotton."
Transforming cotton production worldwide requires commitment and collaboration from the entire cotton supply chain. The retailers and brands, cotton traders and spinners who sourced the highest volumes of BetterCotton in 2018; will be revealed in the BetterCotton Leaderboard, launching at the 2019 Global Cotton Sustainability Conference in Shanghai in June.