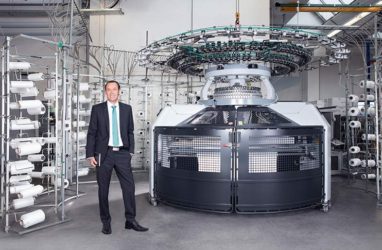 Mayer & Cie., who will be presenting 3 machines at the ITM 2018, demonstrates the advantage and responsibility of being a market leader in circular knitting. The company relentlessly continues the R&D efforts towards innovative technologies.
One of the leading manufacturers of circular knitting machines, Mayer & Cie. will strengthen its bonds with Turkish customers at ITM 2018. Mayer & Cie. and their Turkey representative Mayer will present their ground-breaking innovations in knitting at Hall 8 Stand No 805A. Mayer & Cie. Regional Sales Manager Stefan Bühler whom we got their opinions about ITM 2018 exhibition participation and Turkey market, underlines the brand's innovative spirit and the confidence in the Turkish markets.
Noting that in order to stay ahead in the industry Mayer & Cie invests an above average amount of resources in R&D, Stefan Bühler says that Mayer machines and technologies that are launched in the market are top of the line. "Our booth concept reflects our leadership and technological superiority" said Bühler and continued saying; "On the one hand, there are some tried and trusted technologies. They have been around for decades, such as Relanit and OVJA. On the other hand, we will have entirely new concepts. Spinitsystems is a good example for these efforts. So this is what we show on ITM: Leading technologies, some of them well-known and very well-established in Turkey, others quite recent, in need of explanation and maybe opening up new perspectives for our clients".
3 machines will be showcased in the booth
ITM 2018 visitors will be able to closely examine 3 machines in the Mayer & Cie. booth; an OVJA 2.4 EM, a D4 2.2 II and a Relanit 3.2 HS. Expecting that it will attract knitting professionals, OVJA 2.4 EM is based on the existing OVJA 2.4 E, a long-term best seller for fashionable outerwear. As OVJA 2.4 EM, it is specialised on mattress ticking. This machine produces double knit and double jersey electronic jacquard as well as spacer. All of this comes with exceptional productivity, and, needless to say, in the quality Mayer & Cie. clients are used to.
Relanit 3.2 HS and D 4 2.2 II are machines that Turkish customers are familiar with. Relanit 3.2 HS is the latest machine type in the Relanit family, offering exceptional productivity and reliability, especially when it comes to elastomeric plating. D4 2.2 II is popular worldwide for its ability to produce rib, 8-lock and interlock structures. D4 2.2 II and Relanit 3.2 HS we will show on open-width frames. The OVJA 2.4 EM will come in a giant open-width frame, so it will be quite an impressive sight.
Apart from these machines, spinitsystems, Mayer & Cie.'s new spinning and knitting technology will be on show too. There won't be a Spinit 3.2 E at the exhibition but the booth at ITM will feature an info counter where visitors can discuss their questions with a spinitsystems sales rep.
Mayer & Cie. is unrivalled in high speed and quality in circular knitting
Noting that Mayer machines are known for their high productivity, efficiency and thus valuable profitability, Stefan Bühler informs that their portfolio is considered to be the most comprehensive one in the industry so naturally, at ITM, they can only show an excerpt. Pointing out that they are displaying mechanical and electronic machines at ITM, Bühler said;
"With underwear, fashionable outerwear, sportswear and kids wear being their focus, Turkish customers already swear by the Relanit 3.2 HS and the D4 2.2 II. When it comes to working with elastomeric yarns at high speeds, you cannot beat the Relanit. The D4 scores with its versatility for all those different structures. With the OVJA model, things are a bit different. Mattress ticking is a market in which we have a lot of expertise. At the moment, however, it is also a rather dormant market in Turkey. With the OVJA 2.4 EM, we try to re-activate it, at least to some extent".
Bühler indicated that spinitsystems follows an entirely new approach, as it does not work with cotton yarn but with roving. This significantly shortens production time as well as space and energy required for the entire process according to Bühler and he reminds that just recently, they have received an award for innovation and sustainability by the German Government honouring those benefits. Bühler noted that with Turkey possessing a highly developed textile industry and also being a cotton growing country, they have identified potential for spinitsystems there.
Turkey is one of the largest 3 markets
Reviewing Mayer & Cie.'s position in the Turkish market as "brilliant", Stefan Bühler; "Turkey is one of our top three markets. This has been the case for many years now and has improved even more lately." Bühler indicated the important contribution of Mayer Mümessillik in this success; "this is certainly thanks to Mayer Mümessillik, with whom we have worked not for years but for decades. They have always been doing a great job. Their knowledge of the Turkish knitting market is both extensive and profound. Our machines they know by heart. All their service technicians are trained at our Albstadt headquarters and are very experienced".
Stefan Bühler reminded that the devaluation of the Turkish Lira has led to an increase in European demand of Turkish textile products; "In order to satisfy this demand, our Turkish customers increase their capacities. For us, this means high order numbers and – that's the downside – long lead times".
Renewing the information about their representative in Turkey has very strong ties to the local markets; Bühler comments this as 'a reliable co-operation'. This means they definitely have an ear close to the Turkish market according to Bühler; he says that their customers in turn get machines that are fitted to their individual needs. Although they have a portfolio of about 50 machines, there is hardly one machine identical to another. Bühler; "we build nothing but custom-made products. I think this is something our customers appreciate".