Turkish knitters' motivation to invest has decreased according to Mayer & Cie. Sales Manager Wolfgang Müller, he further stated that this is due to the decrease of interest in of jacquard technology, momentum loss of mattress ticking machines and a stronger Euro.
Circular knitting machine developer Mayer & Cie. experienced a positive boom during the recent years of the market. A strong after sales service network had an important share in this success as well as innovative solutions provided by the company. The firm has obtained a record sales increase of 10% in 2016, and now in 2017 turned its focus to new investments and new machine development.
Number of machines sold in Turkey has dropped in the first half of 2017 according to Mayer & Cie. Sales Manager Wolfgang Müller, the same is true for the turnover generated there. He stated it is due to the substantial drop in sales of jacquard machines. Müller; "for the last six years or so, jacquard used to be very popular. It all started with transfer machines, followed by double jacquard and became a veritable boom, a jacquard boom fuelled by the fashion industry. This boom now seems to be over, not only in Turkey but all over the world."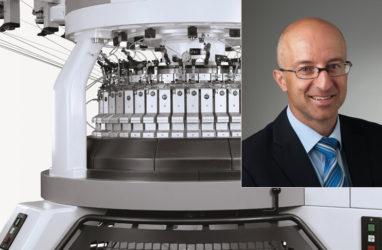 Wolfgang Müller furthermore informed that mattress ticking machines, an important niche market, has also lost momentum. All textile machine manufacturers are experiencing a slump in orders for this type of machines according to Müller; "A reason could be the strong price competition among the knitters and ensuing price decline. That has made the knitters' margins shrink – as well as their willingness to invest in new machines."
Other than the decrease of interest in Jacquard machine and competitive prices, a stronger Euro may also be a motivation for clients to order fewer machines at the moment stated Müller.  He emphasized that Turkey's textile industry's potential is very good. Müller; "there are the machines, the expertise and experience to keep the industry going on its high level. However, the political situation in Turkey is prone to weaken the industry. Buyers of fabrics and confectionary quickly start looking elsewhere for good products – and for more predictable politics."
Demand in Jacquard Technologies decreased, Shoe upper knitting machines have potential
In his 2017 end-year review, looking both at the global and the Turkish market, Wolfgang Müller expects the jacquard slack to remain, whereas he believes producing shoe uppers on circular knitting machines will become much more important. So they hope to compensate losses in jacquard with gains in shoe uppers informs Müller also saying they want to exploit this potential to its fullest.
For Turkey in particular Müller stated; "we expect mechanical machine sales to remain constant for some time. In the longer run, however, we doubt we will be able to keep our sales numbers stable. We expect our turnover in Turkey to decrease in 2018. This is not only due to a decrease in demand for jacquard and mattress ticking machines but also to the political situation in Turkey and the current dissonances with Europe. With our mattress ticking machine to be launched in 2018 we aim to regain lost market share."
Mayer & Cie is currently working on a machine for producing shoe upper materials
Mayer & Cie is currently working on a machine for producing shoe upper materials informs Müller emphasizing the new OVJA 1.6 EE 3WT/2WT is the first machine particularly targeted at this application. Müller; "It uses three-way technology in the cylinder and two-way technology in the rib dial, thereby ensuring maximum pattern variety. The OVJA 1.6 EE 3WT/2WT is especially suitable for the production of multi-coloured designs along with microstructure elements."
Circular knitted fabric is growing increasingly popular as an upper material for leisure and sport shoes imparted Müller saying they are targeting this application both with existing machines and newcomers to the Mayer & Cie. portfolio, such as OVJA 1.6 EE 3WT/2WT. He concluded saying; "furthermore, there is a new highly productive mattress ticking machine on the way. It will definitely outperform all competitors' existing machine models."
Germany Abstadt centred circular knitting machines expert Mayer & Cie has been rewarded with the "Special Mention" award in German Brand Awards in June due to their successful brand management.