On October 5 and 6, the Com4® yarn seminar 2017 will be held in Winterthur (Switzerland). In the seminar, experts from Rieter and Uster Technologies AG will impart knowledge on the day-to-day textile activities of yarn traders and downstream processors. Core focus is on the properties of the yarns and their influence on the fabrics.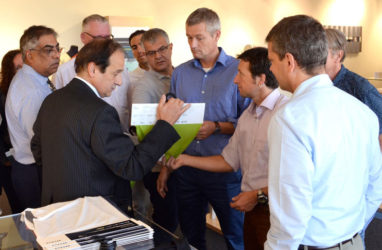 Yarn determines the characteristics of a fabric. Someone who wants to select the most suitable yarn needs the relevant knowledge. In the Com4® yarn seminar 2017, experts from Rieter and USTER therefore provide the necessary textile know-how and give insights into the world of yarns and fabrics.
Yarn Seminar : Attractive expertise
Rieter offers seminar participants the opportunity to not only see the four different spinning technologies, but also to virtually experience them. The yarns spun from them show clear differences in their structure and the differences are also reflected in the fabric. These correlations will become clear to the participants as soon as the samples are touched and compared with one another.
Understanding quality data
When buying yarns, it is important to know and understand the determining quality data. An expert from USTER will give detailed information and help with their interpretation. As the leading manufacturer of textile testing devices, USTER has comprehensive knowledge and offers tools to create textile quality profiles.
Registration
The Com4® yarn seminar will be held in English. Registration is possible up to September 08, 2017 under: www.rieter.com/index.php
Rieter also holds Com4® yarn seminars in China and India.