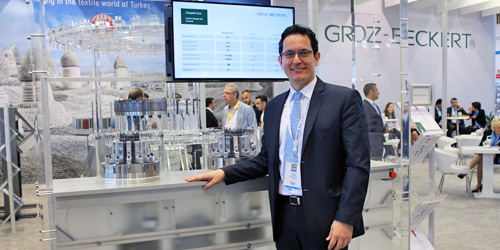 Groz-Beckert attended to ITM 2016 Fair with solutions for the textile and technical textile industry. The company signed a successful event with products that promise energy saving, high efficiency and sustainability.
Groz-Beckert participated to ITM 2016 with a 210 m² stand in hall 7, booth 707/B showcasing the products and services of its product areas knitting, weaving, nonwovens and carding. A special highlight from the product area Knitting was the further developed litespeed® version "litespeed® plus" which grabbed great interest. Welcoming visitors with a booth design similar to ITMA 2015, Groz Beckert signed live demonstrations with acrylic models.
Groz-Beckert Turkey Managing Director Özkan Edirne expressed their satisfaction about the fair, saying that the company is an important player in the industry with a rooted history which contributed to the progress of the textile industry. The company exhibited performance data of all their products on a demonstration machine model at their booth, he noted, while pointing to the advantages of litespeed®plus needles for knitting industry. The product was first launched in ITMA 2015.
Özkan Edirne stated that litespeed® needles provides 10% energy saving compared to competitors, while litespeed®plus needles take a step further. "In addition to a performance of around 10% from litespeed® needles, litespeed®plus provides a total save of 20%. Considering the constantly rising energy costs in Turkey, this means a considerable cost advantage. With a rough calculation, considering that a company that owns 100 large diameter circular knitting machines and it uses these needles, it means a gain equals to a machine investment cost per year. In other words, the company creates a source for investment via energy saving thanks to our products. We are talking about an investment that creates investment here," he continued.
Sustainability Became Main Factor
Edirne commented that sustainability became a primary factor for business and environment. Groz-Beckert offers a partnership to customers that constantly improves sustainable quality and production amount in this respect.
In addition to the energy saving feature of litespeed®plus, it also helps to lower the machine temperature. Machines' operating temperature practically moves up to 70-80 degrees, which makes needle oil nonfunctional at such degrees. "Those reduces the life of machine parts and knitting elements. Our litespeed®plus needles enables lower machine temperature thanks to their optimized shank geometry and consequently increases the lifetime of the machine parts such as cylinders and knitting cams. This special needle shank geometry also prevents needle oil flowing out of the machine rapidly as it holds needle oil with the grooves on the shank on both sides of the needle, which removes any possibilities of an oil cloud and needle oil dirt on the machine. Another factor that concludes this circle is the positive contribution of less needle oil usage on environment. litespeed®plus needles meets requirements in the axis of sustainability and long lasting lifetime similar to our other solutions," Edirne explained.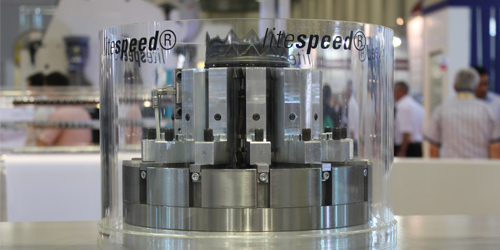 We Should Think Long Term to Win
Groz-Beckert establishes long term partnerships with customers. Therefore, it is important to look at the cost created by the combination of operating and performances rather than product label prices. "Concentrating on purchase costs doesn't mean necessarily saving costs, but a long term planning and calculation will result in success and sustainable cost savings." Edirne said. He continued, "You can reach all solutions of Groz-Beckert, particularly needles for decades at the same quality and standards. With over 160 years of history, the company has the privilege of providing long term and high quality supply warranty for customers. We never compromise about the quality of our products."
Groz-Beckert directly entered Turkish market beginning of 2015 by opening own sales office in İstanbul, since then they achieved very rapid progress about Groz-Beckert Turkey's establishment. The company offered a considerable advantage for customers via fixing product prices based on Turkish Lira in 2015, Edirne stated, underlining that took over the cost risks due to currency exchange rate fluctuations , while saving customers from extra stock costs. In the past 1,5 years the company completed the technical team in number and qualification, as well as the stocks of products regarding the variety and quantity. "Many of our customers enjoy the same-day delivery of orders as our main office and warehouse are located in Merter, an important textile center in Istanbul. We are able to deliver products to any location in Turkey on a single day thanks to our strong inventories in terms of variety and quantity. Plus, we help our customers to purchase their needs whenever they want during the whole year owing to our fixed TL based prices without any currency risks and extra stock cost, which enables them to reduce costs and manage their plans more easily," he highlighted.
Özkan Edirne noted, "We provide solutions in 6 main product groups to Turkish market including weaving, knitting, sewing, felting, tufting and carding. We position ourselves as a partner of customers which promise complete solutions. For instance, our circular knitting customers are able to get their needle, sinker and cylinder from a single source and with special package discounts. Thus, they obtain maximum performance and usage life from products that match each other perfectly while they receive complete support from a single person in case of any issues."
Apart from other products, Groz-Beckert presented the quick and universal knotting machine KnotMaster AS/3 at ITM 2016. Özkan Edirne explains, "An advantage of this high-performance knotting machine is its service and maintenance friendliness. The product area, Carding highlighted SiroLock® and EvoStep® doffer and worker wires. Together they guarantee a homogeneous fiber distribution, a higher web quality and minimized fiber consumption in the nonwovens process compared to conventional carding wires. In the product area Felting, special needle solutions for different applications in the nonwovens industry were exhibited. As the individual needle types of the Groz-Beckert range of products vary in terms of barb size and shape as well as working part gauge and cross-section, the correct needle can be offered for each application."
Edirne said the company achieved a success beyond expectations despite the general foggy view in 2015 and the fact that it was the first year of Groz-Beckert Turkey, adding that they plan to reach more than that in 2016.