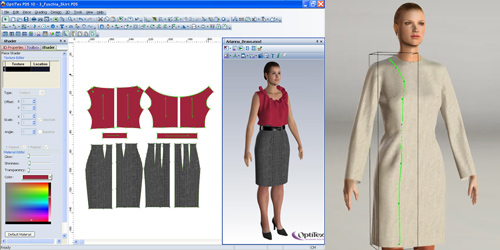 Electronics For Imaging, Inc. (Nasdaq:EFII) announced the acquisition of Optitex Ltd., an emerging, fast-growing global leader in integrated 3D design software that enables the textile industry's digital transformation and accelerates the adoption of fast fashion. Privately-held Optitex will be integrated into EFI's Productivity Software business unit.
Optitex's 3D technology and best practices enable the textile industry's leading retailers, brands and manufacturers to transform how they do business, gaining benefits of significantly improved time-to-market, cost and efficiency, as well as enabling new capabilities for their design, sales and marketing activities.
"We are thrilled to add the Optitex team and its fast-growing base of industry-leading customers to the EFI family," said Gabriel Matsliach, senior vice president and general manager, EFI Productivity Software. "Optitex technology, combined with EFI Reggiani digital printers, will expand our textile ecosystem and help our customers set new standards for time-to-market, on-demand manufacturing, cost efficiency and automation in the Textile industry."
Well-known for its superior customer service and consulting capability, Optitex has developed strong partnerships with its customers, serving as their trusted advisor for their digital transformation.
"We are very excited to join the EFI family," said Asaf Landau, CEO of Optitex. "EFI's global presence, holistic solution approach, strong professional services abilities, and growing portfolio of innovative textile industry-specific products will be of great benefit to the leading companies we serve worldwide in the fashion, automotive, aerospace and technical textiles industries. I am truly enthusiastic about what is to come for these industries in the years ahead."
The maximum purchase price of approximately $52.8 million includes a $20 million upfront cash payment, $3 million of which was placed into escrow, and annual cash earnout payments over three one-year periods of up to an additional $32.8 million in total.  Payment of each tranche of the earnout is contingent upon the achievement of annual profitability and growth targets, with the revenue targets in the three earnout periods exceeding $73 million in the aggregate in order to achieve the full earnout payment. While the acquisition is not expected to be material to EFI's Q2 results, it is expected to contribute $4 million to $6 million in revenue for the balance of 2016 and be neutral to EPS during that time.
Landau and the approximately 100 members of the Optitex team have joined EFI, with Landau serving as EFI Optitex's general manager. Optitex has offices in the U.S., Italy, India, Hong Kong and Israel.