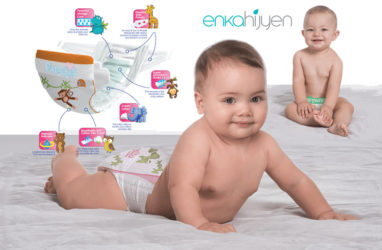 Diapers producer Enka Hijyen is a member of Imam Kayali Holding. Imam Kayali Holding is a privately owned family company active in different fields of trade and industry. The family is active in the business since 1928. Today, family members representing the 4th generation of family is in charge of managing the businesses. Automotive, insurance, long term rental services are some of the businesses at the trading side of the activities. As it comes to the manufacturing; the holding operates factories to produce home and office furnitures, engine valves, polypropylene continuous multi filament yarns as well as manufacturing of nonwoven fabrics (Spunbond, SMS, ADL, ATB). This diversified range of businesses are all independently operated. With over 700 employees, Imam Kayalı Holding is known to be a solid and reliable partner for its customers in each and every field they are active in.
Enka Hijyen, a member of Imam Kayalı Holding, has been established with focus on manufacturing disposable hygienic articles. The recent 27 million Euro investment of Enka Hijyen is located in Gaziantep, one of the most industrialized cities of Turkey. Since early 2016, the Company started manufacturing of baby diapers. Its production process follows GMP regulations and complies with all EU standards. The state of the art technology allows production of high volumes of baby diapers set to fit different needs. The consistent and stable performance of the products are assured with sophisticated process control systems supported by quality control laboratory capable of performing all necessary tests and measurements.
Enka Hijyen and their brands
Enka Hijyen offers 3 brands that are designed to give different properties and these product are sold through a rapid growing distributor network on each country.
Paddlers brand diapers provides premium comfort and dryness. The diaper is specially designed to give maximum protection and fit for babies with elastics ears, high absorption & retention capacity, cream lotion and wetness indicator.
Cushy Baby brand is aimed for consumers; who does not want to sacrifice from quality but need a lower price level. Cushy Baby products are comfortable and dry solutions for a good value for money.
Lulla Baby brand baby diapers are designed to be an economical solution. It is offered with elastic ears as an option. Lulla Baby products are best-pick for those who need good comfort at decent performance that fits to their budget.
Enka Hijyen offers a limited portion of its manufacturing capability for Private Label manufacturing services; for those who seek a solid partner to rely their brands on.