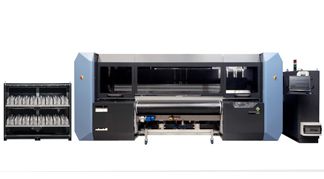 Epson presents its textile printing solutions at Heimtextil 2019. The Utopian Philodendron motif interprets the event's theme. From sublimation printing for small customised printing runs to Direct To Fabric printing with the industrial printer Monna Lisa Evo Tre, Epson meets all the needs of the interior and home decoration sectors. The living room created in partnership with Brochier, a prestigious high-end furnishing brand, provides a practical example of Monna Lisa's excellent printing quality also for the Home Textile sector
Utopian Philodendron motif in upholstery fabrics
This year too Epson participates in Heimtextil, Frankfurt, on 8-11 January 2019. The company presents its offer for the home textile market to both operators in the sector and to visitors by creating a living room in partnership with Brochier, the prestigious brand of top of the range furnishing fabrics. Some furnishing items will be displayed in this setting. Sofa, armchairs, poufs, curtains and carpets have been made of fabrics printed by Monna Lisa, featuring the suggestive motif of the Utopian Philodendron, chosen from the company's archive of furnishing fabrics. Beside this area, demos are provided by the printer SureColor SC-S80600, ideal, for instance, to print wallpaper, and by the printer SureColor SC-F9300 for sublimation textile printing, the ideal solution to personalise household items and to create 3D printed objects, such as plates, cutlery and vases.
"Epson's printing solutions combine cutting edge technology, such as Epson PrecisionCore print heads, dedicated inks and precision mechanics, to meet the demands of a market that seeks a rapid and versatile approach even in the furnishing sector, says Giovanni Pizzamiglio, Direct To Fabric Sales & Marketing Director EMEAR & Americas – As witnessed by our commitment to ensure ongoing development of inks and high quality printers, our goal is to become a strategic technological partner for high quality industrial textile printing".
Ongoing commitment to enhance sustainability.
Epson's practical commitment to ensure sustainability; from the development of inkjet technology in the various application sectors to research on inks; is underscored by the Japanese company's decision; in partnership with Brochier, to interpret the theme of Heimtextil 2019 – Toward Utopia – with the motif of the Utopian Philodendron. The Philodendron is a tropical plant that is widely known for its capacity to adapt and filter many hazardous substances; that are present in the environment; transforming them into oxygen, without however losing its typical harmonious shape and hues. The idea of this plant will help us pursue the utopian dream of functional beauty we would like to find in the future world.
This motif comes to life only with Monna Lisa digital textile printing. Besides a perfect colour yield; bright hues and a wealth of details, the Monna Lisa printer produces true copies of the original sketch.
"This feature is crucial because the original drawing is often done by hand, using very particular techniques; which have to be reproduced on fabric", says Davide Maspero, Commercial Director of Brochier. "Moreover, Monna Lisa has shown an excellent yield in the reproduction of techniques; such as pigments or glitter that could previously be produced only with traditional printing methods".
The following are some details of Epson solutions presented at the stand:
– SureColor SC-F9300, 64", sublimation printing, a user-friendly economic printer. This highly flexible machine is the ideal choice to produce small volumes of quality fabrics and to sublime custom-designed motifs on hard substrates; such as, for example, anti-splash panels, table tops, cups, cutlery and vases. A 4-colour printer that uses UltraChrome DS ink with high density HDK black; the model SC-F9300 offers Epson PrecisionCore TFP double print heads for consistent and reliable results that feature exceptional colours and definition.
– SureColor SC-S80600, the printer that supports a wide range of substrates to meet all needs; from posters to graphic applications and Interior Decoration.  With its advanced substrate management system, the printer ensures high precision for exceptional performance. Automated maintenance of print heads and the collection system for condensate produced by ink allow uninterrupted printing; thus ensuring high levels of productivity.
–  SureColor SC-F2100 for direct printing on fabric; that can produce in a few minutes kitchen towels, aprons, cushions and personalised bags. A printer that is highly appreciated by the market; Epson estimates that, from its launch until August this year; it has been used to print about 36 million T-shirts worldwide.