Producer of web guiding and control systems Erhardt+Leimer reaches important markets globally with its 18 affiliates. The firm has a very strong position in Asia notably in China and it is very important for them to grow in Turkish Market as well. Klaus Baumann, the head of Textiles Sales Division for Erhardt+Leimer told us; "Our target is a slightly higher order volume as in 2016 and this was already the best year in history" about their order and sales goals.
Saying the market in Far East and China is still strong Baumann imparted that In Vietnam, the big investments are on hold because of America's intention to cancel the TPP agreement. South America is active but for sure with low quantity according to Baumann. He tells us 2017 will be a strong year with good results and In Europe most OEMs are full of orders.
South America is active but for sure with low quantity for Erhardt+Leimer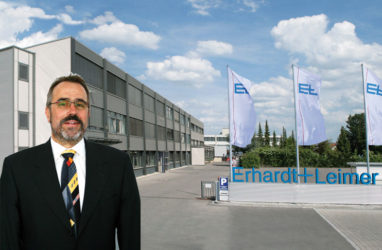 End users are mainly happy at the moment in Turkish Market according to Baumann; "for them a cheap TRL is important. The political situation at the moment is not clear for anybody and can influence the business very much especially in a negative way. Turkey has a very good based textile industry. A lot of companies manufacturing products with high quality. If they take quality and efficiency aspects with high priority they will have a good 2017/18. The potential is available."
Baumann informs us that next year the Far East has a need to invest in modern technology so energy saving, water treatment, Improve efficiency because of permanently increasing labour costs will be important subjects.
Global Free Trade is important
On the subject of USA President Trump's decisions affecting global markets Klaus Baumann; "Free global trade is very important. Protection of America is one way solution, Mr. Trump will learn this the next years."
Baumann imparted that they are permanently invest in their headquarters and their subsidiaries all over the world. Bauman; "for a company with different sales divisions with a huge number of products, a rate of 8-10 % of the turn over for R & D is obligatory. We do this as Erhardt+Leimer."