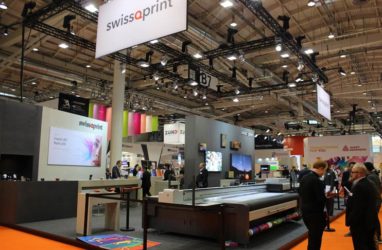 Redefining LED technology in digital printing, swissQprint received great attention with its Nyala LED and Impala LED printing machines at FESPA 2017 global print expo. Better stability, high speed and quality as well as eco and user friendly features are just a few of the advantages that come with these innovations.
Being obliged to develop fast, flexible and efficient solutions regarding customer demands, digital printing industry met swissQprint's two innovations at FESPA 2017 Hamburg expo. Represented by Pigment Reklam in Turkey, the firm became the fair's focus point with Nyala LED and Impala LED digital printing machines. Getting great attention, the new LED printing machines succeed to bring common swissQprint speed and quality to the next level. They offer new efficient applications and markets to the printers with new printing opportunities.
Meeting the visitors and introducing the innovations at swissQprint's booth during FESPA global print expo, Pigment Reklam company owner Serkan Çağlıyan said that they were pleased with the attention they received. Çağlıyan stated these; "FESPA has always been an important meeting point for the global digital printing industry. That's the reason why swissQprint chooses FESPA for new launches. Presented this year, Nyala LED and Impala LED printing machines accomplished to create a difference with their efficiency, speed and high print quality. Visitors experienced a great shortening in the printing process starting with one single button. Whereas ther has been a quality decrease in the market as a result of speed raising, swissQprint brought the expectation upto the top. New LED solutions range the application areas and material use of our customers and increase their business potential. This is an adequate reason to prefer swissQprint."
New LED Solutions are efficient, fast and eco-friendly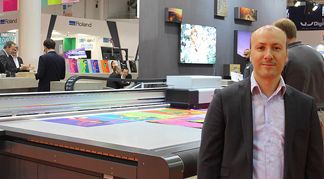 Bringing curing into higher levels in digital printing, Nyala LED and Impala LED have strong technical basis. Stressing that the machnines are versatile, highly efficient and eco-friendly, Serkan Çağlıyan recorded that the energy consumption decreases greatly(50%). Çağlıyan said; "Technical equipments of the machines are strenghtened. With printings in 3.2×2 meters Nyala LED and 2.5×2 meters Impala LED guarantees the same standard quality in printing until the end of their lifetime. A homogeneous view of the major parts of the print is obtained with sensitive droplet fitting. Nyala LED where 9 colour channels can be freely constructed, can print 206 m2/h and Impala LED can print 180 m2/h."
Nyala LED and Impala LED are rich in options
Nyala LED and Impala LED are presented to the market with options that can extend their standard equipment according to the needs of customers. New machines that provide tension-free roll to roll printing with cold LED curing; also can work with swissQprint's standard inks not expensive LED inks. Moreover, printing of a heat-sensitive roll media has never been easier and more comfortable.
Introducing 4×4 variant defining quadruple CMYK configuration for high speed and impressive prints; at the beginning of this year, swissQprint presents 4×4 variant of its LED solutions as optional. Nyala LED and Impala LED that can print on many materials like thin films, paper, board and delicate textiles; are presented as a perfect solution for many applications such as high quality POS items, posters, boards, and backlit boards.
New models of swissQprint are equipped with ingenious board option; holding oversized panels and difficult roll media firmly in place under full-power vacuum during the printing process. When the printing beam reaches the end of the table, a sophisticated feed system takes over and advances the substrate automatically. The print continues as soon as a new material is placed.
As another option Rob provides automatic loading and unloading of the product whose printing process is over. So, the need for a worker for loading and unloading disappears and the staff originated errors are prevented. Performing 7/24, Rob offers an ideal solution for industrial manufacturing.facilities with busy shifts.
Another option increasing the efficiency, Tandem provides a printing in the front and rear of the machine. So, the machine can increase the efficiency upto 37% with Tandem's Step & Repeat principle.
swissQprint Receives 2 EDP Awards at FESPA Expo
Stating that swissQprint that values R&D and innovation greatly, presents innovations to the digital printing sector continuously, Serkan Çağlıyan said that these inovations have always been appreciated in the market. Çağlıyan said these words; "Innovation is like a heart  that beats; for success it must never stop. swissQprint won two of EDP awards given during FESPA 2017 expo. While it received the best hardware robot award with Rob introduced last year; it also gained the best flatbed/hybrid printing machine upto 250m2/hour award with Nyala 2's 4×4 version. These awards are the crowning of our innovative style and mission."
Expressing that Nyala LED and Impala LED introduced at FESPA 2017 expo, will offer advantages to Turkish printing sector; Serkan Çağlıyan added that as Pigment Reklam,  they give a strong technical support to swissQprint as well as other brands.