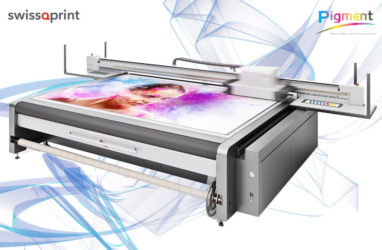 Presented by Pigment Reklam in Turkish market, the leading brand of UV printing, swissQprint's received great attention by presenting the 4×4 versions of its Nyala 2 and Impala 2 models.
The leading distributor of UV printing solutions, Pigment Reklam continues to bring innovations developed by swissQprint to Turkish market. The second generation models Nyala 2 and Impala 2 which were launched by the brand two years ago at FESPA fair and proved itself in the market in a short time, now have new advantages with 4×4 versions with double speed and print quality.
Reminding that swissQprint's second generation solutions received great interest in Turkish market, Pigment Reklam company owner Serkan Çağlıyan expressed thusly; "Covering all the market from beginner to industrial level; Oryx 2, Impala 2 and Nyala 2  reached very successful sale numbers. Especially the brands aiming to grow and create a difference with adding value to their products prefered these solutions. swissQprint continues the developments for these models that are already highly sold in the market. Last year, firstly, they introduced 3d effect application droptix, then the robotic arm(Rob) that turns loading and releasing media to the machine into automation to the market. Now they made a more extensive innovation that affects the printing process directly. Mid-level and industrial segment models Impala 2 and Nyala 2's  4×4 versions were introduced."
Print Speed and Color Density is Doubled
swissQprint's new 4×4 ,flatbed printers address to the customer segment that demands first class products with high quality and vivid colors. POS(Point of Sales) items, display(signage) posters, banners, backlit and other similar printings can be manufactured with the highest quality and in a shorter time with Impala 2 and Nyala 2's 4×4 versions.
While standard Nyala 2's 54m2 print speed in quality mode preserves its influence over the market average, this speed reaches 100m2 in a word its double in 4×4 version. The print speed defined as optimum, means a unique print speed and density rate. Apart from the speed increasing, color's perfection and brightness is very impressive. In Fine Art mode that is preferred for backlit applications and defines the most delicate work, the print speed raises up to 57m2 an hour.
Unique Print Head Configuration
Both Nyala 2(2.2x2m flatbed) and Impala 2's (2.5x2m flatbed) 4×4 versions have 9 color channels working in dual-configurations. In 4×4 solutions CMYK print head was placed in two sets of channels twice over; so 8 colors can be achieved in total. The ninth channel is either stays  free or else both are filled with white or effect varnish; to enable a full range of applications. Thanks to the print heads producing  dual configured white, double sized droplets; it preserves its speed with perfect coverage. This color configuration offers countless opportunities like background or multi-layer white print; or varnish application to create visual and tactile impact.
Underlining that with dual 4 print head moderation not only speed but also print quality was increased; Serkan Çağlıyan announced that these models whose productions had already been started; would be presented to Turkish market in the fastest way with full technical support. Çağlıyan stated; "As Pigment Reklam we wish to support our sector's value added transition.  We encourage our sector to discover swissQprint's potentials presented to UV printing market; with its innovative works. 4×4 versions will be the last elements of the success chain."