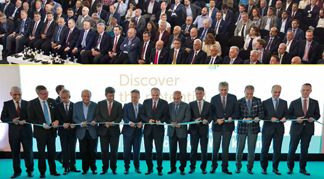 The Minister of Science, Industry and Technology Faruk Özlü attended to the opening ceremony of ITA Istanbul Research&Development Center while he announced that they will provide grants for the half of design and R&D expenses in the private sector.
Turkey's first Research&Development center Istanbul Textile R&D and Education A.Ş (ITA Istanbul) was established in cooperation of Textile exporters associations and Germany's RWTH Aachen University Textile Technology Institution and opened its doors. The opening ceremony welcomed the Minister of Science, Industry and Technology Faruk Özlü, TIM President Mehmet Büyükekşi, ISO Board Chairmen Erdal Bahçıvan, Istanbul Textile and Raw Materials Exporters Association (ITHIB) Chairman İsmail Gülle, RWTH Aachen University ITA Institution Director Prof. Thomas Gries and many industry members.
Speaking during the ceremony, The Minister of Science, Industry and Technology Faruk Özlü gave the good news that they will support textile and ready-wear industry via investments. Pointing to a new support mechanism due to be materialized, Özlü reported that they are set to put Pre-Competition Cooperation Projects (RIP) Support Program into practice. Özlü continued, "There will be no budget limit within RIP. The projects carried by at least one company; or with cooperation of two to more companies; will have the benefit from the projects. We will give grant to half of the Research&Development as well as design expenses related to the projects. In order to help expenses ease, we will make a pre-payment of 20% out of the project budget. Additionally, project partners will take advantage of other tax reductions and exemptions as part of R&D regulation."
"ITA Istanbul Will Break USD 150 billion Exports Limit"
ITHIB President İsmail Gülle claimed that in Turkey, market players became aware of the importance of R&D, innovation and design. However, still, the USD150 billion exports volume is yet to be surpassed. Gülle stated, "We are stuck at this exports volume like we did in middle income trap. Ideas to be developed at this new center will hopefully break that exports limit once they are materialized". ITA Istanbul will also be the flagship of Industry 4.0, he said, adding; "Industry 4.0 is a good chance for Turkey to break vicious circle in low value-added manufacturing".
Turkey hosts 250 R&D centers, said TIM President Mehmet Büyükekşi. He further added that they aim to establish 500 R&D centers until 2023.