Groz-Beckert, one of the leading suppliers of industrial machine needles, precision parts and fine tools as well as systems and services for textile surfaces, support its customer in choosing suitable needle for different applications. While a wide range of products can be manufactured from textiles and leather, a wide variety of sewing applications are used in this process. Not only do individual parts have to be joined together with seams, but buttons also have to be attached, zippers sewn on, appliqués applied or edges cleaned up. This, in turn, requires different sewing machines, each using specific needle systems. The many variables also influence the choice of a needle. Not only must the correct needle system be selected, but the needle size and point shape must also be adapted to the material being sewn. This often makes choosing the right needle difficult.
Groz-Beckert offers an interactive tool to help users select the right needle with the 'Needle Finder', which is integrated into the Customer Portal Sewing. Various product examples with different seams are displayed for this purpose. Selecting a seam displays details of the application, such as the stitch type class. Users will also receive recommendations tailored to the product and seam with regard to needle point and needle size. In addition, the most common needle systems used for the chosen seam are suggested.
Once the needle system suitable for the machine has been selected, users will be taken directly to the order function and there, they can choose from the recommended needle point shapes and needle sizes. In many cases, the Needle Finder will suggest a different version in addition to the standard needle. This could be a special application needle that has been specially developed for sewing the chosen product, for example, or a needle with other special features that offers additional advantages for the selected application.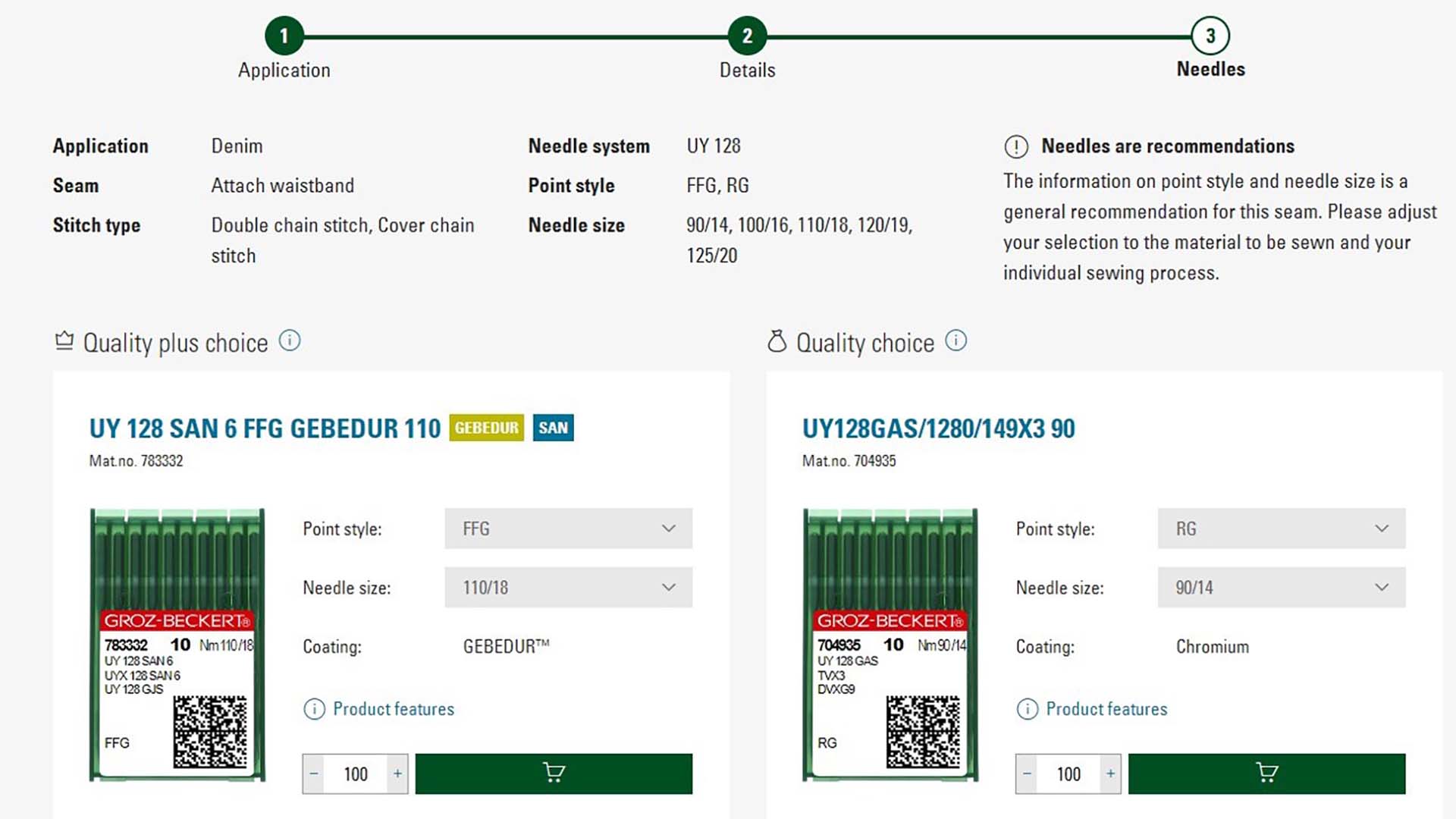 Groz-Beckert offers also additional functions with the Customer Portal
The contact persons at Groz-Beckert are also been available to answer any questions about selecting the right needle or placing needle orders. The sewing and joining service offers additional services for process optimization for individual needle recommendations or to provide support with any application problems. In compliance with globally uniform standards, the company's application technology experts create individual error analyses and problem solutions and develop a needle recommendation specially tailored to the user's application.
In addition to the Needle Finder, the Customer Portal offers additional functions and advantages. Some of these include a product catalogue with access to all products from the range of sewing and shoe machine needles; a quick and easy product search function; a wide range of product details and technical information; a customer account with access to all orders and invoices and personal dashboard with important key figures.