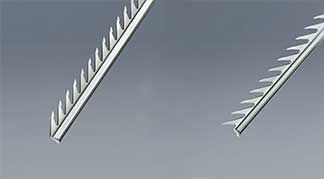 Groz-Beckert nonwoven expertise at IDEA 2019; the company attended the IDEA 2019 exhibition where the nonwovens industry met, and gathered attention with the EcoStar® and GEBECON® needles requested by nonwoven manufacturers.
Groz-Beckert presented the Felting and Carding product areas at IDEA from 26 to 28 March 2019. IDEA Miami is one of the key trade fairs for nonwovens and technical textiles in the international nonwovens industry. Over 550 exhibitors, visitors and companies from 70 countries came together at the Miami Beach Convention Center. The experts from Groz-Beckert presented the latest products and solutions for nonwovens production at booth 1224.
The Felting product division presented the innovative HyTec® P jet strip for the spunlace industry. With it, all mechanical properties improve such as scratch resistance, bending stiffness and service life thanks to its significantly higher hardness. The acrylic exhibit shows three different versions of the new HyTec® P jet strip.
Groz-Beckert focused on special needle solutions: the EcoStar® and GEBECON® felting needle.
Groz-Beckert nonwoven expertise at IDEA 2019: superior carding with EcoStar® and GEBECON® needles
The special working part cross-section of the EcoStar® felting needle meets the highest demands for product surface quality in all applications. Compared with a standard felting needle, the EcoStar® felting needle achieves an energy saving of up to seven percent in the needling process.
With the GEBECON® felting needle, users also benefit from an improved surface quality of the end product. The patented working part design provides optimal bending resistance and results in improved needling parameters.
At IDEA 2019, enlarged scale models represented the special geometries and shapes of the GEBECON® and EcoStar® felting needles down to the last detail.
A special highlight for visitors to the Groz-Beckert booth was the live demonstration on a lab-scale needling machine. This highlighted the advantages of a GEBECON® felting needle compared with a standard conical felting needle via a penetration force measuring device.
The Carding product area was also represented at IDEA with its range of products and services. At the Groz-Beckert booth, the Carding product area presented its extensive range of services for the nonwoven industry; and visitors had the opportunity to interact with Carding specialists.
With a turnover of 745 million Euros in 2018, Groz-Beckert has more than 9,000 employees worldwide. Operating in more than 150 countries with agencies, production and distribution subsidiaries; the company offers needles, precision parts and fine tools and similar solutions for knitting, weaving, felting, tufting, carding and sewing.