Since the beginning of the year, Groz-Beckert Turkey offers its products and services for the sectors of Knitting, Felting, Tufting and Sewing not only to the Turkish market but also to the markets of Central Asia. The celebration of the official inauguration on Thursday, 22 January was attended by about 80 invited guests.
Eric Schöller, Member of the Board of Groz-Beckert, welcomed the guests and declared the new sales location officially open. In his speech, Schöller explained the reasons for establishing the new office: "We decided to open a sales affiliate in Turkey to optimally meet the requirements of our customers in Turkey and in the Central Asian markets directly on site. These regions have traditionally strong textile markets and kept gaining importance also in the past years."
Following the opening speech, Özkan Edirne, the General Manager of Groz-Beckert Turkey, invited the guests to take a look around the new location. Edirne gained long experience in the textile sector both in the Turkish textile industry and at different locations of the Groz-Beckert Group. Among the invited guests were employees of Groz-Beckert Turkey with their families as well as customers, partners, guests from politics and journalists.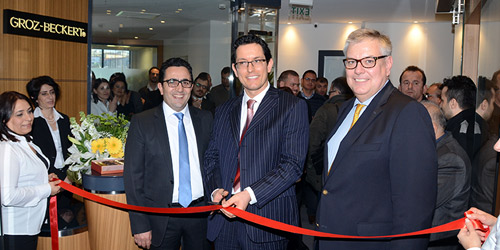 Participated at ITMA ASIA CITME 2018
Participating at ITMA ASIA CITME trade fair, organized for six time,  between 15-19 October 2018 in China, Shanghai, the company introduced their new WeChat channel that is to develop their communication further with the industry. The firm uses the WeChat channel announce their products, services, company news with weekly newsletters within the important information relatedto Chinesse textile industury. The contents of those newsletter is in Chinesse language that prooves the importance given by the firm.
You can read more about the participation to ITMA ASIA 2018 from here
Participated at ITM 2018
The company also participated in one of the most important trade fair in the Eurasian region, ITM and introduced their solutions to the visitors about knitting, weaving, felting, tufting, carding and sewing. Some 2.000 visitors were welcomed the booth of the company through enlarging their business volume in the region.
You can read more about the ITM 2018 news from here
About Groz-Beckert
Groz-Beckert is the world's leading provider of industrial machine needles, precision parts and fine tools; as well as systems and services for the production and joining of textile fabrics. The products and services support the fields of knitting, weaving, felting, tufting and sewing. The company, founded in 1852, employed nearly 8,000 people and generated a turnover of around €570 Mio. in 2013. Groz-Beckert operates with agencies, production and distribution subsidiaries in more than 150 countries around the world.
Groz-Beckert Turkey Contact Information

Tekstil Makine Parçaları Ticaret Limited Şirketi
Gen. Ali Riza Gürcan Caddesi
Alparslan İş Merkezi No: 29/1
34169 Istanbul / Turkey
Phone: +90 212 9246868
Fax: +90 212 9246869
E-mail: info.turk/[email protected]