'Impossible' becomes possible with Picanol. Starting a campaign against the idea of weaving with monotype, slow and old fashion technologies in technical textiles, Picanol offers speed, flexibility and innovation to technical textiles segment.
An important supplier of airjet and rapier weaving technologies of the textile industry, Picanol emphasizes its force for technical applications. Attending to Techtextil 2017 fair, the company preferred to introduce its new, vision-defining campaign to its visitors instead of exhibiting a specific technology on its booth. Picanol's technical team shared its solutions owning a global service and the best cost-performance rate at Hall 3 Booth B28 to the visitors. Making statements to Textilegence, Picanol Marketing Communication Manager Erwin Devloo shared how they broke the walls between traditional textile and technical textile.
Stating that every Picanol solution of Picanol presented for technical textiles segment is shared with the visitors throughout Techtextil fair and some detailed meetings has been made, Devloo gave information about 'Impossible not Anymore' publicity campaign. Saying that technical textiles acquiring more and more importance and power each day, Devloo continued thusly; "We wanted to put our service, spare part and production upgrade solutions forward at the fair instead of presenting only machines. There are some dogmas in the market; claiming that we should stick to certain limits to weave technical and functional fabrics. Beacuse of this common belief, the customers don't know about the alternative solutions. As Picanol we want the stress the fact that we remove the borders and the potential power this brings to the textilers. "
'Impossible' becomes possible with Picanol: low speed is not an obligation with Picanol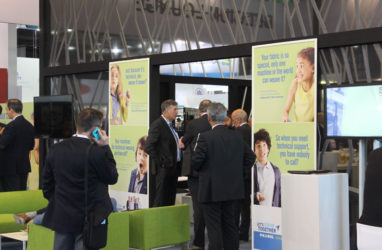 Reminding Picanol's 'Let's Grow Together' motto, Erwin Devloo recorded that rooted dogmas for traditional and technical textile should be broken. Saying; "Some of our customers continue to manufacture with 40 year old machines" Devloo expressed these; "Because the believe that the fabric they use can only be done in that machine and in that way. They don't know there is an alternative. We are trying to break these boundaries as Picanol. At the last point of Picanol machines evolution, our mainstream machines working on household textiles and apparel manufacturing, became so flexible and multi-functional that they turned out to be suitable solutions for technical textile production.
Saying that  "Many creative ideas die before they are born because of dogmas" Devloo stated; that these dogmas prevented the development and innovation of the markets. Devloo stated; "It is thought that there can be low speed in technical weaving. And only very special technical solutions can meet this weaving demands. It was said that there could no be flexibility and modularity with high specifications. It was believed that compared to its equivalents in the market, it wouldn't have such a competitive price. However, we don't believe that a person/company wants to confine himself with only a niche market no matter how specialized he became. We believe that faster is better in each market. That's why we make what they call 'impossible' possible. "
Describing that they aim to grow with their customers in technical textiles thanks to versatility, speed, good service and reliability; Erwin Devloo said that as Picanol makes what its called 'impossible' possible each day;  presents first class machines and services to technical textiles with success of main stream textile technologies.
'Impossible' becomes possible with Picanol: 2016 went by successfully in Turkish market, 2017 started very fast
Announcing that they formed technical teams in regions; like Europe, India and America in order to meet the global need toward technical textiles; Devloo recorded that they provide service to customers with specialized teams. Making evaluations about Turkish market, Devloo said; "2016 was very good for Picanol. Turkey as always took place among of our first 5 markets. We started to 2017 very fast in Turkish market as well. "