Intex South Asia – Bangladesh was a witness to an important meeting online on 22-25 March, on Bee2bee.asia. Receiving more than 2000 trade buyers from Bangladesh's textile and apparel industry, the international textile sourcing platform has also attracted overseas buyers from Sri Lanka, Spain, Mauritius, Finland, Italy, Peru and Algeria. The VIP Opening Ceremony was broadcasted live simultaneously on Bee2Bee, YouTube and Facebook. Textilegence was also among the media partners of the Intex South Asia Bangladesh.
Intex South Asia Bangladesh virtual fair was welcomed with great interest by the participants and received very positive comments. The international sourcing event enabled industry buyers to source raw materials and textiles to grow the export and domestic market, and thus created new opportunities to supply to global markets. The event strengthened the brand image of Bangladesh as a sourcing destination for high-fashion and value-added garments, and increased its market share as well.
More than 300 B2B meetings were held
The buyers interacted with over 70 global suppliers participating from India, Bangladesh, Sri Lanka, China, Korea, Thailand, Malaysia, Indonesia and the United Kingdom through pre-arranged B2B meetings over Zoom and the Bee2Bee platform. During the event, more than 300 B2B meetings were held with Bangladeshi and international buyers. The suppliers included; Aaron Denim Ltd, Epyllion Group, S. Oliver Overseas Ltd, Tom Tailor Sourcing, Windy Group, Asmara International Ltd, Bitopi Group, Decathlon Bangladesh, Dewhirst Group Ltd., Hoplun BD Ltd, Palmal Group, LCWAIKIKI, Herma Group, H&M Bangladesh, Li & Fung, PVH Far East, Louietex Manufacturing, Dird Group and more.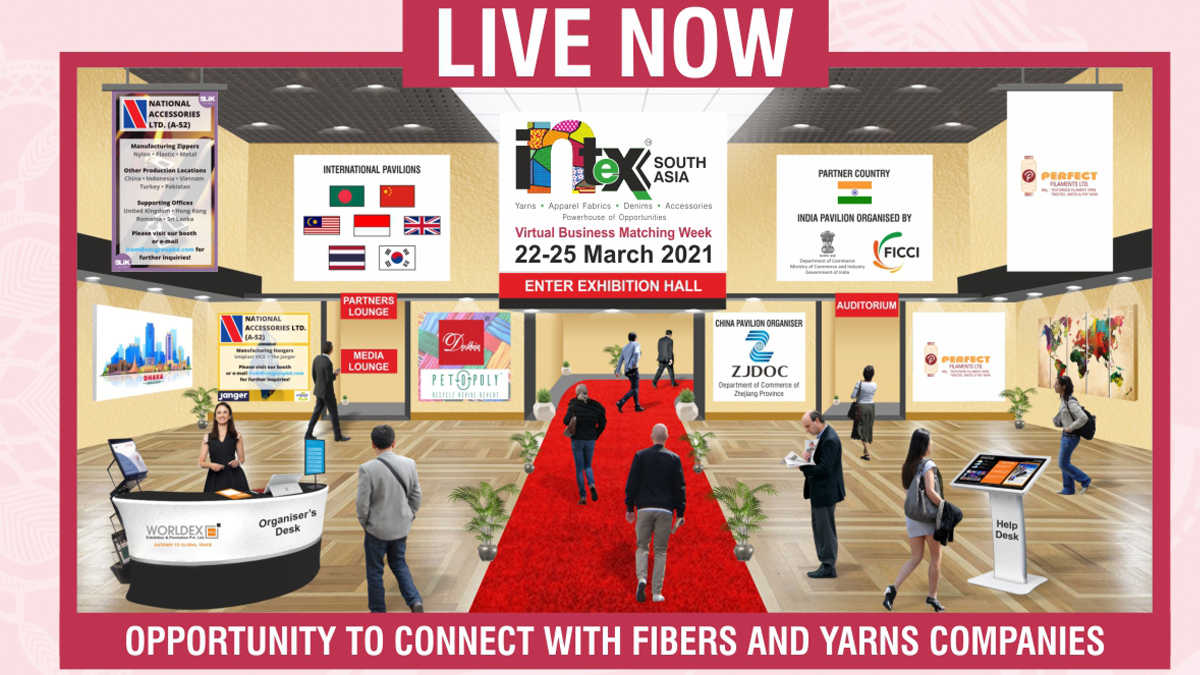 It helps to move trade forward
Government of India Ministry of Textiles Jt. Secretary and the Guest of Honour, Jogiranjan Panigrahi emphasised that India and Bangladesh have strong cultural, commercial and political ties. He said; "The organisers have done a commendable job by bringing onto one platform all the industrialists, traders and textile manufacturers to boost the supply chain mechanism and to take forward relations between India and Bangladesh in the Textiles and Apparel sector".
One of the leading buyers from Bangladesh, Dresban Global Sourcing CEO Main Uddin Miah reminded that world trade is facing a huge crisis due to Covid-19 and told that the B2B platform arranged by Intex for discussion between buyer and seller will greatly help to move trade forward. Miah ended his words by wishing Intex to arrange this platform a couple of times a year.