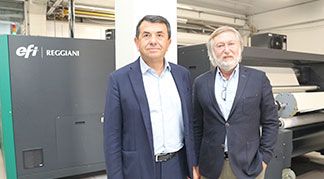 Operating in Bursa, one of Turkey's traditional textile centres, Kadri Uğur Tekstil, offers dyes and screen and digital printing service to region's leading textile manufacturers. Based on a deep-rooted past of 70 years and functioning since 1992 with their current institutional structure, the company is a family business run by 3rd and 4th generation. The company conducts activities to increase their market share in textile printing and evaluates the digital opportunities that offer new venues under the leadership of Ali Uğur and his sons, Kadri and Kerim Uğur, Board Chairman Ali Uğur is also the Chairman of the Bursa Chamber of Commerce and Industry (BTSO) as well.
Kadri Uğur Tekstil relies on EFI Reggiani technology for the quality and speed in both rotary and digital printing demanded by their Turkish customers working with the most important clothing and fashion brands of Europe (Inditex, H & M, Marks & Spencer, etc.). The company has a monthly printing capacity of 1.5 million meters and has been preferring EFI Reggiani technologies in their investments since 1986. The company has 3 rotary printers, 2 digital printers and 1 flatbed machine with the Reggiani brand.
The company carries out dyeing and printing works especially for women apparel fabrics, and is able to print on all kinds of woven and knitted fabrics including cotton, silk, viscose, polyester and blends with the exception of wool. Kadri Uğur Tekstil can also perform women apparel, men shirts and upholstery fabric print up to 180cm printing width.
Two factors affecting Kadri Uğur Tekstil's investment; superior machine quality and full service
Ali Uğur reminded that they have 70 years of experience in textile industry, and stated that they are the oldest company working with EFI Reggiani in Bursa region. Uğur emphasized that they met their investment needs continuously from EFI Reggiani in rotary and digital printers developed afterwards, and continued saying; "We have strong relationships with both EFI Reggiani's corporate presence and their Turkish representative Ritmo Texkstil Ltd. Şti.. The technologies they offer meet ours' and customers' demands and in return our relationship based on mutual trust continues to develop".
EFI Reggiani Unica high flexibility in rotary printing for Kadri Uğur Tekstil
Kadri Uğur Tekstil is one of the three biggest screen printers in Bursa today. Ali Uğur stated that the rotary printing is still dominant in their own production as in the textile printing market; and that EFI Reggiani Unica rotary printer has been working in their facilities for 6 years. Uğur; "We are partners with EFI Reggiani because we believe in the quality of the machine in our rotary investment, the service we received after the sale and technical support of EFI Reggiani team. This printer is very user-friendly with its flexibility, in offering settings that other machines cannot and its ease of setting the pattern".
Ideal for high-volume jobs, Unica is a rotary printing model developed for narrow and wide woven and knitted fabrics from home textiles to apparel and fashion. Unica, with 180, 240 and 320cm printing widths, can print up to 90 meters per minute; with its special print head. Ali Uğur stated that digital printing has 200 thousand meters capacity in their total printing capacity of 1.5 million meters per month.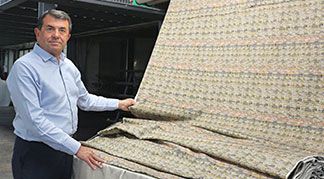 Infinite possibilities with EFI Reggiani POWER digital printer, outstanding performance and extended uptime thanks to reduced maintenance needs
Acquiring EFI Reggiani POWER digital direct to fabric printers 2 years ago; the company prints high value-added and special collections with these printers that have 32 print heads and deliver unparalleled reliability. This digital printer can be used for fashion, home textiles, automotive and outdoor applications; and can print on cotton, blends, polyester, polyamide, silk, viscose and elastane fabrics using disperse, reactive, pigment and acid dyes.
Noting that digital printing creates almost endless possibilities; Ali Uğur emphasized that the patterns sent by the customers in electronic environment were put in print with fast and reduced processing steps; and they were able to deliver the printed fabric rapidly. Uğur; "Now there are shorter deadlines due to the retail sector and fast fashion. At least 4 collections are requested within a year. Therefore, the products coming to us need to be delivered in 15-20 days. EFI Reggiani's rotary and digital printing solutions are our greatest help in realizing quality and on time delivery; as one of the biggest companies of the industry".
Ali Uğur emphasized that the process of pattern preparing has been eliminated; and the process of transforming the design into printing has never been faster than before; and that the sample can be delivered to the customer in a short time. Uğur; "We use EFI Reggiani's digital printing solutions in short, rapid delivery and in different design works. We work on EFI Reggiani's rotary machines for high-volume works of over 100 thousand meters".
Describing another advantage of digital printing as "no waste dye"; Uğur told that digital printing uses dye as much as needed and prevented dye wastes. Uğur said; "In addition to the process shortening characteristics of digital printing and its production-saving capacity; the downward momentum of dye prices in the market will further increase the interest in these technologies".
'EFI Reggiani technology is fully compatible with sustainability'
Kadri Uğur, one of the 4th generation managers of the company; pointed out the increasing demands for sustainability in the textile industry. Uğur; "Now, end-users demand that the product they use comply with the sustainability criteria at every stage. These properties have reached certain standards especially in a product to be sold to the European market. EFI Reggiani machines, which are green technology, give us this assurance in our own business.
We use dye that do not harm human health and the environment; and that have OEKO-TEX and similar certificates; our waste water and chemical inspections have become tighter and these waste rates have decreased as never before. In shortened digital printing steps, we leave the least carbon footprint on the nature. As this demand and consciousness will increase further in the next 5 years; our printing and dyeing processes will become more important. We are ready for this process with EFI Reggiani".