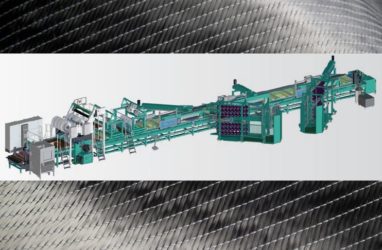 KARL MAYER Technische Textilien will be exhibiting at the JEC World 2017 exhibition in Paris as a strong partner to the composite sector.
KARL MAYER Technische Textilien GmbH Technical Textiles is an expert and highly committed partner to the composites sector, and will be demonstrating this once again at the next JEC World show, to be held from 14 to 16 March 2017 in Paris. For the duration of this leading global composites fair; this textile machinery manufacturer can be found in hall 5A on stand N 54; of the Paris Nord Villepinte Exhibition Centre. Here, the guests of KARL MAYER Technische Textilien can look forward to having some interesting conversations. They will also be able to network and gather information on what the company has to offer.
COP MAX 4 and COP MAX 5
KARL MAYER Technische Textilien is offering the COP MAX 4 and COP MAX 5 multiaxial warp knitting machines; for the production of high-performance composites.
The COP MAX 4 is a flexible, all-round machine for producing multilayered, multiaxial structures having angles of from maximal +20° to -20°.
The COP MAX 5 is the machine of choice for processing carbon fibres in particular. This machine enables multiaxial textiles having very low weights per unit area to be produced; and the fibre material can either be delivered online or offline. For the offline version; KARL MAYER Technische Textilien can also supply the UD 700 spreading unit for spreading the fibre tapes.