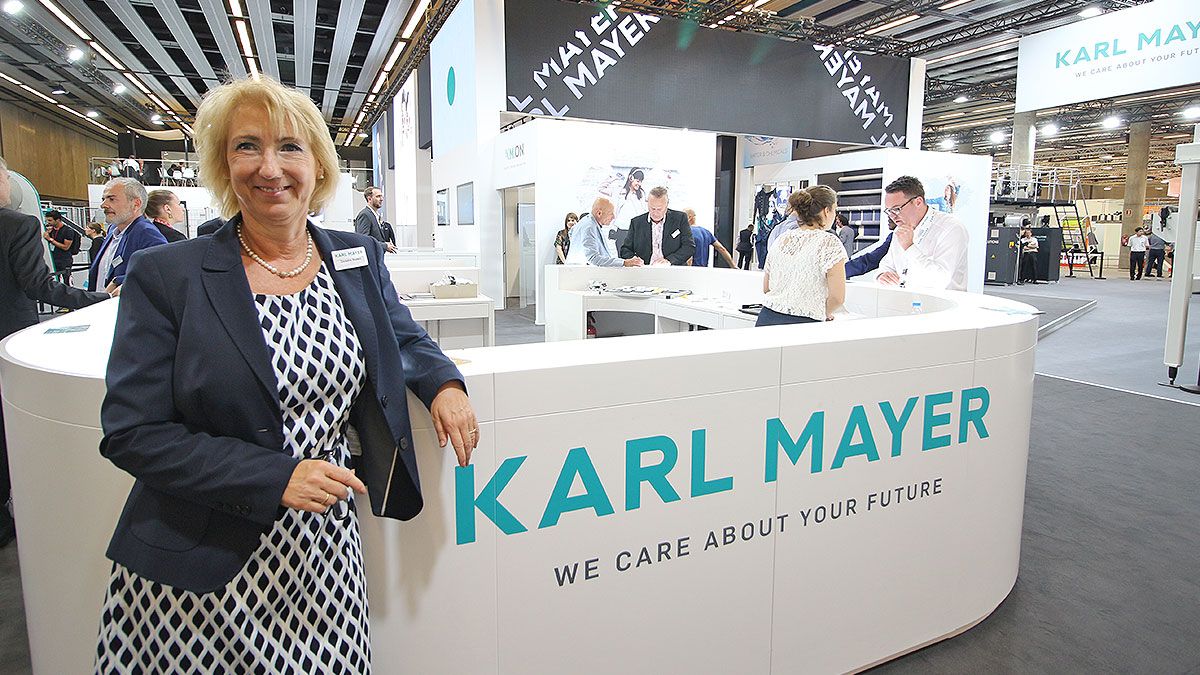 KARL MAYER remains the centre of technical and digital innovations. Participating in the ITMA Barcelona from June 20th to 26th, KARL MAYER showed that they were more than a classic machine manufacturer and that they are focused on the technologies and applications of the future. Around 1500 industry professionals visited the KARL MAYER booth, where warp knitting, warp preparation, technical textiles and digital solutions were presented in separate islands. Visitors were mainly from the company's main markets such as India, Italy, Turkey, USA, Germany and China.
'Sustainability and environment' was the common point of KARL MAYER's innovative solutions addressing different areas. With energy-efficient and resource-saving solutions, applications became the main topics during the exhibition. A special space for applications with the title 'Future of Textiles" was established at the centre of the booth. Here, textiles and apparel products from casual clothing to sportswear, underwear to denim with improved technical features manufactured with KARL MAYER machines have been displayed.
KARL MAYER remains the centre of technical and digital innovations: sustainability as a strategic aspect of the solution portfolio
Explaining that they exhibited a total of 7 new machines, KARL MAYER Head of Corporate Communications Christine Wolters said that 2 new machines were presented for warp preparation, 4 machines for warp knitting and 1 thermoplastic machine for technical textiles. Wolters said; "We don't focus our sustainability strategy on just one product line or segment, we integrate in all of our solutions.
For example, in Barcelona, a HKS 3-M EN will work a textile completely from a recycled filament yarn on the basis of bottleflakes, produced by Trevira. On the other hand we introduce our new solution for sustainable denim, we present knitted fabrics as ecologically alternatives to woven fabrics for modern streetwear, and efficient technological solutions for more conservation of energy and resources in terry cloth production." The Textilegence team then, together with Christine Wolters, visited the product groups on display and obtained information from their experts.
KARL MAYER remains the centre of technical and digital innovations: 4D-KNIT fabrics and creative applications
KARL MAYER Warp Knitting Business Unit Product Portfolio Senior Manager Kay Hilbert provided information about the new double needle raschel machine RDPJ 6/2 EL which was displayed at the exhibition. Hilbert noted that this machine can create very distinctive 3D patterns with multiple layers on the fabric surface, as well as creating sparse knitting patterns.
"We already have machines that produce 3D spacer fabrics many years.. We named 4D-KNIT the ability to put 3D effects at any point we want, not just the same distance," said Hilbert and disclosed that this idea started to shape up about 3 years ago. Hilbert continued as follows; "This is a polyester-like yarn we're using here, and then we use a fluffy-like yarn to create this kind of 3D effect. Also, with some spandex yarns, some elastic yarns to get this 3D effect even more. 4D-KNIT definitely brings advantages to KARL MAYER customers as an innovation".
The solution awaited by the composite industry: SIM.PLY UD
Our next stop at the KARL MAYER booth was SIM.PLY UD, which was developed for technical applications. KARL MAYER Senior Manager of New Technologies Dr. Jürgen Tröltzsch provided detailed information about this machine. Tröltzsch said this machine is a new solution from Karl Mayer for technical textiles, especially composites in automotive applications; "This high-performance machine for producing thermoplastic, unidirectional tapes (UD tapes) using fibre spreading technology targets the rapidly growing market of technical textiles. Thermoplastic tapes produced with SIM.PLY UD have excellent mechanical properties of high quality. It is ideal for lightweight structures, automotive and transportation applications as well as within the sports industry".
Explaining that thermoplastic tapes are produced using glass fibres and thermoplastic polymers, Tröltzsch said that while these products are light and strong, they are as hard and durable as steel. Tröltzsch; "These bands can be re-heated to the desired shape. The degree of hardness depends on how many layers it consists. It has a wide range of applications, especially in automotive".
Common point in applications; sustainability and technical superiority
KARL Mayer chose a futuristic booth concept to highlight the technologies and what can be done with them at the ITMA exhibition. Therefore, a special area was established for applications. Product Developer Melanie Bergmann from the KARL MAYER Warp Knitting Business Unit provided information about the solutions. "This year we are dedicating a specific space to the topic of new ideas for textile applications. The aim here is to "experience" the options for innovative applications within KARL MAYER machine technology
Bergmann explained KARL MAYER's solutions for water and energy saving in the sustainable Denim corner; "Our machines are not only about fabric production, but also about dyeing within the warp preparation process. We have developed a new dyeing process for Denim that saves 30-50% water compared to standard procedures".
Stating that sportswear in this special area is produced entirely by KARL MAYER's warp knitting technology, Melanie Bergmann said that warp knitting has the potential to produce a high variety of fabrics with different features. Bergmann stated that they provide e.g. support and breathability in different functional zones on the fabric by body mapping. Bergmann shared that this application presented in the exhibition was manufactured on a raschel machine with two jacquard bars and underlined that it is an ideal solution especially for sportswear.
Melanie Bergmann then touched upon the subject of electronic/intelligent textile solutions that made it possible to measure heart rate, humidity and body temperature. Bergmann stated that conductive yarns are placed exactly where they are needed by means of jacquard technology and the fabric keeps its typical textile characteristics. Bergmann explained in detail especially underwear, business clothing, towels and bathrobes and home textiles and the technologies they were produced with.
KM.ON introduces new features to the digital world
KARL MAYER's new digital business unit KM.ON, which was launched for the first time at ITMA ASIA last year; increased its number of solutions from 4 to 7. Christoph Tippmann, KM.ON Business Development Manager, announced that they have opened new KM.ON branches in Hong Kong and China. Tippman stated that with KM.ON, customers can achieve productivity increase in all processes in their value chain and continued saying;
"What we offer in the first step is a management dashboard where we can monitor the entire factory. We call the solution k.management. Our innovations include a first product belonging to k.production; by means of which it is possible to efficiently eliminate and analyse malfunctions during the production flow.
Another highlight of the exhibition was the software developed for k.innovation. This game changer in the textile industry combines patterning with collaboration. Design projects involving several participants can be carried out between companies and across different time zones, without changing the system.