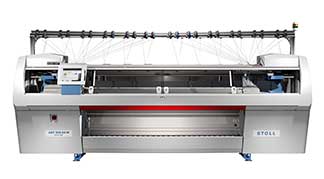 Customer orientation will once again play a central role. Above all, STOLL's new software solution, knitelligence ®, will hold a prominent space on the booth and showcase how customers can benefit from it.
For the first time, the new ADF 830-24 W knit & wear gauge E7.2 will be presented in the area of knitting machine technology. At the exhibition, a knit & wear sweater with plating technology will be presented. Furthermore, these other machines will be exhibited: CMS 330 HP BW TT sport, CMS 502HP + Bc and the ADF 530-24.
knitelligence ® – STOLL's new software solution
One of the highlights of the steadily growing STOLL Software Solutions division is the presentation of the new software solution knitelligence ® at this year's ITMA ASIA + CITME in Shanghai. STOLL's knitelligence ® is a modular system that combines all of STOLL's software solutions under one platform that covers the entire value chain of flat-knit production.
From design to production, knitelligence ® can be easily integrated into existing customer processes. The topic "networking and digitization of processes" is in the focus; and is intended to cast a spell over the visitors of the STOLL exhibition stand. In order to best illustrate the new software solutions, there will be live demonstrations for the visitors.
In addition, STOLL will present some new innovations from Fashion & Technology and Technical Textiles sectors. With regard to Technical Textiles STOLL will show the ever growing market for applications and technical implementations.
On behalf of the presentation of an ideally specified CMS 330 HP BW TT sport multi gauge E7.2 for the making of knit to use shoe uppers; SOLL would like to show the performance range of a STOLL machine for technical applications.
STOLL will show a cross section through diverse applications in the sector of Technical Textiles; by presenting diverse shoe upper applications as well as implementations reaching into fields; such as medical designs, upholstery solutions, conductive garments and industrial uses etc.
You can visit STOLL in hall 4, booth C06.