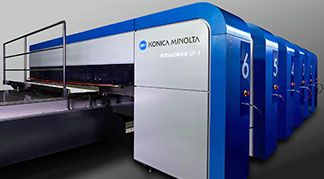 Konica Minolta, a pioneer developer and manufacturer of inkjet printing technologies, is one of the leading partners in the textile industry with their industrial type solutions. The Japan-based company has a strong global customers and service network. Konica Minolta's European headquarters for this specific Digital Textile business, is based in Italy, Konica Minolta IJ Textile Europe Srl, merged with former Verga It srl, in Como Italy in 2015, is been operating with a certain sales agent in Turkish market. Back in 2016, Konica Minolta IJ Textile Europe Srl Italy set up the direct technical support team Konica Minolta Turkey İş Teknolojileri A.Ş., in Istanbul and in Bursa, while sales activities were being done from Italy together with the agent.
While keeping this well-organized technical team, Konica Minolta IJ Textile Europe Srl is working set up the sales team in Turkey. Working closely with Konica Minolta Italy, Konica Minolta Turkey technical team guarantees well supported and fast service to the users in every corner of Turkey with their expert service team. As for sales team, Konica Minolta IJ Textile Europe Srl, recently announced they are working to set-up their own sales and marketing team in Turkey, further details will be announced soon after finalization.
The head of inkjet support function in Turkey, Çelebi Atalay and Solution Engineer Olcay Kurt provided information about their processes. Çelebi Atalay stated that the Technical Service, which consists of engineers and technicians, started to operate in 2016 and the technical team consists of 5 people. Explaining that the technical team received training in Italy and Japan about the machine structure, print heads, inks and software, Atalay indicated that the staff thus reached a higher competency level.
Konica Minolta has an advantage in the market
Atalay; "There are two electrical electronics engineers, a computer programmer, a textile engineer and a mechanical expert in our team of 5 people. We are currently covering Bursa, Istanbul and Çorlu region. We attach great importance to having permanent technicians at the nearest points to be able to provide service on the same day or the next day at the latest. Therefore, our team will continue to expand. This means more customer satisfaction in return".
In addition to strong technical support, Çelebi Atalay said that Konica Minolta has an advantage in the market and explained it as follows; "The machines developed by Konica Minolta have their own signature. The machine itself, the print head, the ink, consumables and spare parts are completely produced by Konica Minolta. In other words, our users are experiencing the safety of knowing that all their demands will be met from a single source and if they have a problem, they contact a single company: us. This saves a lot of time and cost for our customers".
Pointing out to the importance of customer demands; Atalay disclosed that they have strengthened the machines by making software and mechanical modifications in this direction; and they transform them into a more useful machine every day. Atalay also said that they have trained their customers and operators about the machine; and the malfunctions can be minimized through regular machine cleaning and maintenance.
Increased customer satisfaction with on-site technician implementation
Olcay Kurt pointed out that the technical service being provided by Konica Minolta; and not by a representative increased the customer satisfaction; and informed that the technicians went customer side as a malfunction occurred in the past period and that they now have permanent technicians in important locations such as Bursa.
Kurt; "We have increased the possibility of instant response with the proximity to the customer. Our technician starts the process for the necessary solution and carries it out. We provide support from Istanbul centre if necessary. What is important for us is that the customer has a minimum downtime due to a malfunction. We also pay attention to the fact that the solution we provide is not temporary but permanent. In other words, as Konica Minolta; we are informing our users in order to prevent the same problem from occurring again and again; while we take the necessary precautions". Kurt also underlined that they have overcome users' fear of 'getting out of the warranty'; by Konica Minolta providing own service.
Kurt indicated that customers are periodically visited, so that they can offer problem-preventing and efficiency-enhancing solutions. Kurt; "We monitor the work of both our new generation Nassenger printer as well as our previous models. We help our customers to use our machines in the most efficient way. We offer uninterrupted support for increased productivity and printing work in new areas. For example; two Nassenger 10, 1 Nassenger SP-1 machines are at work; for 3 years now in some of the leading companies in Bursa. Thanks to the effective and skilful team at Customers and the technical training we have provided; our visits are at minimum level except for parts replacement".
Eeactive, disperse, acid dye print can be manufactured with Konica Minolta
Olcay Kurt explained that they are in close relationship with Italy centre during the technical service process; and disclosed that the malfunction reports and customer demands were reported; thus Japan and Italy became part of the solution process.
Reminding that reactive, disperse, acid dye print can be manufactured with Konica Minolta printers; Olcay Kurt said that reactive inks are mostly preferred in the Turkish market. Indicating that the traditional rotary printing is replaced by digital single-pass technology; Kurt said that they are focusing on informing the textile industry correctly and offering them uninterrupted service during this change and transformation process. Stating that 2 of the 6 single-pass printers that Konica Minolta sold worldwide are in Turkey; Olcay Kurt concluded his words by saying that Turkey is a constantly growing major market for Konica Minolta.