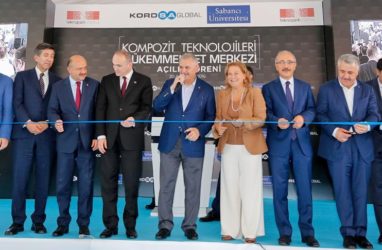 Composite Technology Excellence Center was opened at Teknopark Istanbul to be both Research&Development and production hub of KORDSA Global in composite technology segment.
KORDSA Global and Sabanci University opened their Composite Technology Excellence Center at Teknopark Istanbul. Research&Development as well as production will both be held at this newest technology hub of Turkey. The center is also the first project in Turkey which is planned in collaboration of industry-college and public.
The foundation was laid in December 2014, while the project was held with "green building concept" in line with Kordsa Global's sustainability targets with an investment of TL100 million. Composite Technology Excellence Center will host activities in high technology product composite materials which boosted a transition in several industries from aviation to automotive while it has a closed area of 15.000 meter square and a lab substructure of 3350 meter square. Plus, the center will operate as among unique test centers of the world and limited composite producers of Europe. Sabancı University members and students as well as manufacturing engineers of Kordsa Global will work together in R&D and production processes.
Value Adding Investment From Kordsa Global
Prime Minister Binali Yıldırım participated in the opening ceremony in the first place along with government and state executives as well as executives from Sabancı Holding and Kordsa Global. Expressing his individual efforts in the process of the project, he stated, "This center will produce technology which will provide more added-value to Turkey. We have not seen a satisfactory growth in added-value since we miss the technology, which means delayed welfare. Thus, we will invest in wisdom and R&D."
The Minister of Industry and Technology Faruk Özlü noted; "We will raise the share of high tech products in Turkey's exports. The figure is still 3.5% while we are willing to increase it to 20% levels."
Ms. Güler Sabancı; the Chairman of Sabancı Holding and Founding Chairman of the Board of Trustees of Sabancı University; mentioned that Turkey should be turning to high value added business areas in order to reach 2023 goals. For this, industry, university and public cooperation should become more prominent and efficient. She noted; "Today we are at Composites Technologies Center of Excellence Opening Ceremony; to introduce a new model that will set an example for our country. As Kordsa Global and Sabancı University, we are taking a new initiative; in an area with crucial strategic importance for our country. Today, we are not only investing for tomorrow, but for the next 10-20-30 years of Turkey. We always believe in our country."