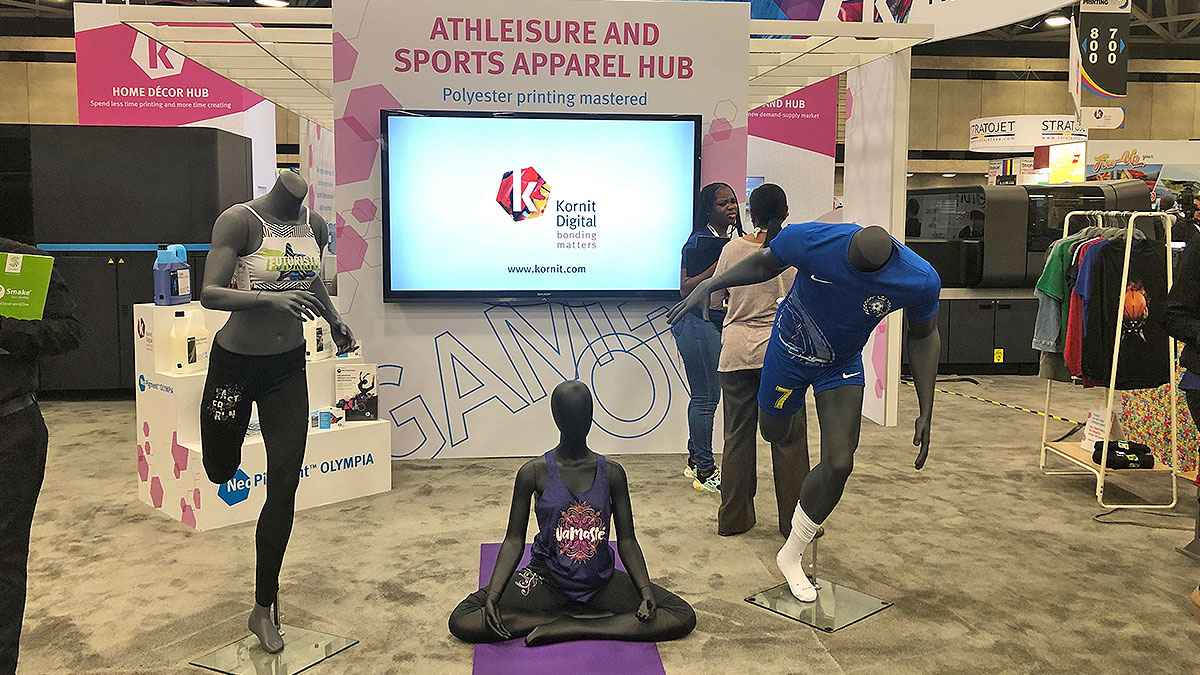 Kornit Digital, a powerful brand in the digital textile printing technology market, took part in PRINGTING United 2019 in Dallas, Texas from October 23 to 25 and exhibited its comprehensive solutions.
Kornit's analytics platform Konnect, a cloud software analytics platform that provides users a single comprehensive user interface to monitor and manage their productivity, was first introduced to the North American market. This empowers customers to receive real-time data about their operations, prioritize, assess costs, troubleshoot, and set goals from the convenience of their laptop, tablet, or smartphone.
Kornit additionally exhibited solutions such as;
a collaboration with Adidas including live production on multiple direct-to-garment systems.
the Kornit Presto system for efficient, sustainable, roll-to-roll direct-to-fabric printing on demand. Compatible with multiple fabric types and ideal for both dispersed or localized microfactory production models, Presto runs with Kornit's NeoPigment™ Robusto ink set, a 2019 SGIA Product of the Year.
Kornit Avalanche Poly Pro, the only digital direct-to-garment system developed specifically for polyester and poly-blend fabrics. The 2019 EDP Award winner for Best Direct-to-Garment Printing System, Avalanche Poly Pro prevents dye migration, bringing digital capabilities to the popular sports and athleisure apparel market.
Kornit Atlas, suited for mass digital direct-to-garment print production. Extending Kornit's HD technology to meet the highest retail standards, Atlas offers an enhanced user interface for independent operation and maintenance.
Kornit Storm HD6, Kornit's bestselling direct-to-garment print system. Offering small to medium print businesses exceptional efficiency and cost per print; Storm HD6 prints on demand to multiple fabric types including natural, synthetic, and blends.
Outside of the exhibit booth; dubbed "Kornit Fulfillment Hub" for its array of solutions enabling fulfillment of; on-demand apparel, sportswear, and home décor pieces, Kornit's presence was felt throughout the event. Visitors to the PRINTING United Experience Zone (Booth 10530) found a number of polyester sportswear pieces; imprinted using Kornit's NeoPoly digital print technology; as well as home goods imprinted by Spoonflower, using Kornit's eco-friendly direct-to-fabric print process.
"Kornit's creative drive has really kicked into high gear this past year; and attendees in Dallas saw that reflected in the most ambitious exhibit we've ever had in North America; featuring the most advanced digital textile print systems ever introduced by Kornit; and thus the industry," said Ronen Samuel, Kornit Digital CEO.