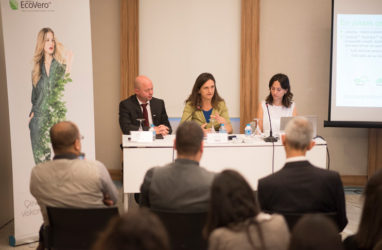 The fashion industry requires more transparency. The answer is Lenzing EcoVero – the new standard in eco-responsible viscose.
Lenzing presented their fiber solutions to Turkish textile industry in PremiereVision Istanbul exhibition between 18 – 20 October. Company booth has attracted much attention throughout the exhibition with fabric sample produced with Lenzing branded fibers. Lenzing launched Lenzing EcoVero branded viscose fibers which provide transparency to the fashion industry in the press conference they have organized in the first day of the exhibition. Lenzing Textile Head of Product Management Sonja Zak, Turkey & MEA Region Director Jürgen Eizinger and Turkey & MEA Business Development and Marketing Manager Hale Saraçoğlu has attended the press conference.
Jürgen Eizinger has informed us about Lenzing's plans for the market's future and investments. Eizinger; "Specialty fibers carry a great importance for Lenzing's sCore Ten strategy that has started 2 years ago. In this regard, all of our attention and investments are on these specialty fibers. We want to bring up to 50% of our sales to specialty fibers till 2020 and we have already started our investments in this area."
Eizinger also pointed out to their 100 million Euro investment in order to increase the capacity for existing fiber production facilities. "We work and invest on our next generation fiber TENCEL because we firmly believe in sustainability" said Eizinger; while informing about the investments to increase TENCEL production capacity.
Jürgen Eizinger emphasized the importance of China in his review about global market trends; "some people thought China might exit textile industry because of the increase in workforce, energy and investment costs. That didn't happen. Consumption has increased in the domestic market so much that China is returning stronger than before". Reminding shipments from China take a longer time Eizinger stated Turkey has a greater advantage on that matter. "Turkey is geographically closer to Europe. Thus they can rapidly supply fast fashion."
Lenzing EcoVero : Transparency and Sustainability are Stronger Together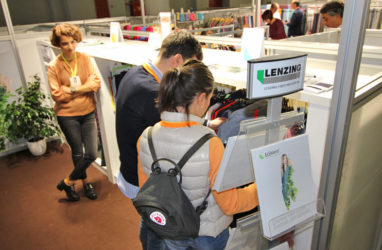 Sonja Zak delivered a detailed presentation about the newly launched Lenzing EcoVero branded viscose fibers. Lenzing EcoVero branded viscose fibers from Lenzing, with its state-of-the-art identification technology, supports eco-responsible fashion retailers and brands to become more transparent, especially with sustainability-minded consumers. Well known retailers are teaming up with Lenzing to advance their sustainability strategies with traceable Lenzing EcoVero fibers.
Lenzing EcoVero fibers are uniquely environmentally friendly and traceable viscose fibers.  This can even be identified in the final product. This ability to easily verify the original fibers means that retailers and brands can be sure that they are indeed incorporating Lenzing's eco-responsible viscose fibers; and not just any generic viscose that might not be in line with their sustainability goals. With this special identification technology for Lenzing EcoVero fibers; Lenzing provides an one-of-its-kind solution for the fashion industry and its supply chain to respond to consumer demands for reliable visibility of product origins that can be traced back to the fiber.
Lenzing enforces strict environmental standards during viscose production and has invested millions over the years to achieve eco-resposible production processes. Lenzing's viscose production sites where Lenzing EcoVero fibers are made comply with the stringent guidelines of the EU Ecolabel, a world-leading environmental manufacturing standard. Lenzing is also very transparent regarding raw material sourcing practices. Lenzing EcoVero fibers are made from wood. The wood comes from sustainable forestry plantations that are independently certified by industry-leading associations.
FSC® or PEFC® certified
Lenzing has a comprehensive wood sourcing policy that goes above and beyond the call of duty to ensure that; the most sustainable wood sources are used for viscose production. Lenzing EcoVero fibers set a new industry standard in sustainable viscose based on the use of these sustainable wood sources (FSC® or PEFC® certified) and; an ecological production process with significantly lower emissions and water impacts than conventional viscose. This brings a new eco-friendly production process standard to industry for sustainable fibres.
Leading industry brands and retailers are teaming up with Lenzing and; are using Lenzing EcoVero fibers in their collections to improve transparency and traceability. Several famous brands are using Lenzing EcoVero fibers in their collections. Brands such as Scandinavian retailer Gina Tricot, Swedish retailer Lindex, German brand ARMEDANGELS. Yarn manufacturers Karsu Tekstil and Kipaş and fabric manufacturer Barutçu tekstil also started using Lenzing EcoVero fibers.