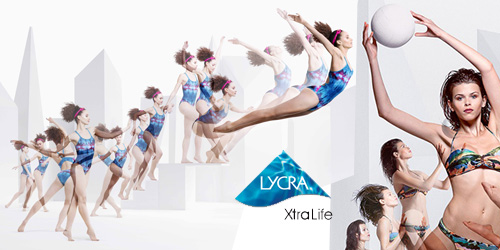 The LYCRA® brand will be in evidence more than ever at next week's London Swimwear Show with over half of the exhibitors showcasing the performance benefits of LYCRA® XTRA LIFE™ fibre in their 2016 consumer propositions.
Collections from over sixty leading international brands will be on display when the London Swimwear Show opens its doors on July 17th.
INVISTA, one of the world's largest integrated producers of polymers and fibres and owner of the LYCRA® brand, will have experts on hand throughout the show to explain how LYCRA® fibre and fabric innovations – which have been redefining consumer expectations of swimwear for over 30 years – continue to offer new business-building differentiation options. It will also demonstrate how swimwear shoppers' trust in the LYCRA® brand opens the door to a wide range of joint marketing opportunities in this lucrative garment sector.
Most women want their swimsuit to last longer than their summer tan. But exposure to extreme conditions such as chlorine and sunscreen drastically reduces the life of these garments. LYCRA® XTRA LIFE™ fibre resists fit loss and fibre breakage caused by pool water and sunscreen, giving long-lasting shape, style and fit that resists bag and sag.
The added stretch, shape and comfort of LYCRA® brand fibres transformed swimwear fabrics and fashions in the 1960s and have set the standard for quality products ever since – from flattering shapewear for the beach to the ultra-close fit and freedom of movement favoured by competition swimmers. The invisible ingredient that changed the course of swimwear is still working its magic.
Visitors and exhibitors are invited to join the LYCRA® brand sponsored networking drinks taking place after the show on Monday 18th at the Radisson Portman Hotel.
About INVISTA
With leading brands including LYCRA®, COOLMAX®, CORDURA®, STAINMASTER® and ANTRON®, INVISTA is one of the world's largest integrated producers of chemical intermediates, polymers and fibres. The company's advantaged technologies for nylon, spandex and polyester are used to produce clothing, carpet, car parts and countless other everyday products. Headquartered in the United States, INVISTA operates in more than 20 countries and has about 10,000 employees.