Global brand of digital textile solutions Kornit Digital decided to continue their journey in the Turkish market with MatSet; one of the most established companies in the industry. With the newly signed representation agreement, the MatSet Group will carry out sales and after-sales services of all printing machines and consumables of Kornit Digital. MatSet has a strong position in the market with the brands it represents in printing and advertising, and brings Kornit and its subsidiary MatTex for textile printing solutions. All of Kornit's direct-to-garment printing (DTG) and direct-to-fabric (DTF) solutions will be represented by MatTex and service will be provided for these solutions.
MatSet General Manager Doğu Pabuççuoğlu said that MatSet has been serving the printing industry for nearly 50 years. Reminding that they have important brands such as HP Indigo and AGFA in their portfolio, Pabuççuoğlu underlined that they have strong ties with the Turkish printing industry. Pabuççuoğlu stated that they have been meeting with Kornit since August 2020, and summarized the process as follows;
"Recently, after renewing their management and vision, Kornit Digital has embarked on a new quest to be more active in Turkish market. MatSet's ability to provide printing solutions and after-sales service through our Istanbul, Ankara and Izmir offices throughout Turkey attracted the attention of the Kornit. During our meetings, we evaluated how we can offer Kornit's innovative printing solutions for the textile industry. Since we are selling AGFA's films, we already had some familiarity with the textile industry, but we will be in this field for the first time in digital terms. Therefore, the first thing we did as soon as we reached an agreement with Kornit was to create our technical service, even before the sales department. Our technical service and sales department have received training on both the textile industry and Kornit solutions".
Kornit Digital has serious potential in DTG and DTF markets
Doğu Pabuççuoğlu commented on the technical superiority and application advantages of Kornit Digital's direct-to-garment printing (DTG) and direct-to-fabric printing (DTF) solutions. "With the pandemic, the transformation in the market has accelerated, companies are now struggling to compete with a single production method. We see a serious interest in our DTG solutions in the printing and promotion industry. Our DTF solutions stand out as a real alternative to conventional production in textile printing. We will proceed in these two segments of the Turkish Market," said Doğu Pabuççuoğlu, and noted that they will contribute to the expansion of the industry and the digital market.
Pointing out that there has been a transformation in the textile industry, Pabuççuoğlu stated that as the number of ordered pieces decreased, the variety increased, and the lead times were shortened. Pabuççuoğlu; "The era of producing and selling one type in high volumes is now over. European markets are expected to recover starting in March. In addition, there was a serious boom in sales through e-commerce. All these show us that the logic of production has changed and the transition to job shop production has taken place. Moreover, the demands on sustainability and resource conservation are increasing. Providing a water free printing process in one step, Kornit Digital solutions will be the first choice of Turkish textile manufacturers with their user-friendly features".
For a successful investment, the right machine is more important than the price
Indicating that they will strengthen Kornit's brand perception in Turkey and show that MatSet is standing this brand, Doğu Pabuççuoğlu said; "2021 will be the year of Kornit to meet with the Turkish textile industry again". Pabuççuoğlu continued his words as follows; "As the new representative, we will increase its recognition in the market much further, show the necessary attention and change the brand's view. Kornit shares our determination in this matter and supports us. For this, we will start working with existing customers and put the machines back on production. We will present the combined power of Kornit and MatSet to all our customers".
Pabuççuoğlu emphasized that the price is not as important as it is thought in machinery investment, and that the operating cost and return on investment should be more considered. Pabuççuoğlu stated that the needs of the customer were first determined during the purchasing process and solutions were offered accordingly, and the advantages of Kornit will be explained to the customers with comprehensive cost comparisons. Pabuççuoğlu; "We help our customers to select machines according to the job rather than looking for machines by price. Because the desired results cannot be obtained without the right machines. As MatSet, we are working not to sell more machines, but to sell the right machines. This was the most important factor that enabled us to gain confidence in the market. The other factor is that we provide fast and comprehensive service after sales".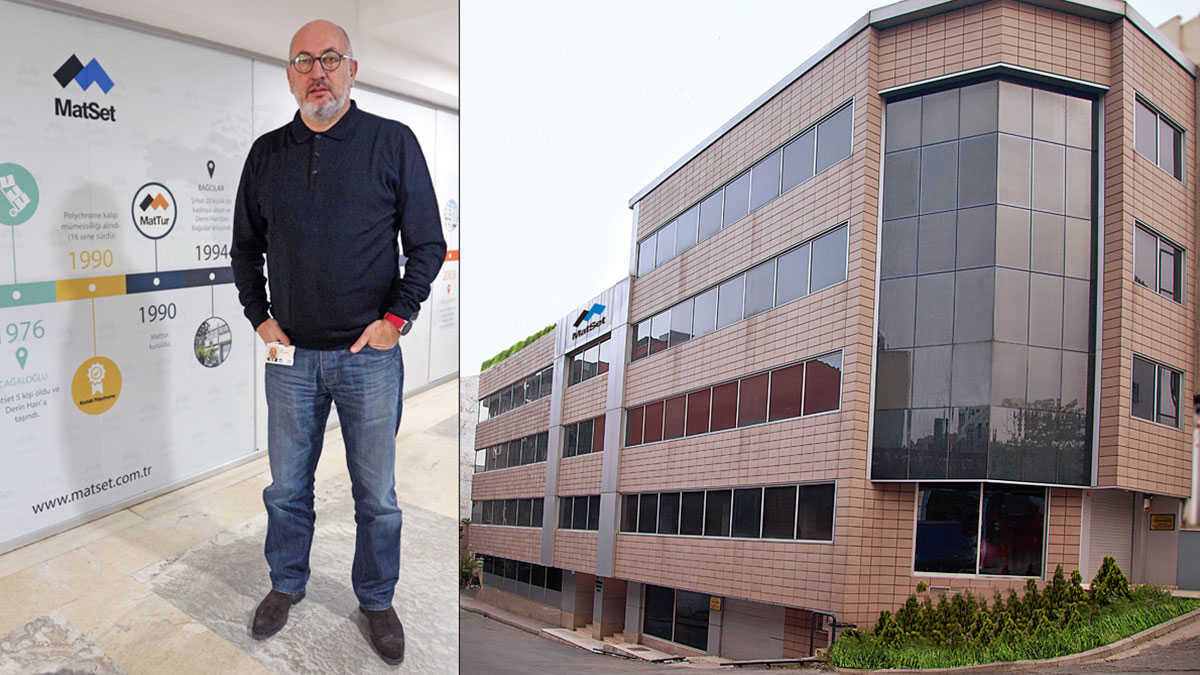 MatTex and textile showroom at the service of the industry
Expressing that Kornit has implemented large business associations with e-commerce platform and retail brands in US and UK, Doğu Pabuççuoğlu noted that a step has not been taken in this direction yet and a significant potential is waiting for them in Turkey.
Pointing out that fairs could not be organized and promotional activities could not be realized due to the restrictions during the pandemic, Pabuççuoğlu emphasized that they will carry out alternative promotional activities and work to commit the cooperation of MatSet and Kornit Digital in memories. Pabuççuoğlu informed that printing materials such as inks and print heads will be ready in stock, and added that Kornit printing solutions will be exhibited and sample printing requests will be answered in their expanded showroom.