Mimaki Europe is attending the Innovate Textile & Apparel Virtual Trade Show on October 15-30. Those who want to learn more about the latest textile printing solutions from Mimaki, the leading brand of digital printing and cutting plotters, and to get information from the senior management team about current trends in the industry, show great interest in this global digital event. The digital event reflects the classic fairs that did not take place due to the pandemic, and participants will be able to exhibit their products at their stands and come together with the industry with webinars they will organize.
Visitors browsing Mimaki's interactive virtual booth can see the best-selling dye-sublimation printer TS55-1800 and the new hybrid printer TX300P-1800 MkII in action. Both printers offer cost-effective innovative textile technology. Visitors will also be able to take advantage of some special promotions; including a special deal for the TS300P-1800 and a chance to win the Mimaki TS30-1300 entry-level sublimation printer. They will also be able to hold one-on-one discussions on the latest market trends and solutions to meet current demands.
A special promotion for TS55-1800
Dye sublimation is a breakout technology in textile printing, allowing high quality, vivid prints on a multitude of fabrics, such as polyester or elastane, all on-demand. Mimaki's TS55-1800 combines this ground-breaking technology with Mimaki's renowned expertise and innovation. The printer offers industrial scale production and incorporates Mimaki's core technologies; such as NCU (Nozzle Check System) and NRS (Nozzle Recovery System), nozzle control and restoration systems; that ensure automatic detection and replacement of clogged nozzles without interrupting production.
Additionally, MAPS (Mimaki Advanced Pass system), a system created to prevent banding; uses a special algorithm at each print pass and calculates the most effective way to jet the ink droplets according to colour, coverage and speed. Available with the Mini Jumbo Roll option that can help save up to 25% on paper costs and a 10L bulk ink system; the Mimaki TS55-1800 offers the lowest running cost in the market; and is the ideal production model for small- to medium-sized companies. At Innovate Textile & Apparel Trade Show, Mimaki will launch a special promotion for this printer, making it even more appealing to those companies looking to diversify their business during these challenging times.
New opportunities with the hybrid printing power
Launched earlier this year, the Tx300P-1800 MkII features printing on both textile and paper with one machine. The new model is providing unrivalled flexibility and opening new doors for print service providers. This hybrid textile printer switches swiftly between direct-to-textile and transfer printing via an interchangeable platen.
The printer allows users to select from three different ink combinations to load onto the machine; textile pigment/direct sublimation, textile pigment/sublimation transfer, or direct sublimation/sublimation transfer. This enables the production of an array of applications from fashion textiles to interior fabrics and wallpaper. Both affordable and versatile, the Mimaki Tx300P-1800 MkII appeals to smaller print service providers and large volume production houses alike; delivering faster turnarounds and more cost-effective short-runs and textile sampling.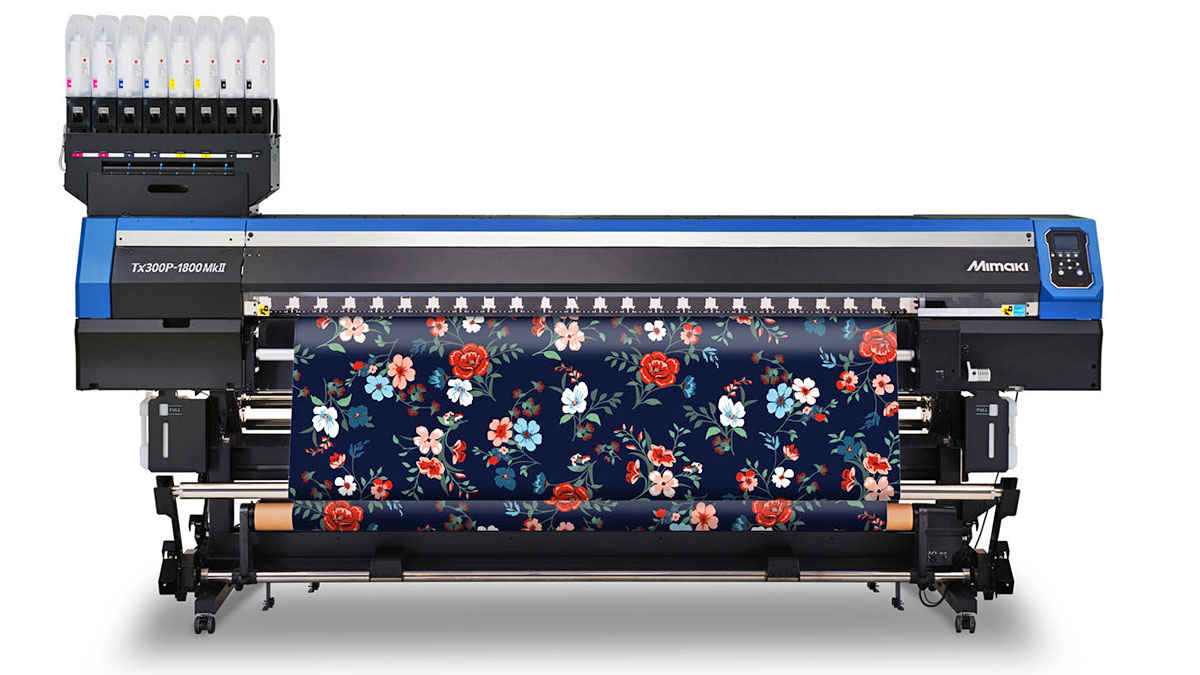 Virtual fair, real advantages
Mimaki Europe Senior Marketing Manager Danna Drion said that this virtual fair is an opportunity for Mimaki to further strengthen its position in the textile market; engage with our customers and share with, and learn from, the wider industry. Disclosing that Mimaki have a comprehensive portfolio spanning different technologies; "We are keen to explain the benefits of these printers; to help textile print service providers find the right technology for their business. In these challenging times, we also want to ensure that our customers and prospects fully understand the capabilities of our solutions; and take advantage of the promotional offers at the show; so that they can confidently make their next investment and maximise their production line to remain profitable and competitive. This event will allow us to do exactly that and we look forward to the opportunity".