Wide-format inkjet printers, cutting plotters and 3D printers manufacturer Mimaki will inspire the printing industry for a broader perspective through its collaborations as well as showcasing new solutions and best-selling models at FESPA 2023 Global Print Expo (GPE) to be held in Munich, Germany between May 23-26. Mimaki booth B1-B10 will showcase its flagship printers and cutting plotters for the sign graphics, industrial products, textile and apparel markets, including the recently announced TxF150-75 Direct-to-Film (DTF) printer, the high-performance 330 Series and the entry-level 100 Series.
TxF150-75, Mimaki's first foray into DTF technology, will make its international debut at FESPA 2023. The TxF150-75, providing easy and affordable direct printing on apparel products, especially T-shirts, fully responds to the market's need for a reliable, stable DTF technology. Equipped with Mimaki's renowned Core Technologies, this new model prevents common issues such as poor ink ejection and white ink clogging, ensuring that printing is carried out efficiently with minimum intervention.
Sign and display technologies from the entry-level 100 Series and the high-performance 330 Series, which are among the key technologies to be demonstrated in person to FESPA GPE visitors, are expected to attract great interest. From the UJF-6042 MkII e, which enables direct printing on small-sized objects, to the large format JFX600-2513, advanced UV flatbed printers industrial solutions will be one of the hotspots of the booth. TS100-1600 and TS330-1600 sublimation printers will also be of interest for those looking for innovation in textile printing.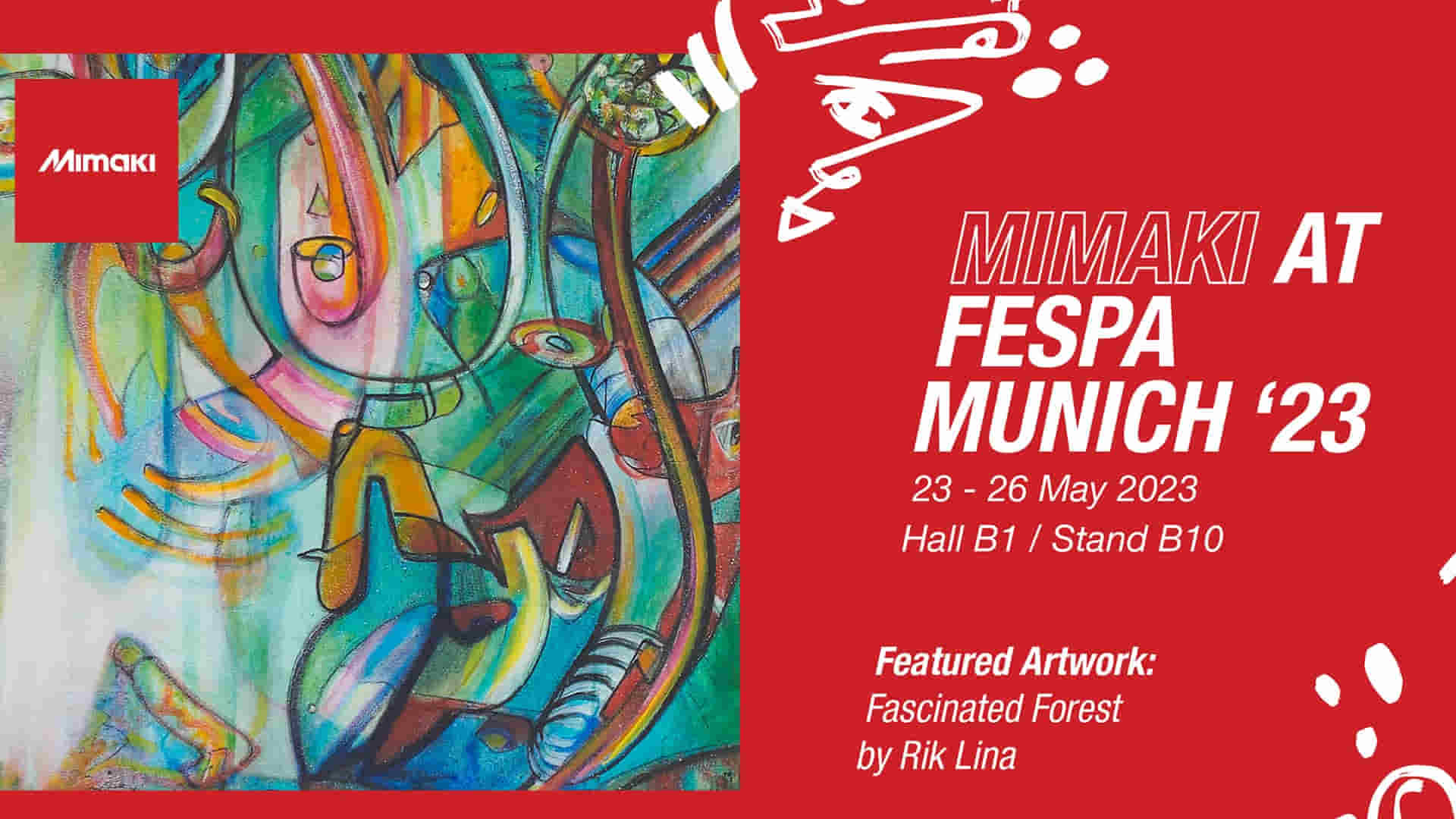 New Perspectives, Fascinated Rainforest
Mimaki, clearly demonstrating its support for the exhibition as a gold sponsor, is also adopting the 'New Perspectives' theme of FESPA 2023. The company, emphasising sustainability in the printing industry, will demonstrate its commitment to this issue with its solutions and applications. This year, Mimaki will showcase the visually vibrant art of Dutch surrealist artist Rik Lina, inspired by the natural world. The main title of the booth, 'Enchanting Rainforest', is based on Lina's own travels in the rainforests of Saba, in which he seeks to capture the essence of nature and instil a sense of awe in the viewer while there.
The gallery of users' products, which has now become an integral part of the Mimaki booth, will also be present again. From signage graphics to industrial, from textiles to 3D, the exhibition area featuring inspiring applications created by Mimaki users from multiple sectors will, as always, attract great interest from visitors.
Stating that the environment is a critical concern for Mimaki, as it is for the entire printing industry, Mimaki Europe General Manager of Marketing Danna Drion continued her words as follows: "We are working towards the UN's Sustainable Development Goals, focusing on reducing wastage, water and to encourage and help printers to create sustainable applications, where possible. We will return to FESPA to join hands with the industry to collaborate on and hopefully inspire some creative, show-stopping end-products. Like previous shows, visitors can also expect Mimaki to debut something new on our stand."