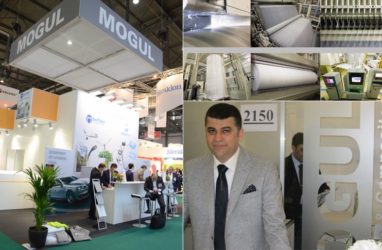 One of the leading nonwoven manufacturers in Turkey, Mogul Nonwovens will present its innovative competitive solutions in INDEX 17 fair that it will attend.
Reaching to global markets with its innovative nonwoven productions addresses to many application areas, Mogul Nonwovens is among the leading players of the industry. Possessing an international working profile with its over 400 staff, the firm produces nonwoven and composite in USA-South Carolina facility as well as its three facilities in Turkey. Taking place in the TOP 40 project in which the biggest firms of the global sector are ranked, Mogul embraced a global identity especially with USA investments. The firms continued to enhance both product range and markets with the investments carried out last year.
Stating that INDEX fair is the biggest event of the sector and thusly they give so much importance on attending, Mogul Nonwovens CEO Serkan Göğüş announced that they would attend with the biggest booth area so far which is 136m2 space. Göğüş stated that there would be special rooms for B2B meetings in the indoor areas of their booths, also they embraced a karma concept in which the product presentations take place in outdoor places.
Mogul Nonwovens: Madaline and Durell Will Come Forward at the Fair
Mogul will present all PP, PET Spunbond and Meltblown, SMS, Spunlace  environmental cleaning products, peva film, extrusion coating solutions in its product range as well as its new products Madaline and cross lap product series Durell to its visitors. Serkan Göğüş gave these information about their products; 'Apart from Standard Aqualace product range, Durell series products having a very similar md/cd rates and suitable for industrial applications along with wet towel and cleaning cloth, will come forward at INDEX fair.  In these line with our interior chemical application system, many supplement features like power transfer, water-repellency, color and rigidity can be gained.
Our new product Madaline; which was developed with technology representing the end point of the nonwoven sector; will be the apple of the fair's eye. Combining hybrid technology with water needling, this technology provides a unique product with its microfilament structure. Apart from finishing processings can be applied to textile fabrics and close touching and draping to textile fabrics; it provides high filtration and barrier features with its microfilament structure. It continues to possess spunbond fabrics physical qualities in the meantime. We also aim at garment and upholstery; and especially denim/jean application in addition to traditional nonwoven applications; as the target application.'
We Target to European Market at the Fair
Stating that INDEX fair, that will be held in Geneva, attracts European markets to itself; Serkan Göğüş explained that because of that they expect especially; Germany, Italy, England, France, Spain and Poland markets to be on the forefront. Göğüş said that in production application areas; they aim to meet the visitors with wet towel, filtration, automotive, environmental cleaning supplys, medical, hygienic and construction segments.
Saying that 2016 was a truly investment year for Moğul, Göğüş listed these investments thusly; 'Apart from the new facility in Lüleburgaz and 2 new line investments made there; our new facility's building renovation and line installation in USA South Carolina are started. We are even awarded  to  IDEA® 2016 Entrepreneurship Award by American nonwoven industry's roof organization INDA; thanks to our enterprise success. 2017 will be the year in which these new investments will be put into use; and the increasing capacity will be sold. We dont have a new investment plan this year. We will enhance our market-oriented works.'