MS Printing Solutions, developing innovative products for the ever-changing and demanding market of digital textile printing, welcomed their visitors by introducing new technologies and approaches at ITMA 2023. Highlighting the necessity of a sustainable industry, the company presents pigment solution that reduces environmental impact such as water and energy consumption as well as chemical use. Sector manufacturers looking for solutions on sustainability showed high interest in MS Printing Solutions' booth. 
MS Printing Solutions and JK Group Product Marketing Manager Matteo Forte said: "On our booth, we presented the Pigment Solution – the culmination of our R&D team's great effort, the heritage of MS – a deeply renewed and improved MiniLario, the New Era of Single Pass – a genius combination that unites the versatility and size of a scanning machine with the rapidity (75 m/min), immediacy and printing automation of a single pass machine and a concept machine in the shape of a revolutionised JP4."
Highlighting the demand for new technologies at the exhibition, Forte evaluated visitors' expectations and interest: "People are really looking for and willing to listen to different stories to understand what has been developed and invented in the last four years. There is also a lot of hype coming from not only the textile business but also new technologies such as artificial intelligence. People are curious to see how it could be applied to the textile market, and if we are ready to apply it to the textile market as well." 
MS Printing Solutions breathes new life into the market with sustainable pigment solution 
Giving the special interview for Textilegence, Matteo Forte explained that their booth concept has two main parts: the way towards their future products and how to improve and develop their heritage. He evaluated that after the pandemic they rethought the products and entered a development process. Forte detailed the new developments of MS Printing Solutions: "The pigment solution is made of four main elements: a completely re-engineered JP7, a digital scanning printing machine designed to print pigment with the goal to radically reduce water and energy consumption thanks to new, integrated innovative Tech solutions. Digistar Pigment 4K, JK Group newest ink, to the point where it is patent pending, that doesn't require pre- and post-treatment, specifically designed for this system, where it reduces the digital printing process steps by 50%, the water consumption by 100% and the energy consumption noticeably. A new dryer was designed ad-hoc for this system. Capable of drying and polymerizing on the fly; it guarantees perfect use conditions, the best achievable control and reduction of CO2 emissions during the entire process, thanks to the reduction of space needed for the manufacturing line in the plant. System Plus Software, the new management software that integrates calibration, printing software and ink for a perfect colour management, thus guaranteeing a colour yield up to 20% higher, while improving efficiency".
Forte also stated that they were inspired by technology and artificial intelligence, so they gave the chance to ITMA visitors to have a preview of the new AI system they are developing to exponentially increase the print quality output.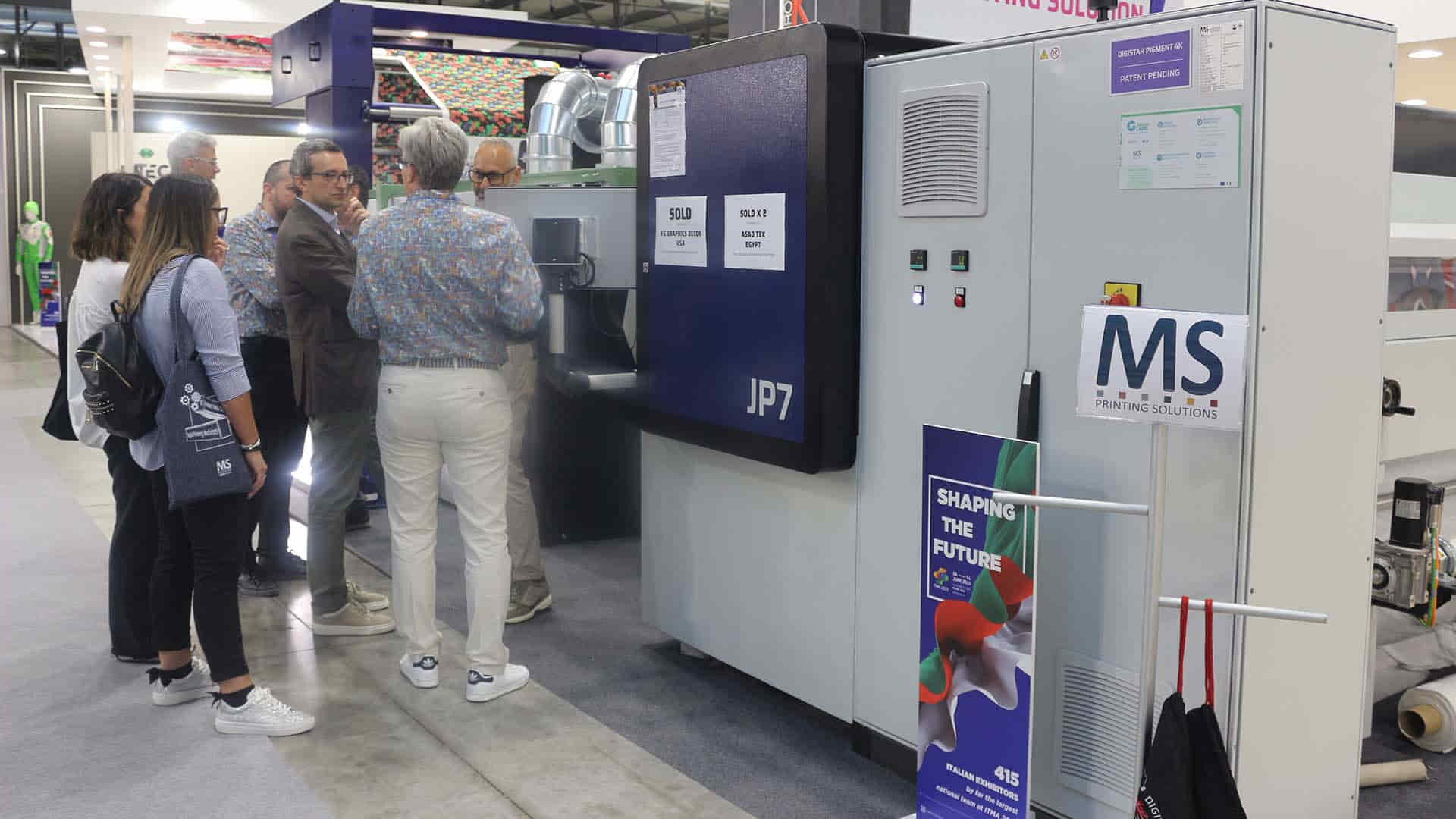 "Our pigment solution decreases environmental impact by 95%" 
Regarding sustainability, the key concept highlighted at ITMA 2023, MS Printing Solutions showcased their Pigment Solution and the New Era of Single Pass by pointing out their environmental impact. Matteo Forte noted that their New Era of Single Pass has been designed with a focus on sustainability, because of the reduction of the needed space (it is ten times more compact); while Pigment Solution is the real innovation considering sustainability.  
Forte indicated that sustainability is a crucial point for transformation in the textile industry and added that they have developed and will continue to develop their products with this approach. He expressed the contribution of the products to sustainability and the environment: "The real innovation in terms of sustainability is our Pigment Solution. We made a study showing that compared to a digital reactive solution, we can decrease the environmental impact by an average of 95%. As per hydric resources impact, for example, we have a reduction of 85%; while when talking about CO2 emission we reach a reduction of about 15 times. These data come from a study developed by Next Technology Tecnotessile Società Nazionale di Ricerca."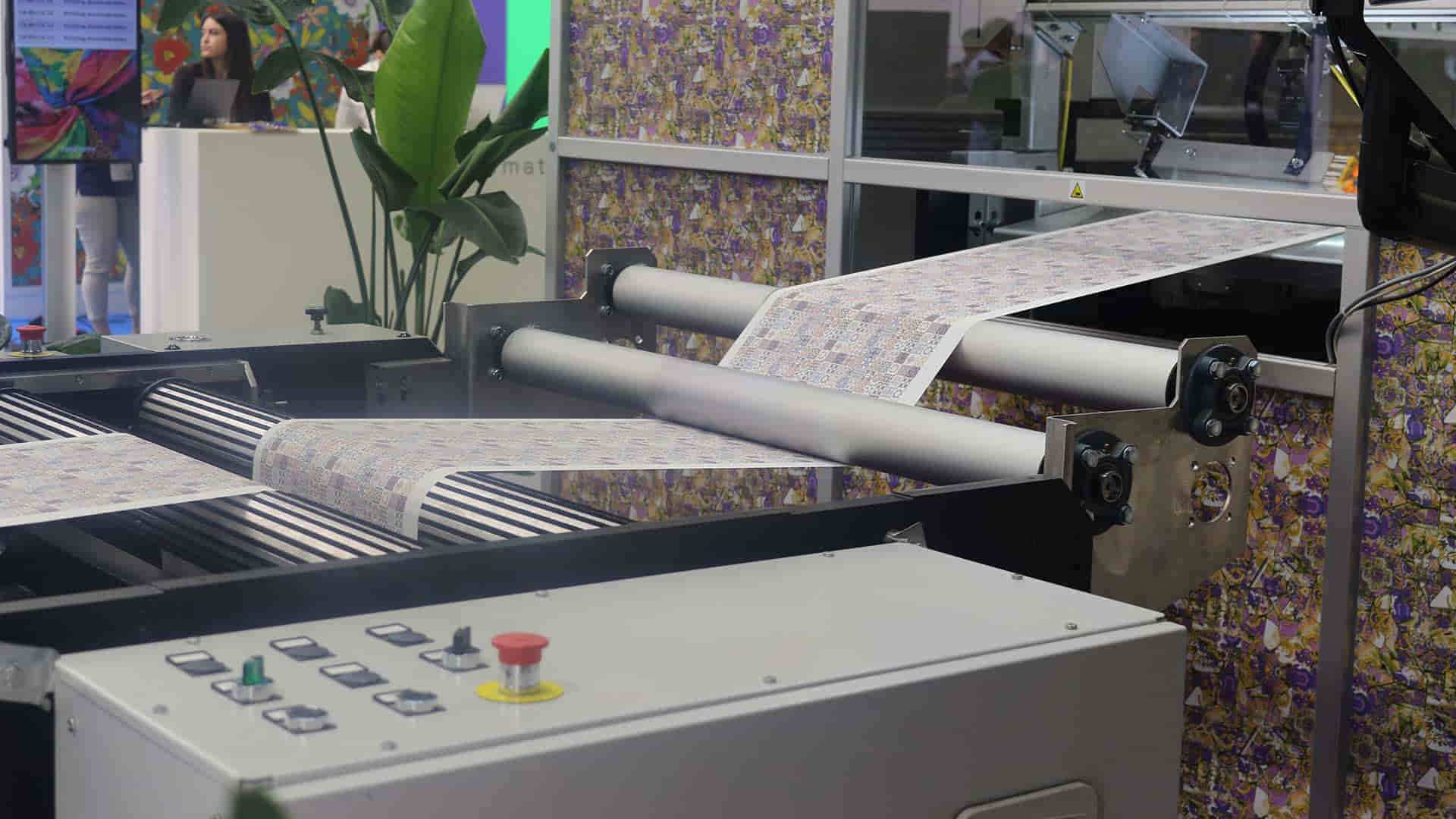 "No matter what we want, digital will be the future since it is more sustainable and flexible" 
"No matter what we want, digital will be the future since it is more sustainable and flexible"  Matteo Forte said that they have welcomed many visitors and customers from Türkiye, where MS Printing Solutions has a big presence. Emphasizing that they made a big revolution in the market when LaRio was created, he said that it was the first ever single pass, a machine that revolutionized digital printers' market and the way everyone used to think about printing. Forte noted that they will continue to improve and innovate the products with new technology standing. He disclosed: "It's time to innovate again. We are here, ready to disrupt the market in our style. That's why after a lot of knowledge and feedback from the customers, we do know better the technology behind it. Digital will be the future since it is more sustainable and flexible. The investments in digital is here and is here to stay."