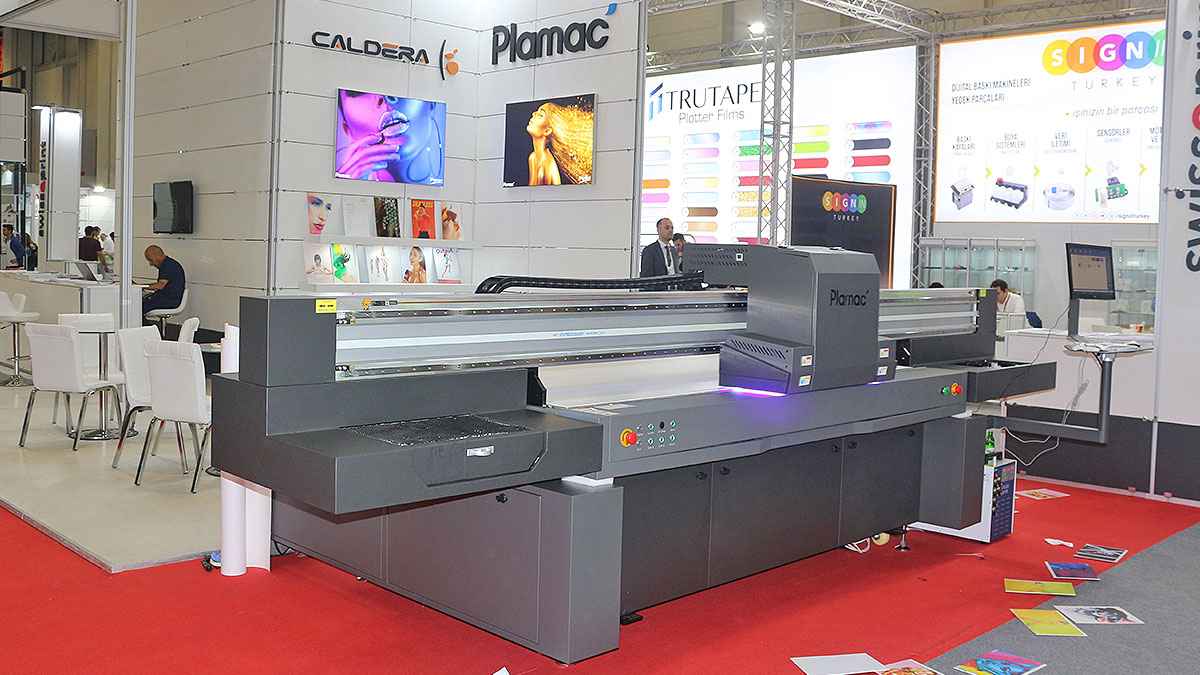 The demand for UV printing technologies, which enable direct printing on several different hard or flexible media, is constantly increasing. The speed and high quality of UV curing have a major impact on print manufacturers choosing these technologies. Pigment Reklam, one of the most important suppliers of the Turkish printing industry in this area, provides solutions for companies in entry, middle and industrial segments with the brands in their portfolio and MU6090 is a new option for the printing industry.
Pigment Reklam participated in two successive fairs in September with different UV printing solutions for different applications in outdoor and indoor areas. Providing solutions for the signage industry at the 21st SIGN Istanbul held in TÜYAP from September 19 to 22, Pigment Reklam exhibited their new product Plamac MU6090 smart UV flatbed printer for the promotional and gift items industry at the Promotion Show Istanbul held in Pullman Istanbul Hotel & Convention Centre from September 25 to 28.
UV printing responds to every application
In addition to banner and sign printing on rigid and flexible materials, UV printing is an unrivalled technology for backlit table applications and decorative surface prints. For this reason, Pigment Reklam welcomed their visitors with Plamac branded UV and eco-solvent solutions at SIGN Istanbul 2019. The stand featured Pegasus 3200 LED UV, Morpho 2513 UV Flatbed and Starfire LJ 3200SG roll to roll eco solvent printers. Pigment Reklam's innovation at the fair was the Plamac MU6090 smart UV flatbed printer specially developed for promotional and gift printing. This model, which is intended to offer new opportunities to print manufacturers in the production of personalized goods, has become the centre of attention of the visitors with its high potential.
Pigment Reklam company owner Serkan Çağlıyan; who gave information about their participation in the fair; said that they experienced a successful SIGN Istanbul. Çağlıyan stated that they came together with visitors from signage, printing, promotion and digital printing segments and said the following about the solutions they offer; "As it is an important exhibition for the printing industry, we have participated in SIGN Istanbul with our solutions that have made a big impression in the market. Our Plamac brand models are highly accessible models with print quality, production and investment cost advantages. We have continuously expanded our product portfolio since last year through our cooperation with Plamac. Our flatbed and roll to roll UV solutions are installed in several printing centres and are successfully working. In this sense, SIGN Istanbul was an opportunity to increase our Plamac brand recognition in the market and reach new customers".
Promotional industry got its own solution: MU6090
Pigment Reklam exhibited their new solution for promotion and personalized goods sector MU6090 smart UV flatbed printer; at Promosyon Show Istanbul after its introduction at SIGN Istanbul. Serkan Çağlıyan stated that serious negotiations have started for both MU6090 and MTU-6090 models since the fair and sales have taken place.
Stating that both models have 600 mm x 900 mm printing area, Çağlıyan informed that MU6090 can print on products up to 20 cm thin; and MTU-6090 can print on products up to 10 cm thin. Çağlıyan; "MU6090 and MTU6090 can both provide 4, 6 and 8 pass UV printing; and they are high profitability solutions in promotion and gift sector. There is almost no surface that they cannot print; PVC sheet, acrylic surfaces, ceramic, metal, mobile phone, paper/cardboard surfaces and bottles are just a few of them".
Underlining that the innovations regarding the MU6090 model are not over; Çağlıyan said that MU6090 Textile version is also available for direct printing on textile surfaces. Çağlıyan; "This model, developed for direct T-shirt printing, has significant potential in the market. We offer an attractive solution for print manufacturers looking to print T-shirts with high print quality and efficiency. We expect to receive an intense demand in a short amount of time".
Çağlıyan also stated that they introduced Morpho 1212 UV flatbed printer at the fair and added that two models of this machine using Epson and Ricoh GEN5 heads were introduced to the market. Çağlıyan expressed the following; "With the expertise of Plamac, Morpho 1212 is among the most reliable flatbed printing solutions; with its extremely high precision platform structure. It provides the best photo quality printing with CMYK + Lc + Lm + White / Varnish options on several different materials".
Çağlıyan; "Both fairs met our expectations"
Serkan Çağlıyan stated that they were satisfied with both fairs in general; and that they had the opportunity to meet with existing customers; and that new solutions were introduced to potential customers. Çağlıyan added that the works for the realization of the sales negotiations started during the fair period are completed after the fair is still going on.
Serkan Çağlıyan stated that they will participate in FESPA Eurasia 2019 which will be held in IFM on 5-8 December; and they are preparing for this year's last meeting with the printing industry. Çağlıyan concluded his words saying; "In our product portfolio we have several different advanced solutions from Plamac and swissQprint for UV printing. We are focused on providing the most suitable solutions to the needs of; entry, middle and industrial segment manufacturers and being their solution partners in the market".
You can learn more about Pigment Reklam's rich product range and services from the official website.