swissQprint which is represented by Pigment Reklam in Turkish Printing Market has added a new model to its LED family. After showcasing Nyala LED and Impala LED at FESPA Digital in May 2017, swissQprint is preparing to launch Oryx LED onto the market in December 2017. Nyala LED and Impala LED bring new advantages to high/industrial and middle class printers, furthermore the company aims to help firms working with low volumes in the printing business to focus on more profitable works with Oryx LED.
Developed for High Quality in Low Volumes
swissQprint's widely recognized Oryx is likewise available with a refined mechanical basis, plus LED technology that is both environmentally friendly and highly economical. The new Oryx LED is the printer for producing smallish volumes in great quality. Oryx LED features a 2.5×2 meter print bed and outputs a maximum of 65 square meters per hour with 9 freely configurable color channels presenting new print options.
Oryx LED will soon be launched with LED curing technology following swissQprint's 1st generation Oryx and 2nd generation Oryx2. This has clear advantages: LED systems are environmentally friendly as well as economical. They produce neither mercury waste nor ozone emissions. In addition, there is absolutely no lamp maintenance and power consumption is modest. Total cost of ownership is correspondingly low.
Compared to conventional systems, Oryx LED has a far greater range of applications and there are fewer issues with material handling thanks to low heat emission.
Besides all this, Oryx LED rests on a new, rock-solid foundation. The beam and print bed mechanics have even higher precision than predecessor models, so the printing process is yet more precise.
Oryx LED is the definitive solution in supplying the high quality demands in low volumes. Oryx LED features a 2.5×2 meter print bed and outputs a maximum of 65 square meters per hour. Carefully conducting the printing work, economic and user friendly; the new model is available from November 2017.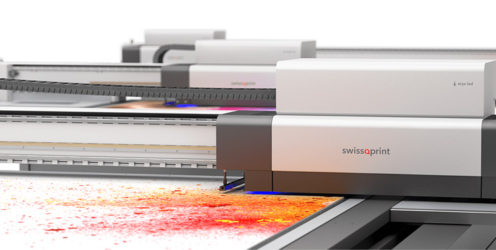 Led Family: Into the great wide open
The breadth of applications that Oryx LED can handle reaches well beyond the horizons of conventional large-format printers. Explore new territory and wow the market with invigorating solutions! While working, you will never hit stumbling blocks like undulated film material and raised cardboard edges. This is because cool LED curing is gentle on heat-sensitive media, so it stays stable in all dimensions. With Oryx LED you can expect earnings, not rejects.
An end to waiting and lamp maintenance
LED lamps are always ready to go, with no warm-up or cool-down time. So first thing in the morning, or after a work break, there is no waiting until the printer is ready. With maintenance too, the LED system brings only benefits: lamps have the same service life as the printer itself. And that is long. Lamp-related downtimes, spare parts and maintenance costs are eliminated. Overall, Oryx LED scores with high availability and modest total cost of ownership.
Precision across the board
Oryx LED is superbly versatile. Here is a printer that delivers: from a roadside event poster to complex advertising displays and fine art in the designer sphere. Even draft prints are already acceptable. swissQprint systems cannot do other than print with reliable precision. More than that, they are user friendly and offer many practical features.
Pigment Reklam will inform the market and the visitors in details about swissQprint's new LED solutions at FESPA Eurasia, between 7-10 December. Empty your calendar in advance for this technology show!