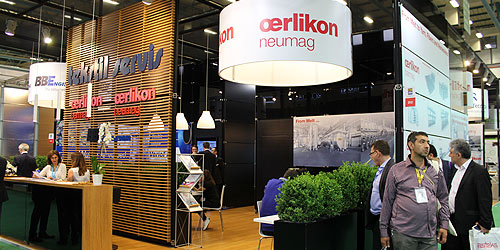 Oerlikon holds leadership in man-made fiber technologies; Oerlikon Manmade Fiber Segment displayed its developed yarn technologies during ITM 2016, while it grabbed great interest with Oerlikon Barmag and Oerlikon Neumag brands under its root.
The Manmade Fibers Segment of the Swiss Oerlikon Group was represented in Hall 12, Stand 312 via representative, Tekstil Servis and exhibited solutions via its two Oerlikon Barmag and Oerlikon Neumag competence brands. With a motto, "From Melt to Yarn, Fibers and Nonwovens", the company made a strong show in textile and apparel as well as technical textile solutions. During the fair, Oerlikon Barmag showcased ground-breaking innovations in the areas of POY/DTY, FDY and IDY filament spinning and texturing, as well as for the manufacture of monofilaments. Oerlikon Neumag concentrated on its BCF, staple fiber and nonwovens core competencies presented all visitors with the latest product developments by means of its virtual reality technology in a 3D showroom. The company explained its e-save philosophy for Turkish visitors as it promotes the manufacture of products oriented on sustainability on a global scale.
André Wissenberg, Head of Marketing, Corporate Communications and Public Affairs made special statements to Textilegence and made crucial evaluations regarding Turkish and global markets. "Currently, we are the world's only manufacturer that has the know-how and the capacities to offer complex manmade fiber spinning systems for polyester, nylon and polypropylene from a single source. Our machines receive intense interest from the market and we focus on developing those solutions constantly," he mentioned.
Turkey Has Important Potential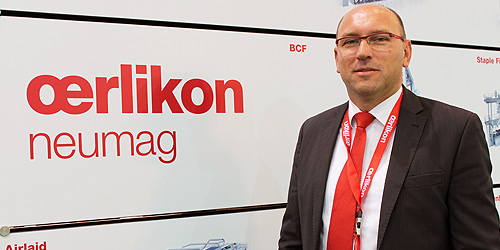 Oerlikon holds leadership in global market with Oerlikon Neumag and Oerlikon Barmag, Wissenberg pointed to their leading role particularly in spinning and staple fiber. Staple fiber grows rapidly in Turkey, while Oerlikon held successful meetings with Turkish producers during ITMA.
Wissenberg noted, "Currently, China faces a decline in man-made fiber and spinning in particular, which can be an opportunity for Turkey. This is because textile manufacturers in Europe, America and the UK demands for regional production increasingly while they also ask to be closer to Asia. Turkey has many advantages related to that area. Turkey is very close to Europe geographically, a market of 200-300 million. It can supply textile output to the UK, Germany and other crucial European countries in 40 nations. There is no such a chance with China. Now it is a great time for Turkey in terms of investment, because if China starts to grow again in 2018, Turkey will have missed that chance."
Oerlikon holds leadership in man-made fiber technologies
Turkey has achieved a rapid growth in the recent years, while the company held successful business meetings during ITM Fair. Both European and Turkish customers are eager to get the latest technology quality for staple fiber; which is a right step for market competition and success, according to Wissenberg. Turkey has a smaller share compared to China in filament and texture market; despite a growth in the recent years, while Oerlikon realizes a large potential to improve in that area for Turkey.
Turkish textile manufacturers own a professional vision and prefer the latest technology which requires a strong know-how. Wissenberg argued, "We provide this know-how; which is transferred to our customers in time and helps them to improve themselves a lot. Our partnership is based on win-win rule, shortly. We help them improve their production quality and textile quality for their customers. They also teach us a lot. The feedback from production process and related issues contributes us in strengthening our solutions and directing our Research & Development process."
Iranian Market is Set to Grow Rapidly
Commenting that Iran's return to the global markets created a huge opportunity for them as well; André Wissenberg opined that demand from that market for man-made fibers is considerable. "We have been supplying yarn projects such as POY/DTY, FDY and staple fibers; as well as BCF solutions to Iran for years. Iran is a really massive market for imports and exports thanks to its population of 80 million," he added.
Share of Technical Textile Solutions Will Increase
Wissenberg reminded that they are working to be a complete solution provider for manufacturers of fibers; and nonwoven producers via the motto "From Melt to Yarn"; while they form flexible and complete solutions suitable for budgets of all customers. Technical textiles hold 15-20% share in Oerlikon's business volume and the company plans to grow further in this area.
"We already have a strong based product range for years," Wissenberg said; informing about the acquisition of Truetzschler's staple fiber segment; "Truetzschler had acquired Fleissner's conventional staple fiber technology in 2006. We also aimed to enlarge our product range and customer base via acquiring Truetzschler's staple fiber technology. Via this merge, we turned to be the single address for a customer; who is interested in European and particularly in German fiber technology. Oerlikon Neumag offer a chance to select and variety while searching for the best product with its widening portfolio. We will probably launch our next step and new solutions following this acquisition; and combination of our two brands for Turkish market in ITM 2018."