Turkish economy and private print sector passed a successful test in the first half of 2017. Increasing its power with the sector, Pigment Reklam accomplished to diversify its costumer portfolio with its innovative products.
One of the most reliable partners of Turkish print sectors with wide format print, digital print and digital cutting solutions, Pigment Reklam announced that its market goals were obtained in the first half of 2017. Presenting leader brands such as swissQprint, HandTop and Bullmer to Turkish market, the company pointed out in its statement that digital print sector continued to pay attention to innovative solutions and was motivated to use its potential in new fields.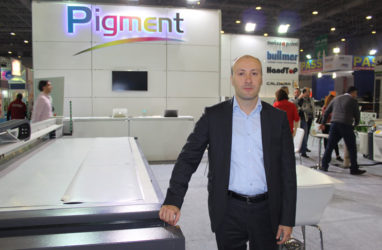 Making some evaluations about the first half of 2017, Pigment Reklam company owner Serkan Çağlıyan reminded that the estimations for 2017 before the year were quite negative. Çağlıyan said; "Because of the unfortunate events occured in the second half of 2016 and their effects to markets, last year was a very difficult term for the market. It was claimed that 2016-2017 term wouldn't be very promising, even the losses could continue as a result of the worry about significant political, social and economical losses. However, 2017's first half left behind showed once more that we should be more confident about ourselves. "
Çağlıyan stated that investors make their moves more carefully, focusing on the real value of their investments in this current period. Çağlıyan, on the other hand, defined the real value of an investment thusly; "Beyond the ticket price of the machine, the investment's added value taht will create throughout its life and production cost balance".
We've Diversified Our Customer Portfolio
Pointing out that growth and expanding don't stop in both local and export markets, Serkan Çağlıyan stated that digital printing is stil far away from saturating point; "We are experiencing a term where Standard printing operations become added value. Now we focus not ony on making more products in low cost in order to make more money but making fair valuable. For this reason, the brands we present is very important. swissQprint and HandTop brands we present as Pigment Reklam, provide them flexible and advantageous solutions in printing operation. Our Bullmer brand proves how cutting can be comfortable and wasteless in graphic operations. We gained a very positive market volume in the first half of 2017 with these projects. We diversified our customer portfolio which is as important as sales numbers. This made us more confident about the market risks. "
Underlining Turkish print sector's attention towards swissQprint's Nyala 2 model, Çağlıyan said that last year Nyala 2 became one of every 6 flatbed print machine sold in Europe which made it number one with this number. Explaining that they have solutions for every manufacturer from beginner level to industrial type, Çağlıyan stated that swissQprint introduced new LED models in FESPA fair in May. "Providing many advantages like efficiency, energy consumption, sustainability, print quality and lower production cost, Nyala LED and Impala LED models form a new generation. The market's devotion to continuous development encourages us to take brave steps. The sales and orders we got in the firts half of 2017 show us that we are in the right way.
LED Models Will be FESPA Eurasia 2017 by Pigment Reklam

Announcing that as Pigment Reklam, they prefer FESPA Eurasia to meet Turkish print sector, Serkan Çağlıyan said that this fair is a suitable platform to reach target markets and buyers. Pointing out that they attented to FESPA Eurasia since its first edition, Çağlıyan; "FESPA is a global brands with a powerful network. We will once more take our place strongly in FESPA fair to be held for the fifth time. "
Saying that they will host their guests with an interesting booth concept, Serkan Çağlıyan announced that the solutions belong to swissQprint, HandTop and bullmer brand will be exhibited in operation with the samples. Çağlıyan stated thusly; "We are planning to present one of Nyala LED and Impala LED models launched in FESPA fair in Hamburg in May, in FESPA Eurasia fair for the first time in Turkish market. We invite our current and potential customers to our booth to show them how to make their work more efficient and with added value and talk about how they can obtain new business opportunities. "