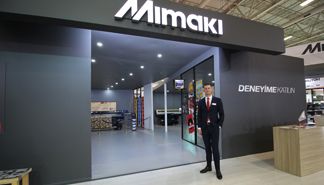 Mimaki Eurasia attended Sign Istanbul 2018 with the latest technologies and applications demanded by the digital printing and signage industry, and left the exhibition satisfied with interest they received. During the fair, new business opportunities were discussed with print professionals, and growth was emphasized together with the printing industry.
Mimaki, a leading manufacturer of inkjet printing technologies and cutting plotters, became a point of interest for visitors at Sign Istanbul 2018 with their booth concept and rich solutions. Mimaki Eurasia booth at Hall 12 No E-20 at TUYAP Fair and Convention Center between 20-23 September gave visitors the opportunity to visit an Idea Shopping Center. Solutions and samples for signage/graphics, textiles/clothing, promotion and 3D were exhibited with the shopping center concept focusing on experiencing the power of Mimaki Eurasia in printing.
Arjen Evertse, General Manager of Mimaki Eurasia; said that they created such a concept in order to better present the results of research and development to their visitors. Evertse; "We wanted to create an environment where people can exchange ideas. If you can meet all your needs by visiting a shopping mall; you can meet all your digital printing demands with Mimaki. Mimaki booth was closed with a large amount of exterior applications, and visitors were able to observe that we have focused on a separate segment and solution in each section. For example Mimaki had a boutique area. Here we had our TS30-1300 transfer inkjet textile printer and samples produced with it. We inspired our visitors by showing what can be done for garments, bags, shoes and accessories."
Each section created a different experience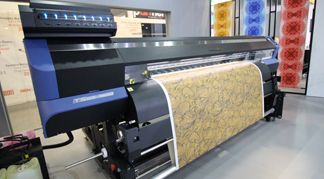 Mimaki Eurasia focused on "What to do with a Mimaki machine" at Sign Istanbul 2018. For this reason, the visitors have seen the machines and the sample prints prepared in the areas established with the shopping center concept. The printers exhibited during the exhibition received full marks from the visitors with their speed and efficiency. The Mimaki technical team present at the booth helped the visitors to make the right decision for the investment by giving clear and comprehensive answers to all questions of the visitors.
UJF-3042 MkII EX high performance LED UV flatbed printer was developed for printing on different kinds of objects. The ideal model for stationery and promotional work responds to the specific demands of users. The UJF-7151plus LED UV flatbed printer, together with the samples, attracted the attention of the souvenirs and promotion industry.
The 3.2m wide format SIJ-320UV LED UV printer in the special outdoor area of the Mimaki booth and the UCJV300-160 UV printer with cut-and-print features were the first solutions to be seen by Sign Istanbul visitors during the exhibition. Ideal for both indoor and outdoor prints, these solutions are unrivalled with their performance and print quality in industrial advertising and design work.
Print professionals and visitors to the Mimaki booth were able to see the 3D models created with the Mimaki 3DUJ-553; a full-color 3D printer with a capacity of 10 million colours. Responding to the need to create models for many different purposes; the 3D printer transfers designs from digital media to print quickly; ending the issue of creating molds in construction, engineering, medicine and many more areas. Visitors received information from the experts about the rapidly developing 3D printing, and made important discussions about how they could transfer this development to their work.
SWJ-320EA, the super-wide solvent printer developed by Mimaki Eurasia in line with the current market demands, was presented to the visitors at Mimaki dealer Procolor's booth. The machine has a printing width of 3,200mm and can print 137m2 per hour.
Mimaki inspired print professionals with rich applications
Arjen Evertse said that they talked about what the users can do with Mimaki solutions based on high technology throughout the fair. "We encountered a demanding visitor profile in signage and textile printing," said Evertse, and conitned; "Users are wondering what they can do with the machines they invest in, how they can grow their business. These interviews were really motivating for us. With our expertise in inkjet digital printing, we've shown them what we can offer the market; and they tell us what they want to do. I can tell you that there is almost no work that can't be printed with Mimaki. What is important is how much revenue our users get from the printing business.
Mimaki solutions are a direct contribution to its users, both when buying and using. They can enter new markets. High print quality and print speeds radically solve the problem of delivering in time. Talking about what can be done more than the technology with the visitors,  print professionals at Sign Istanbul 2018 has inspired us as well."
Evertse said that the exhibition reached its goal in the context of meeting with current and potential users, print professionals; exchanging views with them and exhibiting practices, and he summarized their strategy as strengthening their market ties. Arjen Evertse; "Our efforts to strengthen Mimaki Eurasia's proximity to the market have increased. After our Ankara Experience Center, we opened our İzmir Experience Center in September. Then we attended Sign Istanbul 2018. Our efforts to evaluate the market opportunities with our users will continue at the same speed."