Riri Group, providing high-quality accessories to fashion brands, previewed its SS24 collection at Première Vision Paris on February 7-9. The collection, including metal and plastic accessories, consists of two complementary moods that give rise to six colourful inspirations. The group, which has grown through strategic acquisitions in recent years, are constantly improving its zippers, buttons, metal components, and fashion jewels in terms of material science, functionality, sustainability, and style.
Riri Group classes metal accessories in 3 groups: ORGANIC, NATURAL and VULCANIC
The ORGANIC trend consists of the green colour of the varnishes and metallic laminated leather, the jacquard tapes with vertical stripes and the chains featuring alternative yellow and green hues. NATURAL features tapes, pullers and buttons made from natural and sustainable materials and fibers, including recycled polyester, linen, hemp, cork and olive wood inserts.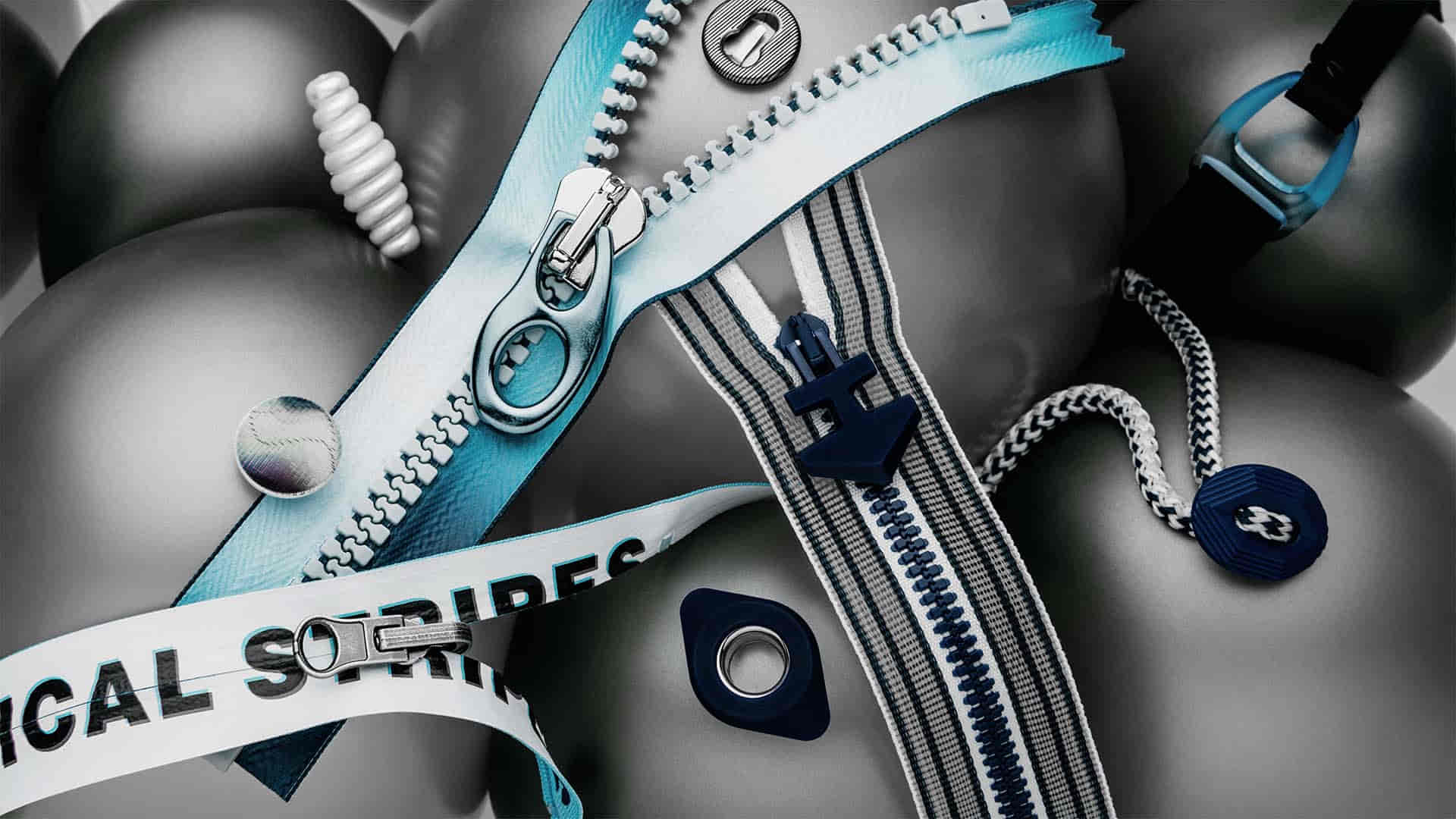 There are also tapes made of stitched recycled polyester, linen and hemp, coverings with stitched cork strips, pullers made of recycled hemp. They produce with wood inserts or specific ceramic workmanships made by K4Sint, the latest division to join the Riri Group, which specialised in sintering processes. Buttons made of recycled hemp or finished with olive wood, strike a balance between sustainability and make the most of natural or recycled materials. An explosion of flamboyant colours inspires VULCANIC, an exaltation of the concept of fire, emphasised by the focus on red and orange tones, as well as the use of copper, studs and stone-effect acrylic pullers.
Plastic accessories; the theme of the colours of the warmer season is NAUTICAL
The colours of the warmer season are introduced by the NAUTICAL theme, which brings a range of inspirations that tell the story of the encounter between the water and the beach, such as boats, anchors, multicoloured vertical stripes and horizontal bands. In the BUBBLES, the blue of the water gives way to the blue of the sky with circular shapes, use of mother-of-pearl in the Amom-produced pullers and buttons and in the glass pullers. In the SPACE, the dominant colours are black and fluorescent ones. A more technical line is characterised by the use of recycled nylon, elastic tapes suitable for outdoor and footwear, and overlapping zipper applications.