Having positive expectations from Turkish Market for the second half of 2017 Saurer Embroidery provides the right approach with their technological solutions.
Saurer Embroidery, a subsidiary of Saurer Group and one of the global market's leader on broidery technologies recreates traditional textile texture with technology. With experience over 160 years, the firm is also has an important place in Turkish Market with their sophisticated broidery systems. In his review of the first half of 2017, Saurer Embroidery Sales Vice Chairman Thomas Benzer said the first half wasn't good for both global and Turkish Market.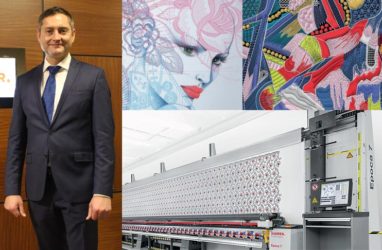 Thomas Benzer indicated that they still didn't see a positive trend globally while he was informing us about current market trends. Benzer; "China for example is still far from its good days. Turkey on the other hand has started to recover from its difficulties and is buying in big numbers. However, I do not think it is connected to a new trend but more renewing and enlarging production capacity."
India is the strongest market for Saurer
Thomas Benzer described India as being their strongest market since 2016, he also said Europe, Turkey and China maintains their importance. In his review for Turkish Market's second half Benzer told; "I see a bright 2nd half of this year in Turkey. We have already good orders from Turkey for the coming month. For us Turkey was always one of our main markets. Since the past 2 years were rather weak I have a very positive feeling for the next 2 years."
Saurer Embroidery operates according to Saurer's famous E3 (Energy, Economics, and Ergonomics) value adding strategies whilst supplying Epoca 7 broidery systems to the Turkish Market for the past years. Up to 5% energy saving with up to 20% high efficiency Epoca 7 increased its speed up to 18%. With its cutting edge technology the system has been designed to improve customer's efficiency and profits, it also inspires interest in the market with its design richness and simplicity.