Saurer, one of the leading companies in spinning and twisting recycled fibres and yarns, offered a range of products meeting the customers' needs at ITMA 2023, by anticipating the megatrends of sustainability, energy saving, automation, and digitalisation. The company's booth, inspiring the industry to shape the future of textiles, was constantly well attended by interested customers, future customers, institutes, and students.
Saurer presented numerous textile products made from sustainable yarns spun and twisted on their machines at ITMA 2023 and spun eight different recycled and regenerated fibres on four spinning systems. Showing its expertise in processing recycled fibres and regenerated fibres, Saurer was also the only company offering all 5 end-spinning applications. All of them were on display: air-spinning, rotor-spinning, ring-spinning, compact-spinning and worsted-spinning.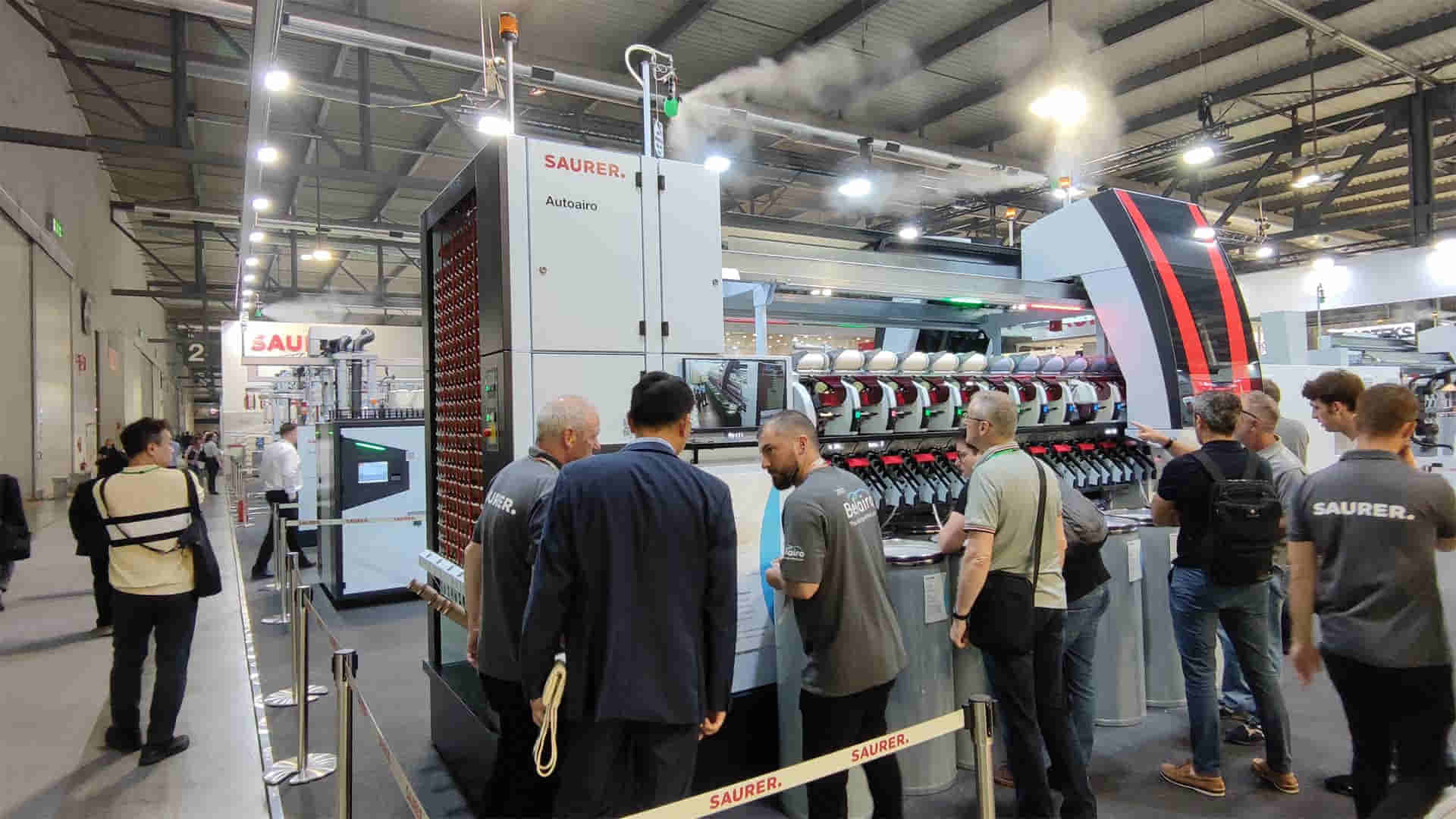 Saurer spinning machines: more automation less waste
The company unveiled the Autocoro 11 rotor-spinning machine with the new Recycling Xtreme features, tailor-made for recycled fibres, 10% less energy consumption and more powerful automation. The Autoairo air-spinning machine offers flexibility in processing different fibres: cotton, polyester, viscose as well as new chemically regenerated fibres and delivers cylindrical or conical bobbins. The BD 8 semi-automatic rotor-spinning machine offers energy savings and higher quality consistency thanks to the Twinsuction system. The automatic package removal allows ergonomic handling.
In addition, the latest Autocard SC7 boasted with more intelligent features from automatic gauge setting and droppings detection and pneumatic assisted piecing for easy processing of recycled fibres.
The ZI 72XL compact-spinning machine offers a high degree of flexibility and is suitable for recycling fibres with the new compact yarn system Impact FX pro. The automation features in ring spinning were automatic roving transport from the Autospeed roving frame, automatic doffing and the new Autospin automatic piecing robot. The ZI 451 worsted compact-spinning machine was spinning the finest for woollen yarn and the ZI 51 manual ring-spinning machine is delivering perfect yarn quality as well.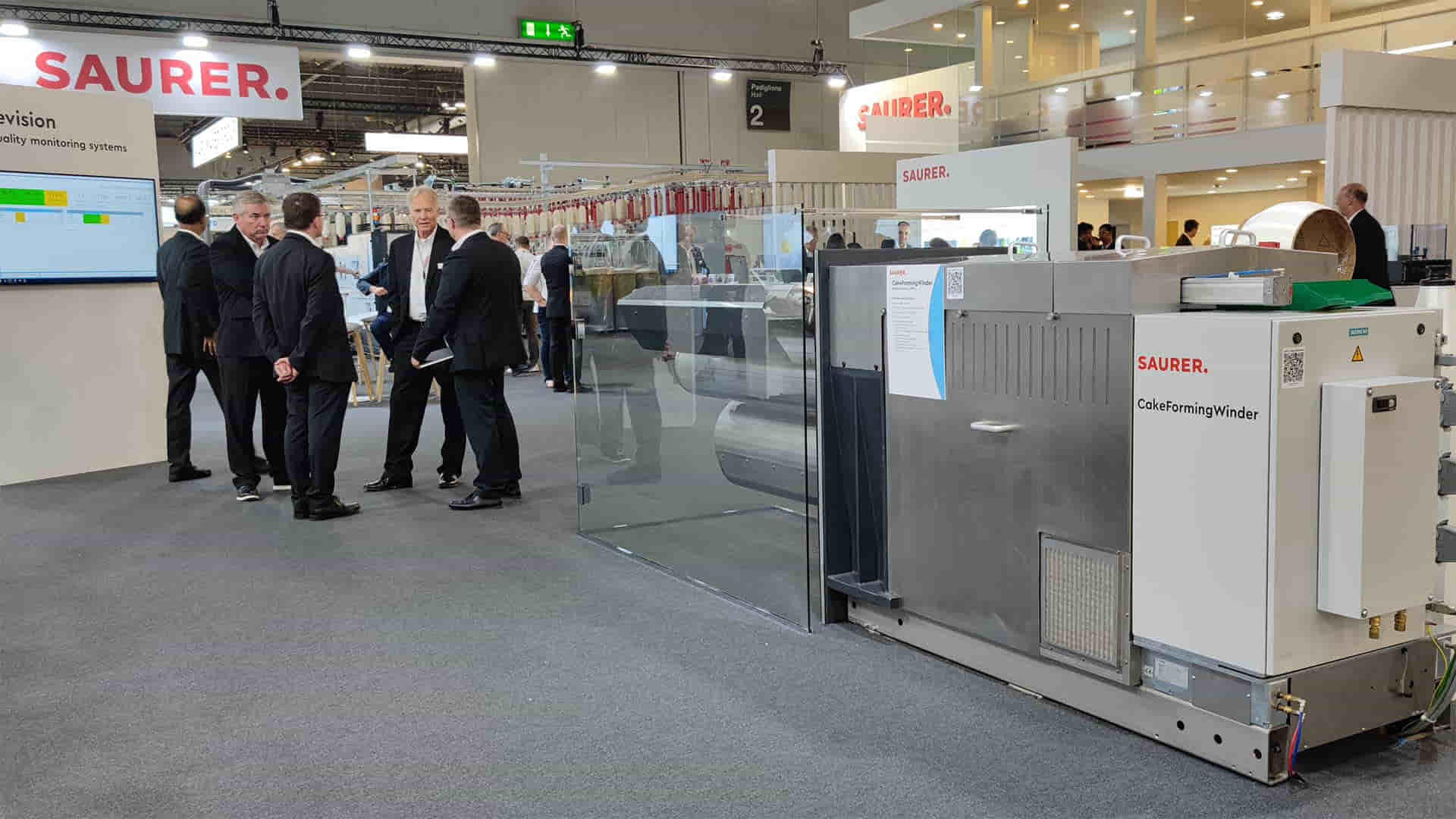 The latest technologies in twisting solutions
Saurer Twisting Solutions presented the latest developments in twisting and cabling with exhibited machines CompactTwister, CarpetCabler/CarpetTwister 1.12, TechnoCorder TC2 Plus, CakeFormingWinder and Robot AGV. CompactTwister impressed with new standards for in twisted yarn quality, flexibility, energy consumption, robustness, reduced space requirement and ease of maintenance. CarpetTwister 1.12 / CarpetCabler 1.12 convinced with an enhanced servo drive technology and data management to reliably and confidently mastering the unusual requirements of an ever-changing market. TechnoCorder TC2 offers now the following innovative machine features and options: PreciWinding (TC2 Plus), an oiling device, a balloon limiter ring and QualityGuard. The CakeFormingWinder attracted attention with the new rotor technology and the integration of a high-speed traversing collet system.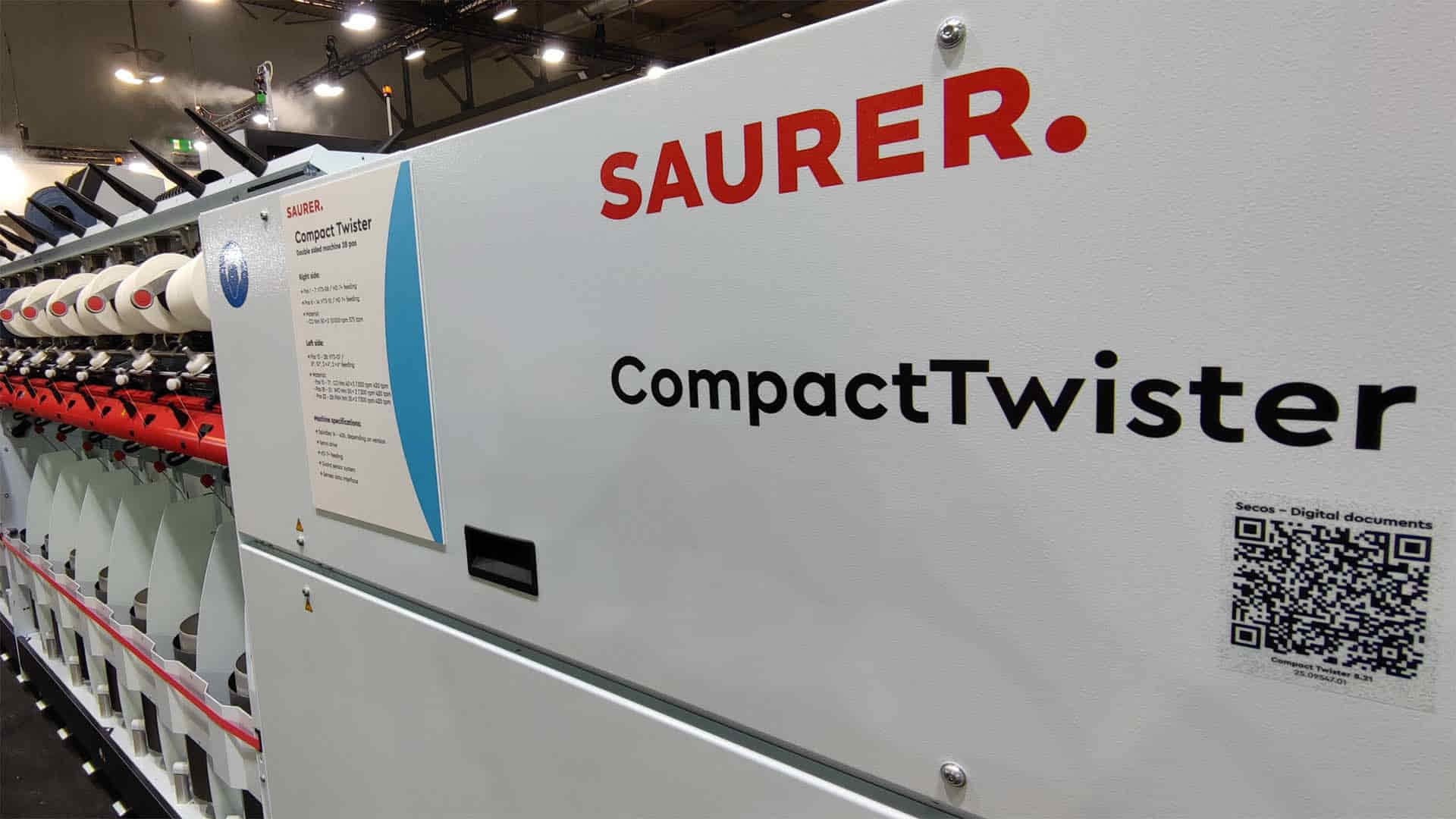 Saurer Automation Solutions: an expert engineering partner
The global shortage of skilled operators is increasing the demand for automation. Saurer Automation Solutions serves as an expert engineering partner for integrated automation solutions across the entire textile value chain. Saurer's project engineering team offers tailored system solutions that are seamlessly integrated into customers' processes by combining, especially designed automation elements and solutions.
Saurer has a long experience in automation, starting from the bobbin transport systems from roving to ring-spinning. Recent innovations include AGVs like Can AGV for can exchange in spinning and Robot AGV for ergonomic handling of heavy twisting bobbins. Saurer introduced at the ITMA the Autospin automatic piecing robot for ring-spinning.
Small components with a big impact
The highlight of ITMA presentation of the Texparts product range was the energy-saving Eshape spindle combined with Spinnfinity zero underwinding system, which enables a significant reduction of maintenance and cleaning operation. For the filament industry, Fibrevision offers sensors and monitoring systems. Quality monitoring enables customers to reduce waste and improve their processes. In addition, with updates or upgrade kits, customers can make existing machines fit for processing recycled fibres. After-Sales-Service SUN are supporting the sustainable operation of Saurer's machines: regular upgrades, retrofits or services extend the lifetime of the machine.