Leading computerized flat knitting machine manufacturer SHIMA SEIKI MFG., LTD. of Wakayama, Japan is releasing a new " i-Plating " option on select models in its line of computerized knitting machines.
It is offered exclusively as a factory-installed option on SVR093SP and SVR123SP. Both machines feature special loop pressers for producing inlay patterns that yield novel knit-weave hybrid fabrics.
SHIMA SEIKI Releases New i-Plating Option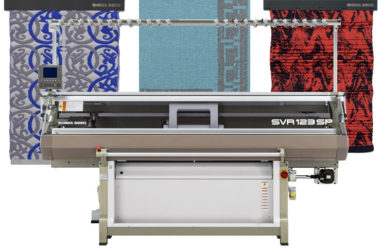 Unlike conventional plating techniques, the system offers so-called inverse-plating capability in which alternate yarns are both shown on the fabric surface in any specific pattern or design, producing jacquard-like patterns in plain jersey stitch. System goes a step further by offering this capability within the same course and for individual needles for greater efficiency.
Furthermore by combining it with inlay capability on SVR093SP and SVR123SP, and a whole new world of patterning becomes available for truly diverse knit design.