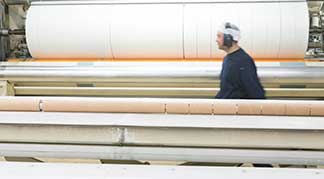 Suominen introduces Intelligent Nonwovens™, products utilizing artificial intelligence.
Suominen, a globally leading nonwovens company, is taking a concrete step in its Changemaker strategy and introducing Suominen Intelligent Nonwovens™ concept to the market. First of its kind in the world of nonwovens, the concept makes it possible to embed digital features into the company's nonwovens. For example, with this concept, product traceability and product safety can be taken to a new level. It also provides brands with a new kind of sophisticated marketing tool. These are only some examples of opportunities the concept offers.
The concept stems from the company's research and development projects that have already led to the launch of High Definition Design Series, a revolutionary pattern selection for nonwovens. Suominen Intelligent Nonwovens™ concept adds a unique technical capability into the mix and combines artificial intelligence with extremely high definition patterning. With this concept, all kinds of digital features can be embedded into the substrate without deteriorating other functionalities or aesthetic appearance of nonwovens.
When asked about concrete end-use examples, Markku Koivisto, Chief Technology Officer of Suominen, explained; "For instance, if a consumer would want to know the origin of the raw materials of the wipe he just purchased; he could retrieve the data by just scanning the wipe with his smartphone. If a wet wipes manufacturer notices a flaw in a wipe; and wants to track the origin of the nonwoven; that could be done again quickly with a smartphone. It is up to us and our customers to imagine what can be achieved with this technology. It can be applied to virtually any application."
Suominen one of three finalists
"We have already learned that Suominen Intelligent Nonwovens™ is something our customers have never seen before; and I am very proud of the cross-functional team behind the unique concept. This is a leap forward in our Changemaker strategy; and it shows that we are able to create nonwovens that others cannot."
Suominen Intelligent Nonwovens™ was already named as one of three finalists competing for RISE Innovation Award; that recognizes innovation that creatively uses advanced science and engineering principles; to solve challenges within the nonwovens and engineered fabrics industry.