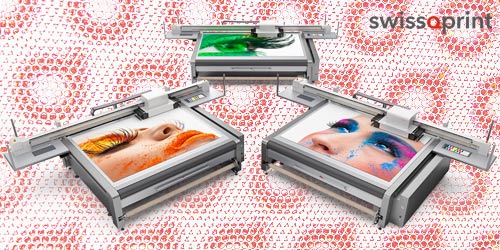 Enhancing its application areas day by day thanks to financial, technical and environmental advantages, UV printing solutions gain strength in Turkish printing industry. In this market, Pigment Reklam provides complete solutions with swissQprint's innovative technologies.
Forming a niche area in digital printing, UV inket printing continues its fast growing with the advantages it is providing. Being valued at 3.9 million $ in 2008, this global market reached to 6.7 billion $ in 2012. It is expected that in 2018 UV printing market will reach to 15.9 billion $ in value. The variety of the customer demands plays an important role on the rapid growth of UV printed product market.
Being able to perform efficient applications in every area,  UV printing is considered ideal especially in outdoor applications for its high printing quality and long-lasting durability. Because of this reason many visual communication experts prefer UV printing solutions. The signage industry which has been developing not only in Turkey but also throughout the world, has a great potential for UV printing.
Having the capacity of printing on hard and elastic materials with minimum 40 cm thickness, UV printing technologies provide superior solutions on wide range of medias like ceramic, glass, wood, leather, artificial leather, materials with recessed surface, aluminium, wood canvas, flock block as well as paper and cardboard.
It is Longer-Lasting Than Its Competitiors with Less Total Cost
Even though UV ink's ticket price is higher comparing to water and solvent-based ink, it creates difference in total cost with usage and durability advantages. Being able to stay unfaded and unaffected by the sun beams up to 5 years,  UV printing is also more water-resistant than the other inks. Additionally, since UV inks cover surface instead of penetrating to the media; the consumption cost goes down. Considering its durability, fast curing and not requiring supplementary protective processes, UV printing offers less costly solutions than solvent-based printing. In this way, a performance superior than the ticket price can be achieved.
Serkan Çağlıyan
Serkan Çağlıyan: UV Printing is Advantageous in both Purchasing and Using Process
In parallel with the global market, there is also raising demand for UV printing solutions in Turkey. Many companies are competing in this field. Stating that they are presenting swissQprint's new generation UV printing solutions to Turkish printing industry, Pigment Reklam company owner Serkan Çağlıyan, expressed that the solutions are coming to the forefront with technical, economical and environmental advantages. Çağlıyan continued as such;
"UV printing proved itself with its photorealistic printing quality as well as the printing cost. In addition to the advantages it provides, it is also an environment-friendly technology. Because of the fact that it doesn't use volatile organic composites (VOC) that we can see in solvents, UV printing contributes to human health and the environment."
Expressing as the product of Swiss engineering, swissQprint became a well-known brand in Turkish market, Çağlıyan stated that the new generation Oryx 2 and Nyala 2 UV printing models are demanded by a wide range of clients;
" Our UV printing applications can be used in every area where graphics and digital printing take part. We are also an ideal partner not only for applications supposed to be long-lasting like; outdoor advertising, outdoor and indoor applications, but also for printing short-termed, single use, event materials. swissQprint models have the necessary technical equipment and cost decreasing qualities for mass printing; sample and low volume printing. "
SwissQprint Continuously Brings Innovations to UV Printing
Emphasizing that swissQprint presents a new technological development to the market every year, Çağlıyan reminded that last year droptix application that provides 3d effect in UV printing and this year Robot that increases the productivity and speed were introduced. Çağlıyan stated;
"Beyond providing a standard UV printing machine, we are improving modular solutions with innovations that will create added-value to our costomers. Our innovative lens solution droptix carries printing with 3d effects to a real sized printing from just sample applications. Likewise, the robot that was introduced at FESPA Digital this year is used for the loading of media on flatbed printers or unloading the media after the printing process. The robot maximizes swissQprint's printing speed and productivity in its new generation machines while minimizes the human-driven mistakes. "
swissQprint's flagship model Nyala 2 has become an irreplaceable component of industrial printings. Possessing 3.2x2m printing table and printing speed up to 206 metre square an hour, it pushes the boundaries of printing quality with 9 picoliter droplet size. Providing 2160dpi print resolution, Nyala 2 can be used roll to roll or flatbed.
Impala 2 which is developed for medium segment, performs 180 metresquare printing per hour with 2.5 x2m printing table. Being perfectly compatible with newly developed Rob, Impala 2 has both roll to roll and flatbed options. Presented by swissQprint for the entry-level, Oryx 2 model can perform 40 metresquare printing an hour with 2.5 x2.0m printing table.