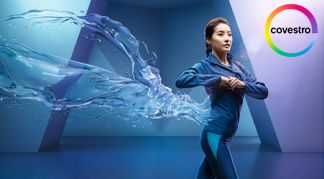 Covestro's new, superior performance and comfortable textile coating solution INSQIN is a waterproof and breathable solution.
Covestro has developed new products under the INSQIN® brand that enable the effective waterproof and breathable coating of textiles using waterborne technology. The new coating is applied in a two-layer system using newly developed polyurethane dispersion products Impraperm® DL 5249 and Impraperm® DL 5310. Together, they enhance the performance of outdoor sportswear and provide increased functionality and comfort, as desired by consumers.
The innovation is multi-faceted and provides practical advantages like durability and better sustainability. Unlike conventional solvent-based technology for waterproof and breathable textile coating, the latest INSQIN® solution does not use solvents, making textile production more eco-friendly and easier to handle.
INSQIN: Versatile results
Thanks to the new products, an outstanding and homogeneous waterproofing performance can be achieved; even in heavy rain and after repeated washing. The coated textiles are soft and breathable and thus provide much comfort. The technology also provides enough flexibility for developing materials needed for modern high performance outdoor shoes.
This new waterborne technology offers a more environmentally compatible solution for textile manufacturers; to reach waterproof performance appreciated by end consumers. The conversion from solvent-borne technology or the production using laminated films to the new technology is easy and enhances the offerings for outdoor market.
"This new development gives manufacturers and consumers considerable benefits," summarizes Dr. Torsten Pohl, Global Head of Textile Coatings at Covestro. "Textile manufacturers can switch quickly and easily to a more sustainable solution that offers flexibility in design and functionality. Consumers can have a sustainable alternative with products that help to deal with extreme weather scenarios in breathable comfort."
About Covestro:
With 2017 sales of EUR 14.1 billion, Covestro is among the world's largest polymer companies. Business activities are focused on the manufacture of high-tech polymer materials and the development of innovative solutions for products used in many areas of daily life. The main segments served are the automotive, construction, wood processing and furniture, and electrical and electronics industries. Other sectors include sports and leisure, cosmetics, health and the chemical industry itself. Covestro has 30 production sites worldwide and employs approximately 16,200 people (calculated as full-time equivalents) at the end of 2017.