Textilegence January February 2023 issue presents a summary of 2022 in the first issue of the year with exclusive interviews with textile professionals, while at the same time conveying the predictions for the future of the industry. The leading associations and companies of the sector, including ACIMIT, Trützschler, Mayer & Cie. and Brückner, also shared their views on ITMA, the biggest international exhibition of the textile sector, which has been eagerly awaited for four years, and shared hints about the new solutions they will exhibit at the exhibition with Textilegence.
FESPA Eurasia 2022, held last December, hosted more than 10,000 visitors and over 500 brands. We bring you the opinions and evaluations about the exhibition that we received from the participating companies during the exclusive interviews we conducted throughout the exhibition in our 58th issue. You can also find details about the solutions exhibited by Picanol and Sperotto Rimar at the ITME India 2022 held in December in this issue.
The latest news on the Turkish textile industry in Textilegence January February 2023 issue
In addition to exclusive interviews, the latest agenda topics related to the Turkish textile industry are also waiting for you in this issue: The Turkish textile industry ended 2022 with exports worth 12.9 billion dollars with an increase of 0.6% compared to the previous year. Turkish cotton has been registered with the trademark 'GMO FREE Turkish Cotton' and increased its competitive power in the global market. UTIB announced its 2023 export target as 1 billion 750 million dollars. Loepfe announced that it will establish local business units in Türkiye, China and India. All of these and more are in our new issue.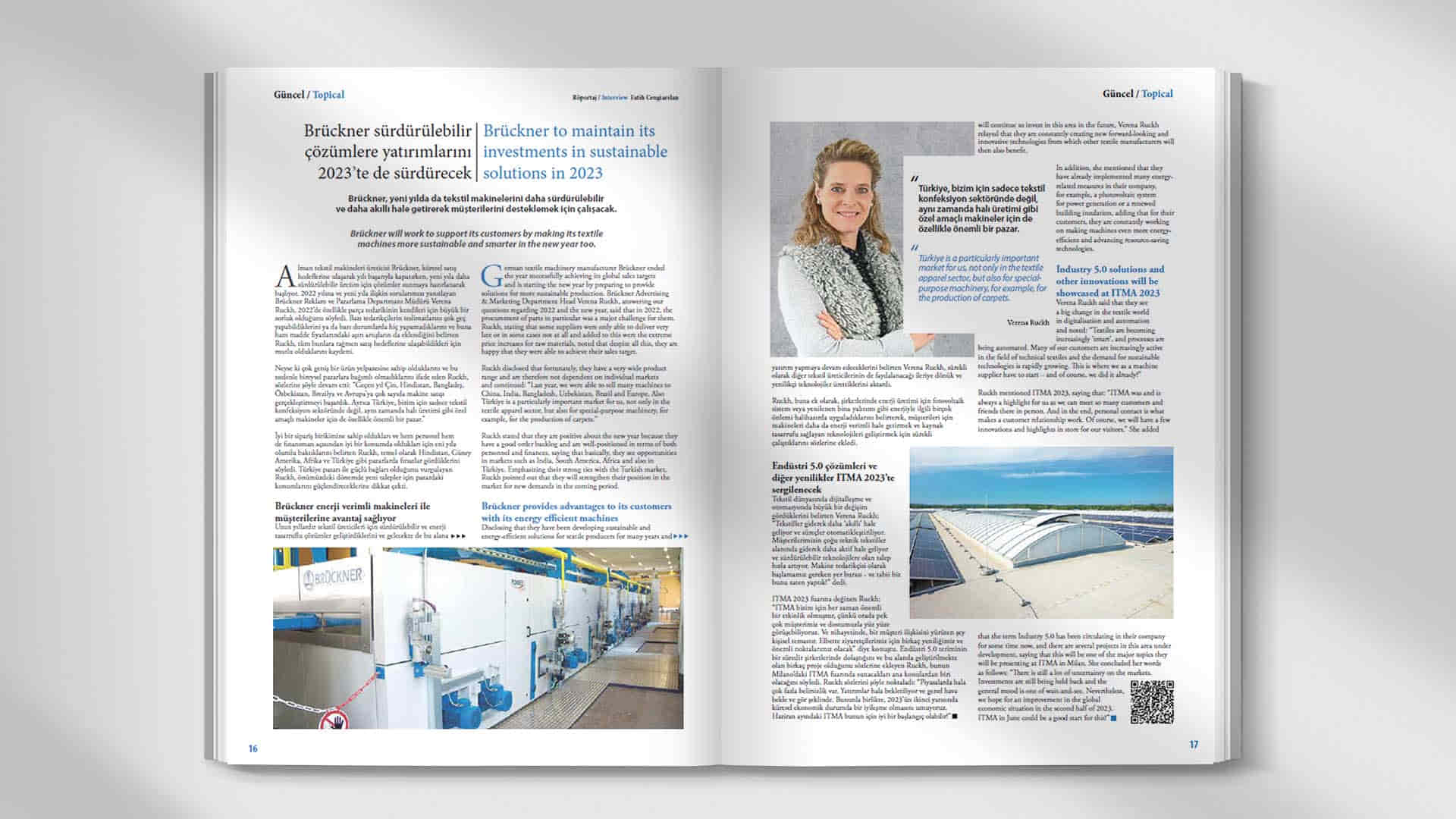 Efforts to reduce the environmental impact of the textile sector continue
We present to you the latest developments on sustainability in the sector in our Green Times pages: The companies, including textile companies from Türkiye and abroad, were announced in CDP's annual A List of environmental transparency and actions. Organic Cotton Accelerator takes action for the Agriculture Programme in Türkiye. New OEKO-TEX updates have been announced. Scientists at Harran University succeeded in making polluted water transparent by cleaning it in 30 minutes with nanotechnology method. You can find the details of the news in our Textilegence January February 2023 issue. We hope you enjoy reading.